Maruti Alto Images
All

(30)

Exterior

(11)

Interior

(13)

360 View

(2)

Colours

(6)
Front

Bumper

Headlamp

ORVM

Windows line

Door handles

Wheel arch

Wiper with full windshield

Antenna view

Side mirror rear angle

3D _Model_

Full dashboard center

Steering close up

Instrumentation console on start-up

AC controls

Gear lever

Audio System

Cabin view

Pedals

View out back

Rear interior from right side door

Glove box

Front passenger's view

Door open handle view in side

Uptown Red

Superior White

Silky Silver

Mojito Green

Granite Grey

Cerulean Blue
Front

Bumper

Headlamp

ORVM

Windows line

Door handles

Wheel arch

Wiper with full windshield

Antenna view

Side mirror rear angle

3D _Model_
Full dashboard center

Steering close up

Instrumentation console on start-up

AC controls

Gear lever

Audio System

Cabin view

Pedals

View out back

Rear interior from right side door

Glove box

Front passenger's view

Door open handle view in side
Uptown Red

Superior White

Silky Silver

Mojito Green

Granite Grey

Cerulean Blue
Alto 800 Pictures
Find high-quality images of Maruti Alto. New Maruti Alto has 11 exterior images, 13 interior images and 360-degree views. Checkout the front view, rear view, side view, top view & stylish photo galleries of Alto 800. Maruti Alto is available in 6 colours also.
To get more details of Maruti Alto, download Zigwheels App.
Maruti Alto Overview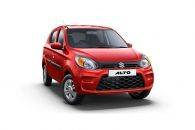 Mileage

Performance

Maintenance Cost

+ 3 more
Comfort

Safety

Features & Styling
Preferred For : Family & Daily Commute
28% of users have given a rating of 4.5 and above
4.3

Best economical and affordable car for middle class family in india.My experience of alto 800 cng is best since last 6 years.

1.0

Describe about comfortable car good mileage this is family members car this car is family members of the year again when we

4.3

For the price the performance is great, But can't risk to overtake on highways as the torque is less compared to bigger cars, Our overtaking calculation may go wrong.So, Need to be very careful.The looks are fine.Did some changes and this is the best budget family car available in the indian market.

5.0

Very much good and comfortable.Mileage is good, Comfortable, Zero maintenance, Easy to use, Best family car.

5.0

comfortable for a small family. happy user for last 11 years. hardly any repairs.
All Alto 800 User Reviews
3.0

I bought the maruti alto 800 in february 2012.The color is granite grey, And the car looks pretty nice when properly cleaned.Under the good is a 0.8l petrol engine which churns out 40.3bhp and 60 nm of torque.The power figures might be very astonishingly low, But the performance of the car is average.The quality levels of the car is also decent.Inside the door gets fabric claddings and nice grey leather upholstery.There are very much hard plastics, But they still are of a decent quality.The variant is lxi, The mid variant, And things which i get are 12 inch steel wheels with silver wheel caps, Yes that's a very small size.Has a standard normal digital instrument system, Analog speedometer with a digital display that shows time, Fuel to empty, And distance.Front seats are quite comfortable, No adjustable headrests of course, And under thigh support is quite decent enough.At the rear however, Three people cannot sit comfortably as there is a very huge h**p in the center, And the seats are very low, With very small, In fact tiny headrests which provide no whiplash support in case of a crash.The boot space is also quite decent, 177 litres, Which can be increased by lowering both the rear seats down.Talking about the safety, There is nothing.No abs, No ebd, No reverse parking cameras, No seat belt pretensioners, Nothing.Even the build quality is very poor, The c pillars easily dent inside if you press them with a thumb.

3.7

best for a small familyand a average performance car The major change though is in the inside of the car. The dashboard is completely new and you now get coloured seat fabric which works well with the overall ambience of the car. The top-end LXi variant gets a CD/MP3 player, air-conditioning, power steering and front power windows. What it does not get is central locking, and a left rear-view mirror.The Alto 800 still comes powered by the 796cc, three-cylinder which has been refined. There's also a faster 32-bit processor and this engine is future-proof for BS5 norms too. The engine responds to your throttle input and the gearshifts are typically Maruti Suzuki, well slotted.Maruti has priced the top-end Alto 800 at Rs 2.99 lakhs and this is truly something significant. They have been able to price it so competitively that the customers have to give it a second thought before going in for a car belonging to a rival company.

4.0

This is my first car, For the Past 3years it drives smooth performance and it's the lowest maintenance cost, and some are saying that this is not good for long drive, No they are actually wrong it's the most best car for long drive without any problem . So in this 800 segment alto is best car apart from kwid and redigo. See you can have better interior n exterior in kwid n redigo but the engine performance wise alto is my best choice to the entry level people, even wise in alto 800 exterior n interior you can customised easily as per your preference and it looks better n stylish car from kwid n redigo.🔥💯

5.0

⛽⛽⛽⛽⛽⛽⛽⛽⛽⛽⛽⛽⛽⛽⛽⛽⛽⛽⛽⛽⛽⛽⛽⛽⛽⛽⛽⛽⛽⛽⛽⛽⛽⛽⛽⛽⛽⛽⛽⛽⛽⛽⛽⛽⛽⛽⛽⛽⛽⛽⛽⛽⛽⛽⛽⛽⛽⛽⛽⛽⛽⛽⛽⛽⛽⛽⛽⛽⛽⛽⛽⛽⛽⛽⛽⛽⛽⛽⛽⛽⛽⛽⛽⛽⛽⛽⛽⛽⛽⛽⛽⛽⛽⛽⛽⛽⛽⛽⛽⛽⛽⛽⛽⛽⛽⛽⛽⛽⛽⛽⛽⛽⛽⛽⛽⛽⛽⛽⛽⛽⛽⛽⛽⛽⛽⛽⛽⛽⛽⛽⛽⛽⛽⛽⛽⛽⛽⛽⛽⛽⛽⛽⛽⛽⛽⛽⛽⛽⛽⛽⛽⛽⛽⛽⛽⛽⛽⛽⛽⛽⛽⛽⛽⛽⛽⛽⛽⛽⛽⛽⛽⛽⛽⛽⛽⛽⛽⛽⛽⛽⛽⛽🏆🏆🏆🏆🏆🏆🏆🏆🏆🏆🏆🏆🏆

4.3

अल्टो 800 एक बजट कार है यह मेरी रॉयल इनफील्ड बाइक से भी कम खर्च में चलती है और इसकी सर्विस भी लगभग रॉयल एनफील्ड के बराबर ही पड़ती है मैं इससे सभी मौसमों में सुरक्षित हूं और दुर्घटना से भी इसमें काफी बचाव है
All Alto 800 User Reviews
Images of Alto 800 Competitors