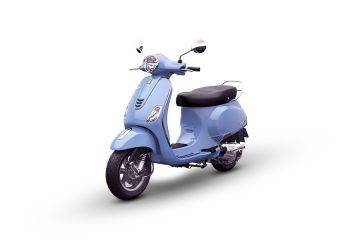 Vespa VXL 125
Rs. 1.30 - 1.32 Lakh Ex-showroom Price,

Delhi
View June Offers
View On Road Price
Get genuine Vespa VXL 125 spare parts and accessories list. Find out offcial price list of different accessories & spare parts of Vespa VXL 125 which includes Leg Guard, Mudguard, Brake Shoe, Spark Plug, Headlight and other body parts.
Vespa VXL 125 Spare Parts Price List
| Vespa VXL 125 Parts | Authorised Dealer Price | Extra GST 28% | Total Price |
| --- | --- | --- | --- |
| Saree Guard | 450 | 126 | 576 |
| Leg Guard | 600 | 168 | 768 |
| Grip Set | 200 | 56 | 256 |
| Rider Foot Rest | 597 | 167 | 764 |
| Pillion Foot Rest / Holder | 220 | 61 | 281 |
| Kick Lever | 400 | 112 | 512 |
| Handle Bar | 560 | 156 | 716 |
| Handle | 375 | 105 | 480 |
| Gear Set | 285 | 79 | 364 |
| Clutch Lever / Brake Lever | 130 | 36 | 166 |
*These are estimated price and may vary based on location. Price mention above is in Rs
*SGST (State GST) + CGST (Central GST) = GST
Vespa VXL 125 User Reviews
3.9/5
Based on 115 rating & 45 reviews
Review your vehicle & win ₹ 1000
All

Looks (7)

Mileage (7)

Comfort (6)

Power (5)

Engine (5)

Experience (5)

Service (5)

Spare (5)

Maintenance (3)

Parts (3)

Spare Part (3)
Driving experience

The driving experience of vespa vxl is awesome and mileage is upto 40 km and vespa never compromised in this, The power is also super

0

Share

High power

It's is an luxury brand it has high power than ntorq luxurious scooter in this variant

0

Share

Still good and strong. Except

Still good and strong.Except some rust which could have been avoid if used a proper water to clean.

0

Share

3.0

Definitely awesome when i

Definitely awesome when i first got the vehicle, About 4 years later, Engine sounds begin to be louder and the pickup is super bad at this point, Needs frequent maintenance to be able to ride safely

0

Share

Don't buy Vespa I using from

Don't buy vespa i using from 2017 till today it is giving only 25 to 30kms per litre only

0

Share

3.0

Dealer nearby1you

I am a vespa owner for the past three months in kochi and i have to say that the after sales services provided1by vespa and aprilia dealer is nowhere near to even the standards of honda or hero scooter services.My scooter1had major electrical issues from the factory and died completely while on road during a christmas1midnight.Then i had to push the scooter all the way to my home and called road side assistance in the morning1and they came and took the scooter to the service centre and i picked it up two days later with the rear1number plate dented and scratched.Again the same electrical issue happened and this time i met with an1accident as a result of it.After questioning them their quality of services and expressing my frustration of1spending 1.4 lakhs on a scooter that constantly breaks down, They agreed to look into it thoroughly and they replaced1the complete fly wheel magneto assembly.I reported the same to vespa customer care and till now, I have not1received a follow up call from them.As a result of the accident, My brand new scooter has scratches on its1body and when i asked them to fix it as it was not caused due to my negligence, They just painted the centre1stand after i insisted a lot and said that the rest of the scratches are negligible.As i didn't have time to1spare behind this vehicle anymore, I just left it as it is and is thinking of fixing it under insurance1later.I have to say that any people looking forward to buying aprilia or vespa must make sure that the dealer1who services your vehicle has a good reputation and is committed.I had a small talk with the new customers of1vespa and aprilia and have come to know that some are facing electrical issues with the vehicle.So, Please1research well before spending such a huge amount of money.Even though i am a vespa owner, I don't find it1worth spending so much considering its low mileage, Dearer spare parts and low quality after sales service.I1would personally not recommend any of their scooters to my dear and near ones as a person who is using it1daily.The electrical issue that i had come across is just one among all the issues that i have faced since1purchase.The other issues include, Engine oil leak from drain bolt and engine oil filler cap after first1service due to failure to replace the respective gaskets, Water ingression in rear left indicator due to a1broken indicator assembly from factory which i fixed using araldite and ignition coil fault that caused1frequent ignition failures.All these have happened only within the second service of this scooter and i feel1like selling this scooter off as soon as possible but is still holding onto it because of the huge amount of1money that i have spent on it.So, Please verify with anyone whom you know have purchased from a dealer nearby1you before spending such a large amount.If you have no sources then, At least check for google reviews and1read all reviews carefully.Please, I have suffered a lot and now i don't want anybody else falling unknowingly1into their 'premium experience' tagline.So, Kindly research a lot and invest your hard earned money wisely.

0

Share

I bought a red Vespa scooter

I bought a red vespa scooter now 1 plus year.Free service was ok.But paid service is expensive, Spares are costly, Steal petrole, Spares hopefully.Spoiled my FAVOURITE scooter.Now i am thinking of changing it for a good serviced vehicles.Unskilled and looting, Lazy personals, Poor management, No follow up from vespa on all this.Near by service center was closed i have take for 15 mms in chennai traffic wait for a week for simple service, Too it back with lots of trouble, Eyes of employees tell us many stories on baddides.Do not buy vespa as no service.Noise, Knocking engines people do not know the value of the product.Horrible.

0

Share

4.6

Purchased recently

I have purchased recently one yellow coloured vespa vxl 125 model and am very happy after discovering that the choice i made is the correct choice in terms of safety, Pickup, Braking, Colour, Design and smooth manouvering in any angle you like.In brief it's a very very good scooter to enjoy riding a long distance comfortably.

0

Share

Months ago

I baught a vespa 125 two months ago.Whenever i took the scooter to service centre for repair.They don't have spares.And for a normal paid service they will say it takes 2 or more days, Then we have to skip the check up we tell them.Pathetic service in calicut location.The way they behave to customers also very bad.

1

Share

4.6

Long rides

Pros: Comfort, road grip,suspension, build quality, looks, long rides, CBS braking, After 1st service gives a mileage af 40+ in city and 50kmpl plus on highway( if ridden between 70 to 90 kmph), overtaking is a charm on this. We can enjoy hill station riding even with a pillion on, as it has excellent power for a scooter.Con: only con I noticed is you have to use Choke once in the morning every day to self start. Final verdict: If safety and comfort are your priorities, if you travel a lot....This is tailor made for you.

0

Share

More Customer Reviews of VXL 125
Recently Asked User Questions and Answers
Q. Does vespa VXL 125 have choke?
Vespa VXL 125 is not available with a choke. It is powered by a 124.45cc single-cylinder air-cooled, fuel-injected 3-valve SOHC engine paired with a CVT gearbox.
Q. Which scooter is best for bad roads, I want to buy Vespa 125. - VXL 125?
In my opinion, Vespa VXL 125 is good in terms of road grip as it has wide tyres, better sitting position and comfirtable handling. But, Vespa suspensions are little stiff in my personal opinion and seats are quit firm so if you are riding on long strech of bad road you will feel pain in your waists and wrists.Although, as I said initially due to its wide tyres and better sitting position, it holds the roads better.
It is better to buy good suspension scooter if daily commuting in bumpy roads.Apart, Vespa vxl 125 reaches 90kmph in highway easily with nice handling and excellent braking even it has no abs. Overpriced.bottom will touch on curvy humps.
The VXL 125 is good on bad roads because of it's aircraft inspired suspension setup and heavier weight due to its all metal monocoque construction. Also, it is very stable on the highways, making it the ideal scooter for long trips.
View All Answers
More Questions
Find Spare Parts Cost of VXL 125 Alternatives