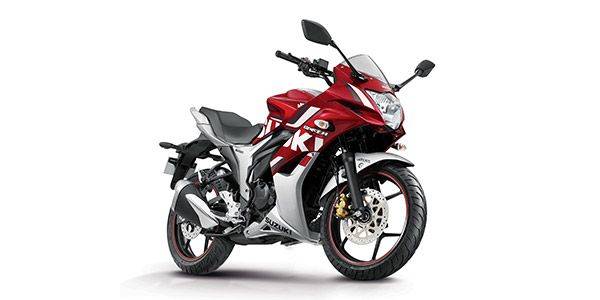 Suzuki Gixxer SF (2015-2018)
Rs. 87,344
Discontinued Model since 20 May 2019
---
About Suzuki Gixxer SF (2015-2018)
The Suzuki Gixxer SF is the full faired version of the highly popular and acclaimed 155cc naked street Suzuki Gixxer. The Gixxer SF, SF for Sport Fairing, is not much different from the naked Gixxer, except the addition of the fairing or the aluminium exhaust end cover, and also the clear lens indicators. And all this part sharing with the Gixxer makes the price of the Suzuki Gixxer SF very very attractive – making it the most affordable full faired motorcycle in India
Suzuki Gixxer SF (2015-2018) Overview
The Suzuki Gixxer SF is the full faired version of the highly popular and acclaimed 155cc naked street Suzuki Gixxer.
The ABS version for the Standard Suzuki Gixxer SF range is available in both the carburetted and fuel-injected versions. The Suzuki Gixxer SF ABS has been priced at Rs 96,800 for the carburettor-equipped variant, while the Fi variant carries a sticker price of Rs 1,00,630 (both prices, ex-showroom Delhi).
However, Suzuki has discontinued the non-ABS variant of the Gixxer SF SP range. It is now only be available with fuel injection and single-channel ABS as standard. Priced at Rs 1,00,630 (ex-showroom Delhi), the Gixxer SF SP now comes in black and gold colour combination and new graphics on the front cowl and fuel tank as well.
Suzuki Gixxer SF (2015-2018) Colours
Bikes Similar to Gixxer SF (2015-2018)
Must Read Questions & Answers Before Buying Gixxer SF (2015-2018)
Q. For daily running of 50 -80 km which bike is most comfortable.
For current scenario before any final verdict have test ride of new Yamaha fzs 150 v 3 , you get fresh look , super fine engine, rock solid built quality over the apache Rtr 180 , and if you dieheart fan of apache go with apache 200 4v which never let you down any moment
Hero HF dawn is very light weight it's not comfort in breaker and only one sitting position. While apache RTR is heavy and you can change sitting position by sitting strate same time you Lin like racer. It's very less maintanace bike. Of course it's price is high but when ever you ride RTR 160 you enjoy the ride and forget all these issue back pain and all that because I am also feeling so and almost every day I am riding 100km in RTR160.
Hi , I used Apache RTR 180cc for 8 long years , yes it is racing bike , good engine..... but Milage is only 38-40 , maintenance also expensive, you will get back pain, shoulder pain for long drive, I got Backpain as Gift from Apache, now iam planning to buy new bike I test drive Unicorn 150 , XBlade, Apache RTR 4V, Pulsar 150 but my Choice is wil be Unicorn 150 in my opinion you choose bike considering your age, height, Milage, Maintanence
View All Answers
Q. Is the comfortable for short riders in traffic - Gixxer SF ?
Very comfortable for short riders in traffic.weight is also manageble.it is a sports tourer type bike.we didnt feel the weight of headlight ,mirrorsets etc on handle bar.so its very free
Pretty much in my opinion as I ride it in the city for daily commute through heavy traffic and gear shift, clutch, seating position and weight is never a problem for me.
If you are in running traffic it is good but if you are in bumper to bumper traffic the engine tends to heat up a bit which might not be good for shorter riders .
View All Answers
Q. I am planning to buy my first bike, will Gixxer be the most accurate choice?
Right now there are bikes in the 150 segment which are offering dual channel ABS with slightly more price.However Gixxer sf have a single channel ABS so in terms of safety you can keep other options.Good things of Gixxer sf1) good performance bike, quite responsive to the acceleration.2) value for money...... sitting arrangement is good for driver seat and comfortable also for long tours up to 200kms.3) Console is very informative having gear number, clock, trip meter, odometer etcProblems of Gixxer sf1) Honestly telling, mirrors is the considerable problem on Gixxer sf, either you have to get used to that mirrors which will be frequently causing trouble for you if you keep them open, or you can get it changed depending on your need.2) gear shifting is also a problem while shifting down .......it gets stuck so you have to release the clutch and then it comes to respective gear number.Every bike have pros and cons so if ABS is your only priority then definitely go for other bikes otherwise this is an excellent bike for daily tours as well as long touring.
It depends upon for what purpose you want a bike. You should also test ride the new apache 160 4v BS6. I suggest you apache.
No.. I ride TVs rtr 160 4v once... Its smoothness,& suspension was better than gixxer.. and it's looks also very stylish especially red & back(rtr 1604v)..
View All Answers
More Questions
Gixxer SF (2015-2018) Questions and Answers
Suzuki Gixxer SF (2015-2018) User Reviews
4.2/5
Based on 444 rating & 128 reviews
Review your vehicle & win ₹ 1000
All

Comfort (21)

Mileage (19)

Performance (15)

Engine (12)

Looks (11)

Maintenance (9)

Service (9)

Experience (7)

Gear (6)

Seat (5)

Price (5)
Driving is beautiful,millage

Driving is beautiful, mileage about 50 in city, Pick up is amazing, Service cost is affordable, Engine performance is so good, Build quality is excellent

0

3.4

Sales services

From the start, the bike felt so good to ride. Smooth cruises @ 60-80kmph are my favorites. The seat is very comfortable for the rider but a little hard for the pillion. The best thing about the bike is the handling and the value for money. At this price, this is the best engine one can get with such killer looks. The thing that bugs me are the poor after-sales services. Local service centers are the worst. Also, the bike needs new parts almost every month, so not one of the best for Indian roads that imitate mars.Performance-wise I am fully satisfied, it is a commuter bike with sporty looks and it lives up to that, it gets pretty fast and is good for short to medium rides. It offers great mileage of 40-45kmph, little more on the highway which makes it a perfect choice for daily commutes and occasional weekend short rides. The synthetic engine oil used gives it superior NVH levels with good performance. It might be unlucky of me, that I had to end up with such a crappy service center but apart from this, the bike is good. PS: This bike has some serious issues with the handlebar ratchet and I have seen a lot of owners complaining about it.

0

3.4

Started leaking

It"s been just a year since i bought my gixxer sf and i"ve been using it for daily commute for about 60 kms daily. And after using it for almost 15000 kms, nearly everything in the bike has given up. The engine has seized, front shocks have started leaking, front disc rotor is completely worn out and chain is making weird noises. It has all happened even after I"ve never missed even a single service as per the schedule provided in the user"s manual and only used it for commuting to and fro work on delhi roads.To add to the pain of it, the only response the crappy service center has given me is that i"ll have to pay about 10,000 bucks for the engine rebuild. That"s almost 10% of the original cost of the bike that i need to spend on the bike (excluding regular servicing cost) within just a year. Absolutely disgusting product. And that amount is just for the engine rebuild excluding front shocks repair, front brake rotor replace and sorting out the chain drive. The mechanics at the service center said that the condition of engine might be due to because the engine was consuming engine oil and the bike "might have" ran on low engine oil level. As if anyone would do that intentionally. If that happens even after not missing even a single scheduled service and breaking-in the engine properly as per the prescribed kilometers in the manual, then that only makes the fact more evident that this product is bad in itself.Overall, at first i just thought that only the service division of suzuki is terrible but after a year, i"m completely certain that this product of their"s is even more awful.

0

I bought that bike in 2018

I bought this bike in 2018 and it was a very good experience from then.Odometer completed 63000kms and still running with out any issues, Kudos to the engine refinement and reliability.Except the wear and tear of the mechanical parts like break pads, Disc pads, Chain sprockets and chain are common in all the vehicles, It doesn't bother me much due to the economical prices for the spare parts and servicing charges.Its impressive mileage is ranging between 48kmpl - 52kmpl depending on the driving conditions.Though its a 155cc engine, It pulls pretty nicely and the styling of the bike really make people think it belongs to a super bike family.

0

2.2

Delicate part

The after-sales service is totally pathetic from Suzuki. Parts are not easily available. Long waiting period. The suspension is very poor quality hence won't be available at all spare part dealers and that is the most delicate part of the bike. The diamond frame is only fat but not strong. Front forks are fat in the segment and the worst in the segment as well which can't be repaired in local markets. Overall the bike is made in the way that the company will eat your money in service and 26% service charge on parts. Don't listen to influencers praising the bike on the net or this app. They are the same people that disgraced the bike till 2018.

0
Suzuki Gixxer SF (2015-2018) Expert Reviews