Suzuki To Give Away Free Helmets To Promote Road Safety
by Niraj
Jun 27, 2018
Views : 2932
---
The Japanese two-wheeler manufacturer plans to give away a total of 12,000 helmets across 12 major cities by the end of July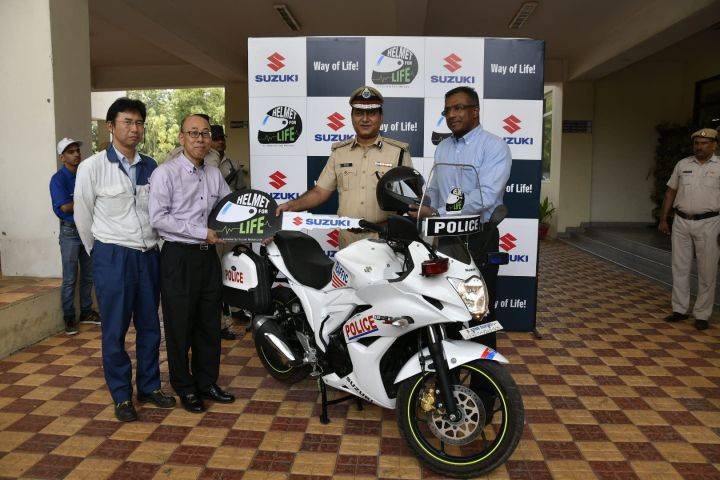 In a bid to promote rider safety, Suzuki India has kicked-off the second phase of its nationwide 'Helmet For Life' campaign. As part of the initiative, the company plans to give away 12,000 free helmets to riders. The campaign will start in Delhi-NCR and then move to Mumbai, Pune, Ahmedabad, Surat, Bangalore, Calicut, Chennai, Hyderabad, Kolkata and Lucknow before the end of July.
The latest campaign was kicked-off in Gurgaon in the presence of the city's commissioner of police, who received the keys to brand new Gixxers that will soon join the fleet of traffic authorities. The bike maker plans to distribute a total of 60 motorcycles across the country. The customised motorcycles are equipped with a siren, a loudspeaker and a red-and-blue beacon.
Meanwhile, the company also announced that it will be kicking off the 2018 season of the Gixxer Cup on 5 July, 2018. Click here for more details.
The 'Helmet For Life' campaign should help spread awareness about road safety to bring down the sheer number of road accidents that occur in the country every hour. Basic gear like a helmet, riding gloves and a motorcycle jacket can go a long way in keeping the rider safe in the event of a crash. So we gladly welcome Suzuki's decision of providing free helmets across major cities for safer roads.

Press Release -
With 'Helmet For Life'; Suzuki Motorcycle India kick-starts campaign to promote helmet awareness
Gurugram, June 22, 2018: Suzuki Motorcycle India Private Limited (SMIPL), a subsidiary of one of the world's leading two-wheeler manufacturer, Suzuki Motor Corporation, Japan; has kick-started the second-phase of its helmet awareness campaign – '#HelmetForLife.
In a bid to promote safe-riding habits and encouraging two-wheeler riders as well as pillion-riders to always wear a helmet, the #HelmetForLife, campaign was announced in the presence of Mr KK Rao, Commissioner of Police, Gurugram; Manish Sehgal, Assistant Commissioner of Police (ACP), Mr Satoshi Uchida, Managing Director, SMIPL; and Mr Sajeev Rajasekharan, Executive Vice President, SMIPL.
The Suzuki Motorcycle India management also presented Gixxer motorcycles to the Haryana Police. Under the #HelmetForLife campaign, Suzuki Motorcycle India will be distributing 60 Gixxer motorcycles to the traffic-authorities and more than 12000 helmets, across 12-cities during the next few days.
At the ceremony conducted at the Gurugram Commissioner office, Mr Satoshi Uchida, Managing Director, SMIPL said, "Helmets are not just an accessory, but are a very important safety-gear that can improve the chances of survival. Suzuki has always invested in making riding experiences exciting and safe for its customers. We are pleased to join forces with the Haryana Police, and kick-start the 'HelmetForLife' campaign today."
Mr Sajeev Rajasekharan, Executive Vice President, SMIPL said, "After the encouraging response to the #CaughtWithoutHelmet campaign in terms of creating awareness, the 'HelmetForLife' initiative is a very important step towards triggering a behavioural change amongst two-wheeler riders. We are grateful to the Gurugram Commissioner and the Haryana Police for joining us in this endeavour. With the Gixxer motorcycles that carry the message of #HelmetForLife as well as on-ground helmet-distribution initiatives, we hope to take the message of safe-riding to maximum number of people in Gurugram."
Mr KK Rao, Commissioner of Police, Gurugram, Haryana Police said, "We appreciate this noble gesture undertaken by Suzuki Motorcycle India and are glad to extend our support to them in this mission to improve road safety. We urge two-wheeler riders to always follow safe-driving practices, and ensure that they not only themselves wear a helmet, but also encourage the pillion rider to do the same."
The 12 cities that will be covered in this phase of '#HelmetForLife' campaign are Gurugram, New Delhi, Lucknow, Mumbai, Pune, Surat, Ahmedabad, Bengaluru, Hyderabad, Chennai, Calicut and Kolkata.
Suzuki Gixxer-SF [2016-2018] Video Review
Add Your Comments