Ather 450: Real World Range Tested
---
How much should you be thinking before twisting your wrist?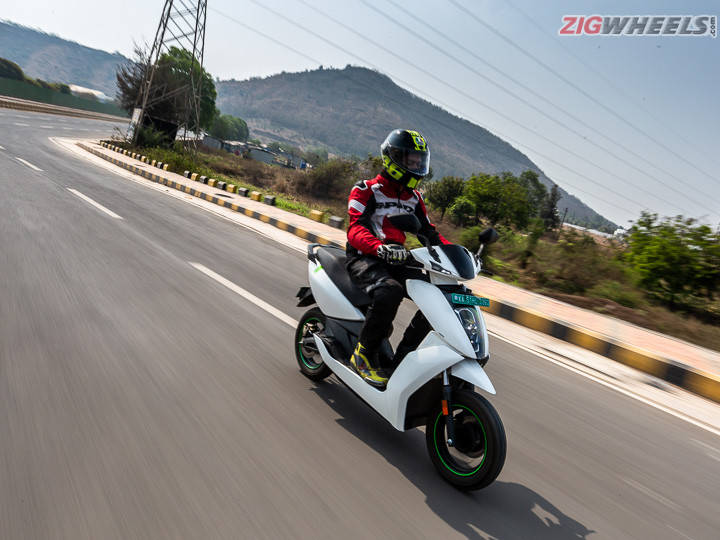 It's not just the automobile industry that has to slowly reinvent itself with the onslaught of EVs. Us motorists will also need to rewire ourselves to get comfortable with using them, and the biggest hurdle in the way of this, is the much-spoken-about 'range anxiety'.
'Can I afford to go full throttle?' 'What if I end up having to push myself home?' 'Maybe I should back off a little and conserve some charge.' Anyone who's ever ridden/driven an electric has had these thoughts. The Ather 450, with its claimed range figures of 55km in Sport mode and 75km in Eco mode, doesn't really do much to help quell these fears. But life isn't lived on paper; it's lived out in the real world. So that's exactly where we took the 450 to verify its range figures.
The Format

The urban jungle is where a scooter like this is going to be spending most of its time, so that's where we decided to test it. Rush hour traffic provides the perfect real-world scenario in which to assess the Ather, and so we descended into the madness with a full charge. A calculated average speed window of 20-25kmph is what most people experience on their daily commute, so that's what we targeted.
There was no conscious effort to ride frugally but at the same time there wasn't a manic dash to get things over with either -- top speed was capped at 45kmph, which is adequate for the city. The scooter was kept on at traffic lights and the Ather's negative throttle regen function* was used with moderate frequency.
You get three ride modes on the 450: Sport, Ride and Eco. Time constraints prevented us from testing the range in all three modes, so we carried out runs in the modes at the two extremes -- Sport and Eco -- to give you a window of what range figures you can expect. Sport being the least possible range and Eco the maximum.
Sport Mode


This is where you get the zippiest acceleration, quickest throttle response, and highest top speed. None of which are very good for frugally sipping on the battery's charge. We set off in the morning with our range indicator showing 55km at 100 per cent charge, so I was expecting a ride of a little over two hours. More than 4 hours later, the Ather finally ran out of juice, having covered a mammoth 96.7km.
It's worth noting that once the state of charge (SOC) indicator drops below 15 per cent, the scooter automatically switches into Eco mode and cannot be switched back into Sport or even Ride. Nevertheless, the distance covered by the 450 on a single charge is hugely respectable, especially considering the drop in performance was negligible all the way down to 1 per cent charge.

Even moments before the 450 ran dry, 45kmph was achieved with reasonable ease, though acceleration was a little more sluggish than it would be in Eco mode at full charge. The average speed was calculated to be 23.9kmph, and even when the scooter stopped scooting, the TFT display and headlight continued to remain on.
Eco Mode

Having seen how much of an overachiever the Ather was in the first range test, my backside wasn't exactly looking forward to the Eco run. Nonetheless, I strapped myself in and got on with it. The range display showed 75km at 100 per cent SOC at the time of setting off.
The trip meter ticked over to triple digits with close to 10 per cent charge remaining, and it eventually ran dry after 108.6km. Acceleration is noticeably slower than Sport mode and throttle response is duller too, but that's the price you pay for the extra 12km. The calculated average speed was 22.9kmph.
Disclaimer

While these range figures are immensely impressive, there is something that needs to be pointed out. Aside from the range tests, we also carried out performance tests such as acceleration and braking, which you can read more about here. And we found that profligate use of the throttle resulted in the range and SOC indicators dropping alarmingly quickly. The Ather rewards frugal riding just as much as it punishes thriftless riding -- it is very sensitive to riding style. So if you're in the habit of zipping everywhere at breakneck pace, do not expect to see anything close to the numbers we achieved on our tests.
But if you're not looking to set the streets on fire and just want something eco-friendly to ferry you to the office and back, the Ather 450 is more than up to the job. Being based in Pune, we didn't have access to the Ather Grid and its fast chargers, so we had to make do with a conventional charger plugged into a 5-amp socket. This meant a charging time of around 4 hours from empty to full. Ather's consumer feedback indicates that around 90 per cent of charging happens at home, so this shouldn't be too much of an issue.
The Future

We had a chance to speak to Ather co-founder Tarun Mehta recently, and ask him if he has a target range in mind for future products. His answer was rather interesting. He said, "Ather isn't aiming for a particular range number but rather a target charging time." The Ather 450 can currently charge up at 1km per minute using the Ather Grid and its fast-charging capabilities. But this scooter will soon be discontinued, leaving just the 450X.
The X claims 85km of range on a full charge in Eco mode, and can charge up at 1.5km per minute. This means a 10-minute hydration stop at an Ather Grid charging point will give you 15km of range, which should be enough to ride all the way across most metro cities. In fact, the projected real-world range with a mixed driving cycle is said to be 116km! I'm already dreading the range tests for this one.

*Once fully rolled off, the throttle can be twisted negatively (though very slightly) to dial in some extra regen and decelerate you a little more quickly. Very useful for slowing down at speed breakers without having to touch the brakes
Add Your Comments

More on Ather 450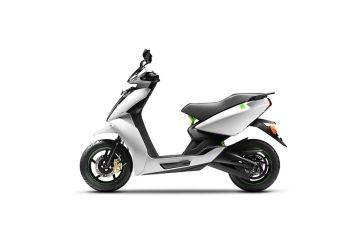 Rs. 1.35 Lakh Onwards
Ex-showroom, Delhi
View July Offers
View On Road Price