Kawasaki India Launches Ninja H2 SX And H2 SX SE At Auto Expo 2018
by Karan
Feb 7, 2018
Views : 5602
---
The Ninja H2 SX and SX SE brings home a dash of practicality without compromising on the behemoth performance of the supercharged Ninja H2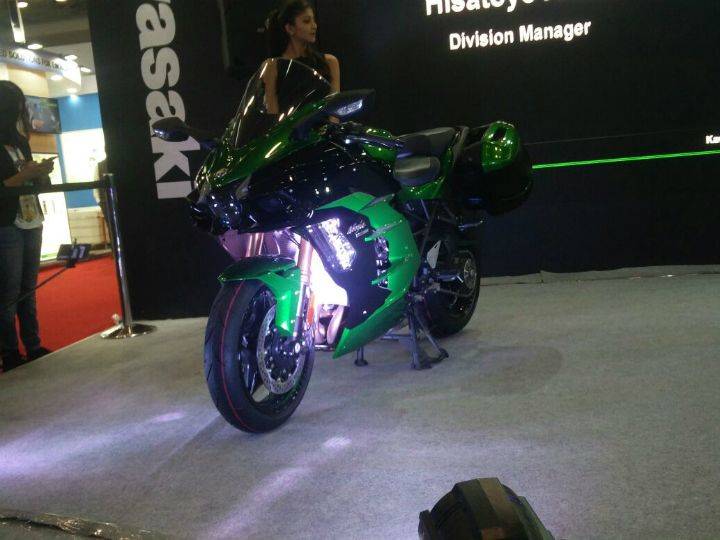 Kawasaki first showcased the Ninja H2 SX sports tourer at the 2017 EICMA motorcycle show in Milan, Italy. And it's finally here to set a benchmark in the sport tourer segment. The Kawasaki H2 SX comes in two variants, the H2 SX and H2 SX SE. The H2 SX is priced at Rs 21.80 lakh (ex-showroom) and the higher-speced SX SE is priced at Rs 26.80 lakh (ex-showroom). Kawasaki will bring both the bikes to our shores via the CBU route.

In terms of styling, the Ninja H2 SX looks similar to the Ninja H2 from the front. But now boasts a larger fairing covering the engine. Since this is a tourer, the rear has been designed to offer pillion comfort and for mounting panniers. The rider seat height is 835mm now, while at 19 litres, the fuel tank capacity has gone up by 2 litres. The windscreen has also been tweaked and is more upright now for better wind deflection. The LED headlight, instrument console and switchgear are derived from the Kawasaki Ninja H2. Further affirming its tourer traits are the clip-ons that are set higher than the Ninja H2, while the footpegs are set slightly forward to offer a relaxed riding posture. To make room for the panniers, the exhaust canister is smaller and is placed closer to the ground. In addition to the rider aids seen on the H2 SX, the SE gets lean-sensing cornering headlamps, a colour TFT screen and a bi-directional quickshifter.

Both the H2 SX and the SX SE houses the Ninja H2's second-generation supercharged, in-line four motor that generates 200PS of power at 11,000rpm. Kawasaki claims that the motor is tuned to offer smoother delivery with better low- to mid-range tractability. It is also said to be more fuel efficient than the Kawasaki Ninja 1000.
The underpinnings of the H2 SX are shared with the Ninja H2. However, to make it a capable tourer, the steel trellis frame has been extensively modified. It is more rigid now and can easily bear the load of a pillion and the two panniers, mounted on either side. In fact, Kawasaki claims that the frame is now rated for a payload of up to 190 kg. For more stability, the steering rake has also been increased and the bike also gets a longer wheelbase.

Electronic wizardry comes in the form of Kawasaki's latest IMU package, which includes cruise control and cornering-based electronic rider aids.
The Kawasaki Ninja H2 SX doesn't really have a rival to compete against in the sports tourer segment in India. But if we were to look elsewhere, the closest competing tourers would be the Honda Goldwing and the BMW K1600B.