EV Wars: Porsche vs Tesla
Sep 15, 2019
Views : 4946
---
How Tesla is planning to dethrone the Porsche Taycan for the fastest 4-door EV title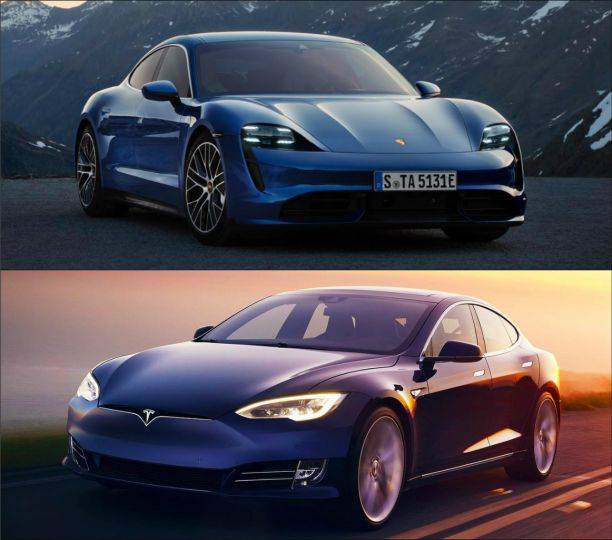 The EV wars, as the internet refers to it, sparked when Porsche set the record for the fastest 4-door EV with the Taycan at the ring with a time of 7:42. Pretty impressive for an all-electric sedan that weighs over 2 tonnes. Elon Musk was quick to react on Twitter by saying that the Model S will be at the Nurburgring next week. Former F1 champion Nico Rosberg offering his assistance for the attempt added further hype to the whole incident.
The Germans, meanwhile, have openly accepted the challenge as Klaus Zellmer, President and CEO of Porsche Cars North America, told Cnet that "We call ourselves a true sports car manufacturer, and there aren't that many ways to prove that it is a true sports car". He also added "The Nurburgring is almost like a meter that you use to define where you stand."
In the meantime, various contradicting reports have surfaced on the internet stating that Tesla doesn't have any booking for a dedicated tracktime at the ring. What this means is that the Model S will have to attempt the run with other manufacturers during traffic-filled testing sessions. Nevertheless, Tesla has somehow managed to get a 30-minute window on September 21 as per various reports.
They are in fact currently at the Nurburgring with a red Model S shod with Goodyear Eagle F1 semi-slick tyres and HRE wheels ( these are not even available as an option for the Model S). But Nordschleife locals could'nt find Nico Rosberg anywhere, suggesting some else is behind the wheel. Tesla has been doing various runs and readying for the final showdown.
Now, this is where the first episode of the EV Wars take a sharp deviation. While we haven't heard from Tesla about the ring attempt since a while, the American EV giant is in the news, now claiming to have broken the record for the fastest production 4-door car around the Laguna Seca Raceway in California. Wait, the memo didn't say anything about this -- not only is Laguna Seca in a different continent but it also is not exactly an ideal setting for this scenario. We did the math: Nurburgring is exactly 7 times longer and far more treacherous than the Laguna Seca. Don't get us wrong here, the American raceway is a good stretch of tarmac. What Porsche perfected over the years was repeatable performance from EVs while also being dynamically competent. To put that to the test, nothing beats the Green Hell.
Anyway, Nurburgring is still on plan and we understand that Tesla had to push the date to next week. Someone was under the wrong impression that you could show up at the ring with a modified Model S and a van full of engineers in shorts and do a lap. Nope, Nurburgring is the last place on earth you could that actually.
Back to Laguna Seca then; Tesla has also released a video which shows a Model S (with 7 seats) complete the run in 1:36.555, one second faster than the Jaguar XE SV Project 8 driven by Randy Pobst. But, is it a record? Not exactly.
This is where things get a bit geeky. Technically, the Project 8 still holds the record for fastest production 4-door. The term 'production' is the key word here. You see, the Tesla Model S which did the run was actually a Frankenstein with a different powertrain called "Plaid". It is also seen sporting a Model 3 steering wheel along with various other changes that Tesla has not yet revealed. Moreover, Elon Musk has tweeted that the Plaid powertrain will only make into production after one year. The Plaid, if you're wondering, is a 3-motor setup (as opposed to two motors in the production Model S) which was first announced for the Tesla Roadster. This new powertrain itself destroys the point of the whole lap time which is anything but a record!
How can you claim a production-car record when the same car in question is far from a production version? Even something so extraordinary like the Bugatti's otherworldly 490kmph top-speed run was not a world record. And here we have Tesla claiming to have smashed the production-car lap record at Laguna Seca with a prototype, that has many changes, and a powertrain that is one year away from production.
Adding gravy to this whole fiasco is another revelation which was unearthed by Road and Track Magazine. Laguna Seca officials say that Tesla Model S' lap time is not valid. "We were not officiating while Tesla was testing on the track, official records only happen during sanctioned events where a sanctioning body is officiating." said the track officials to CNBC. Now, that escalated quickly.
So, to put things in a jiffy, the prototype Model S' powertrain is far from making into production, the claimed lap time is unofficial, and Tesla is yet to share further technical details. Until and unless there is more clarity on these, this is just another attempt which upon digging you'll find is actually slower than a 20-year old modified Lancer EVO. Oh, and we sure hope that Tesla is planning to dethrone the Porsche Taycan with a "production-spec" Model S at the Nurburgring.
Spy Image Source: MotorAuthority
Add Your Comments