Tesla's Model S Plaid Boasts Supercar/Hypercar Rivalling Sub-2 Second Sprint Time
Sep 25, 2020
Views : 1872
---
Tesla brings the bonkers Roadster's performance into a four-door sedan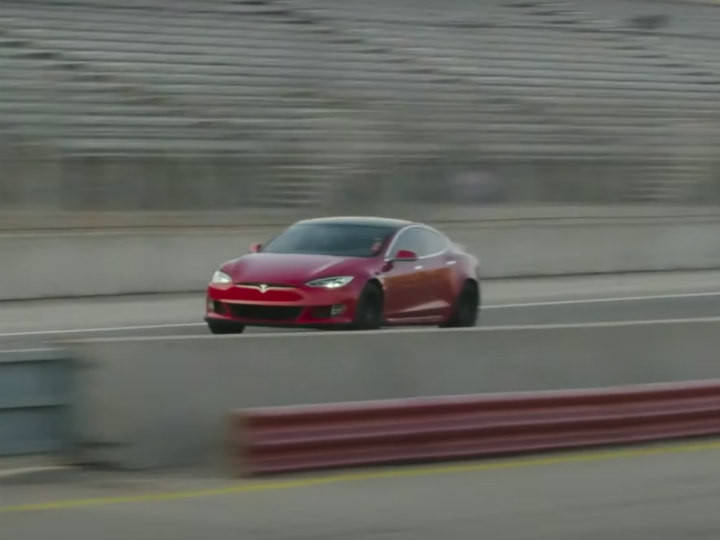 Its tri-motor all-wheel drive setup goes from 0-96kmph in less than 2 seconds and on to a top speed of over 322kmph.

It has recently lapped the Laguna Seca circuit in 1:30.3, six seconds faster than its prototype attempt last year.

Deliveries to commence in late 2021.

Will rival the likes of the Porsche Taycan and Lucid Air.
Tesla's long-held crown in the electric vehicle segment has lately been under threat from the likes of the Porsche Taycan and Lucid Air. But the carmaker had hinted at a response by testing various prototypes of the Model S at the Nurburgring circuit back in September 2019. And that response is here with the Model S Plaid, unveiled at the company's Battery Day event.

Powering the electric sedan is a 3-motor all-wheel drive setup instead of the dual electric motor setup on standard Model S. It pushes out more than a whopping 1100PS of outright grunt! All this gives the Plaid a 0-96kmph sprint time of less than 2 seconds and a top speed exceeding 200mph(322kmph). You may recognise some of these figures, because it matches the carmaker's upcoming Roadster. Essentially, you're getting sportscar/supercar levels of performance in a sedan!
Not only is the Model S Plaid the most powerful, it's also the most efficient variant in the Model S lineup with a claimed range of more than 520miles (836km) on a single charge. This is a whopping 190km more than the Long Range Plus variant.

Tesla also revealed that the Model S Plaid has been setting the racetracks alight with the electric sedan lapping the Laguna Seca circuit in 1:30.3. This pretty much shatters its previous attempt last year with a prototype Model S by more than six seconds. This bodes well for Tesla's chances to snatch the 4-door EV crown from the Taycan at the Nurburgring. The target lap time is 7:42.

Unfortunately, Tesla has only given snippets of what the Model S Plaid looks like via a promo video with the variant image on the website not matching with the model in the video. The most noticeable difference is a rear spoiler.
Orders are being accepted for a price tag of USD 134,490(Rs 99.14 lakhs), but it will be a long wait to receive the Model S Plaid as deliveries will commence in late 2021. Until then, here's an onboard lap of the Model S Plaid at Laguna Seca:
Tesla Model S Alternatives