The Ramesh Sureshs of Auto Expo 2020
by Alpesh
Feb 15, 2020
Views : 9324
---
Mirror mirror on the wall, is it the same scooter from the other stall?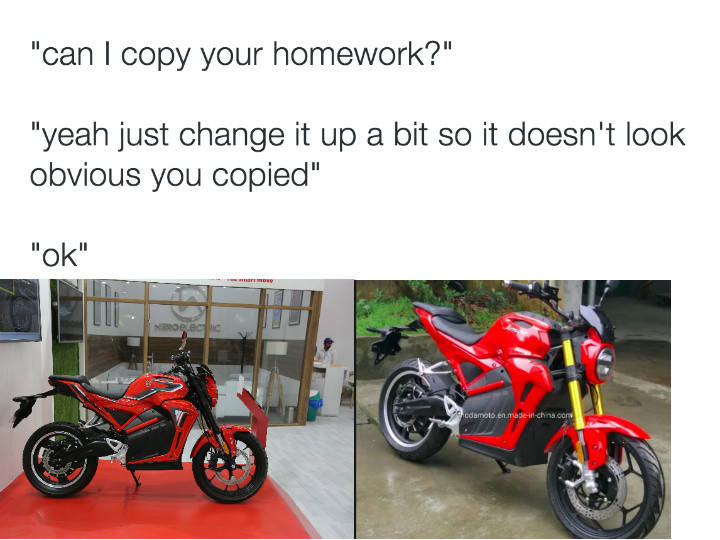 Electric mobility is the future, there's no doubt about that. And since this year's Auto Expo saw the highest number of EV brands participating, we thought we'd show you what's in the store for two-wheeler enthusiasts in the future. However, what we got to see was rather unnerving. Apart from a few EV brands like the Pune-based Everve, most of the brands brought at least what looked like re-badged Chinese scooters with them. There were some differences between the scooters - mainly in the headlamp department and the instrument console - but if you park all these scooters next to each other, we are pretty sure you'll see the similarities. Honestly, it was like walking in a maze where you end up thinking, "Hey, where have I seen that thing before?"

After scratching our heads for a week and searching numerous Chinese websites, we have compiled a list of a few scooters/motorcycles that were showcased/unveiled at the expo. Some of which either looked similar to each other or are just re-badged Chinese scooters that are just assembled here.
Okinawa Cruiser:

Okinawa has always maintained that its scooters are designed in-house. However, its current lineup of scooters like the Ridge and Lite have identical twins on the Chinese EV brand, Zhejiang Luyuan's website. So when Okinawa shared a teaser image of the scooter that it planned on unveiling at this year's expo, we knew where we could find the scooter in all its glory.
At the expo, we got to see the real deal and just as we had imagined, the Okinawa Cruiser looked eerily similar to the one seen on Luyuan's website. Apart from some minor cosmetic tweaks here and there, both scooters are identical. We don't have any problem with Indian EV brands assembling these scooters in India, but they should at least be upfront about this and release a statement saying the same.
Hero Electric:

Yes, even Hero Electric is on our list (did we just burst your bubble?). Until a few days ago, even we thought Hero, having had a presence in this industry for so long, designs its own scooter. But after spending so much time on Chinese websites, we ended up finding Hero Electric's first motorcycle's Chinese doppelgänger. The AE-47, as you and we know it, is sold on a Chinese website called Ningbo Ruifeng Vehicle And Co. If you have a little bit of patience and access to fast internet, you can easily find most of the electric two-wheelers sold in India on the website. And we are pretty sure you'd be able to spot Hero Electric's AE-29 e-scooter on this site as well.
M2GO:

The image above is a side-by-side comparison of M2GO's electric scooter and the one which we found on Chinese websites. See what we are getting at?
Evolet:

Apart from the Okinawa Cruiser, the Evolet Raptor was another maxi-scooter that made its India debut at this year's expo. And as you might have already guessed, there's a similar scooter available on Chinese websites.
If we're being honest, these are just a few examples. The 2020 Auto Expo was filled with other companies that we've never heard of before. And we think in the coming few years, there will be more of such brands. Don't get us wrong. We would like for more and more brands to set up shop in India. This will give us a chance to ride and share our opinions on these two-wheelers. But as aforementioned, these EV brands should acknowledge the fact that their scooters (at least most of them) are just assembled here and not blatantly lie that they are"designed and manufactured in India".
On the other side of the spectrum, we have brands like Ather and Ultraviolette that have brought something new to the table; something which looks futuristic, exciting and quite desirable. Although both are startups (just like most other EV brands out there), they have done a pretty good job designing and manufacturing their respective two-wheelers in-house. We just hope other manufacturers learn something from them (just learn; don't copy them), and come up with products which are refreshing to look at.
Okinawa Cruiser Video Review
Okinawa Cruiser Alternatives
See what our community has to say!
NEW
India's largest automotive community