This BMW Electric Bike Makes As Much Torque As The Bugatti Veyron Super Sport!
---
With a single-speed reduction transmission, the motorcycle is claimed to produce a tarmac warping 1500Nm at the wheel
The motorcycle is claimed to be capable of accelerating from 0-60mph (around 96kmph) in 2.9 seconds.
It looks like an early prototype with parts taken off of different BMW vehicles.
The bike's electric motor has been taken from an extended wheelbase BMW 7 Series sold in the Chinese market.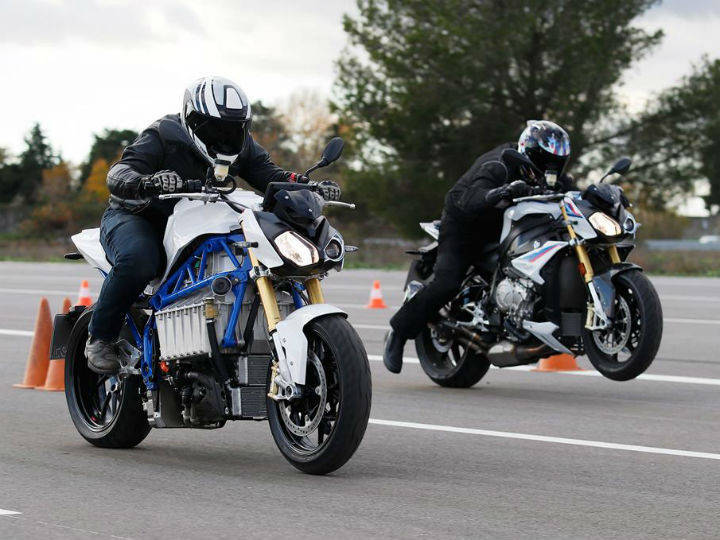 Just a few weeks ago, patent images of an electric BMW motorcycle leaked online and now, details of the brand's electric bike, the E-Power Roadster Concept, have surfaced on the interwebs. Going by the pictures, the motorcycle looks like an early prototype.
Also Read: This BMW Boxer Packs A Heavy Punch
The asymmetrical headlight along with the front suspension, brakes and wheel are from the BMW S 1000 R. The trellis frame is custom-made and the rear comes with a single-sided swingarm with a shaft final drive. BMW Motorrad has used the battery pack from a 2-series plug-in hybrid whereas the motor has been borrowed from a BMW 7 Series extended wheelbase version, sold exclusively in the Chinese markets.

The electric motor reportedly produces around 135PS and the peak torque at the motor stands at 200Nm. With a single-speed reduction gearbox, the electric motorcycle is capable of generating an absolutely insane 1500Nm at the wheel! The electric motor propels this 290kg motorcycle from nought to sixty (around 96kmph) in just 2.9 seconds! For perspective, the BMW S 1000 RR does the same sprint 0.2 seconds faster. The top speed is limited to 160kmph.

It uses a DC fast charger to juice up to 100 per cent in about an hour. That said, the bike has been facing battery heating issue with the temperature exceeding 40 degree celsius. BMW is working on enhancing the cooling system as well as offering 200km range. However, the production version is planned to offer between 200km and 300 km range. BMW aims to achieve 6km range per minute of fast charging. So, in theory, a ten-minute charging break should ensure about 60km range.
Also Read: BMW Motorrad Showcases Radical Electric Vision DC Roadster
While the production bike is still some time away from materialising, it looks like BMW Motorrad is heading in the right direction as far as experimenting with alternative-fuel-powered bikes are concerned. If we're lucky, we may see something interesting at the 2020 EICMA. Until then, stay tuned for updates!