5 Burning Questions That We Still Have For The Bajaj Chetak
---
Though they did reveal quite a lot about the Chetak at its unveiling, there was still a fair bit that Bajaj chose not to disclose at this time. So, you got questions, we got questions - let's tackle 'em together!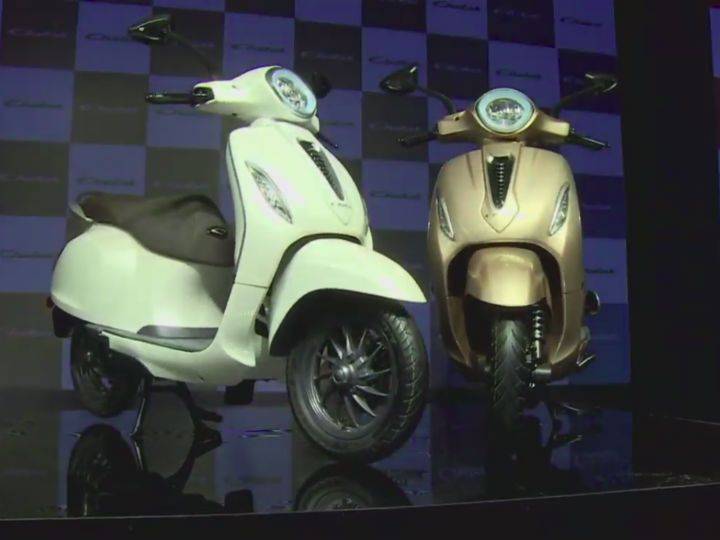 Bajaj has finally stepped into the world of electric vehicles with the unveiling of the Chetak. Although the Pune-based manufacturer revealed quite a few details about it at the unveiling, it is still holding onto a few important cards.
This, of course, raises a few questions in our head, questions you might have also had yourself. Allow us to attempt answering them.
1. What about the battery? How long will it take for a full charge?

While Bajaj hasn't given us the charging capacity, we've come to know that the scooter offers a real-world range of 95km in Eco mode, which goes down to 85km under Sport mode. Its closest rival, the Ather 450, also offers less range than the Chetak - around 75km in Eco mode, 65km in Ride and 55km in Sport. The Ather packs a 2.4kWh lithium-ion battery and since the Chetak offers a higher range than the Ather, we expect it to have a slightly larger capacity lithium-ion battery. Or it might just be better optimised.

The Ather 450 takes 4 hours and 18 minutes to charge completely using a normal 5 amp household socket and its manufacturer's fast-charging tech ensures a 1km range per minute of charging. On the other hand, the Chetak lacks fast-charging capabilities. Bajaj says the scooter can be charged using a 5-15 amp household charging socket. We believe it should take around 6 hours to charge using a 5 amp socket whereas if you use a 15 amp socket, expect the charging time to be around 3.5-4 hours. We arrived at this estimate considering the possibility that the Chetak might have a bigger battery capacity. If it's a smaller, well-optimised battery, expect the charging time to go further down.
2. How will its performance be?

We know that the Chetak is powered by a 4kW motor. This unit is less powerful than Ather's 5.4kW motor, which isn't surprising considering Ather's sporty genes. The Chetak is more of a family-oriented scooter but we have seen the test mule capable of sustaining around 70kmph rather easily. So expect the performance to be hot on the heels of the Ather.
3. Why metal body?

Most manufacturers strive to make their electric vehicles as light as possible whereas Bajaj has simply gone ahead and used proper steel bodywork. Why? Because Indian customers have a greater affinity towards vehicles using metal bodywork than anything else. It gives them a sense of reliability and sturdiness, and that's what Bajaj hopes to ride on. India's most popular scooters - the original Chetak and the Honda Activa - both had metal bodywork and it has been one of the reasons for their popularity as it gives customers a (false) sense of safety.
Sure, a heavier, metal bodywork may rob the scooter of range and performance but on the flip side, the target audience's perspective about the scooter will be pretty positive - something that's crucial in an all-new product.
4. What are the tech features we can expect?

We know the Chetak can be paired to a smartphone via an app to deliver features like ride history, scooter location, notifications for unauthorised access or accidents and music navigation. It also gets keyless ignition. Since the instrument cluster is an LCD unit instead of the snazzy new TFTs that we're increasingly seeing in recent EVs, the amount of information that can be displayed will be limited. So expect turn-by-turn navigation instead of proper navigation assist like the Ather 450.
5. Pricing & Availability

Bajaj has ensured that the Chetak will be priced competitively. We believe it will cost around Rs 1 lakh (ex-showroom). If you take the FAME II benefits into consideration it will be even more affordable, easily undercutting the Ather 450's 1.13 lakh-rupee pricing (on-road Bengaluru).
Also Read: Here Are 5 Things You Need To Know About The New Bajaj Chetak
The Chetak's deliveries will commence from January and the scooter will be made available in Pune first and then Bengaluru. We've also come to know that Bajaj will not be providing any charging infrastructure, so launching the scooter in Bengaluru and Pune first makes sense as these two cities have better charging infrastructure than other cities in India at present. Since the Chetak is a niche offering, it will be sold via Bajaj's Pro-biking network. Expect more details to surface towards the launch date, so stay tuned for more updates!
Bajaj Chetak Video Review
Add Your Comments
View all comments