Jawa Images
All

(60)

360 View

(1)

Videos

(2)

Colours

(3)
Right Side View

Left Side View

Rear Left View

Front Right View

Front View

Rear View

Rear Right View

Head Light

Tail Light

Speedometer

Engine

Fuel tank

Seat

Exhaust View

Rear Tyre View

Rear Suspension View

Brand Logo & Name

Indicator Controller

Self Starter Button

Rear Indicator View

Back View Mirror

Cooling System

Rear Brake

Red

Grey

Black
Jawa Pictures
Find high-quality images of Jawa. New Jawa has 57 images and 360-degree views. Checkout the front view, rear view, side view, top view & stylish photo galleries of Jawa. Jawa is available in 3 colours also.
To get more details of Jawa, download Zigwheels App.
Jawa Exterior Images
Jawa Overview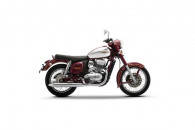 Performance

Comfort

Features & Styling

+ 2 more
Preferred For : Daily Commute
48% of users have given a rating of 4.5 and above
2.6

Worst iron piece don't buy it.When releasing a bike company should test in all cases, They miss out our indian people mind.They need massive sound and mileage ground clearance becoz our indian roads are not yet good.If urs drives 2-5 kms on local heating alot.We can boil eggs it's too works.Jawa have performance and looking thats all.

5.0

Zero vibration more power than enfield great experience bike excellent jawa with thumb sound of dual exhaust

1.0

I didn't know about thi bike, because I didn't see the bike

5.0

Good bike very comfortable and well maintained and full insurance

5.0

Good mileage comfort and pick up is really good the power of the bike is awesome.I refer to all who are finding such qualities in their bike.
All Jawa User Reviews
3.8

Buying experienceIt was good but not like ktm where the customer is treated very wellTaking a bike has to be everyones dream maybe Java is unaware of that feelingRiding experienceMalegaon 110 km from Nashik is a complete highway but still had to face a lot of problems of ground clearanceIf the weight of both the rider and the pillion is above 120 then the rumble strip also touches the engine guard with easeAnd this seat will give you the most Pain He is very painfulServicing and maintenanceThere are some problems due to the service center in NashikThe brakes in front of the vehicle which work and it is excellent but if you talk about the back brakes then you will get a lack of confidenceMaintenance is a little expensiveAccessories are also very expensive brand money is taken branded quality is not givenThere is no answer to this bike when it comes to looksWhen you go on the road everyone sees this beauty and keeps lookingPeople are very happy to see Java in the era of the 1970s and 1980s Seeing their happiness you also get a lot of happinessThat you have bought some very valuable bikeperformance etcThe performance was very good 10 hours and 600 km chant were very goodThe high speed could not go above 120There is really no answer to the vibration You do not feel any vibration till the speed of 80 and when you go above 90 you start lightly and around 100 you feel very wellIt is fun to drive the bike in front of the 3rd gear in the 1st and 2nd the vehicle gets hot oven for 15 minutes.Good enough for the highway but not for the cityPros and consProsVery good looking vehicleNice riding experiance as wellNo vibrationSilent killerABS ahead is very goodCons:Very low ground clearanceLow speedLow mileage

1.8

the most important thing is that its not build keeping indian roads in mind you will feel very embarrassing when you will ride with friends who owns royal Enfield as you ride double in this bike you will hear a noise in every bumper due to low space secondary this bike get heated like a burning wood and the cooling condenser will work but very late but not as expected you will feel as if its there only for show piece thirdly bike got a noise from the front folks when ever it will fall in a small pots or hole any thing on road and ita not in all bikes but there is a noise in every bike whenever i go to service center they all take whole day but they couldn't repair it you will find similar cases with other owners someones says engine noise someone says they are facing a noise from back side suspension and company will give a ghanta about your complains and response are so poor tht you will feel as bakra as i am feelin now though i love this bike because i invested 2 lakh on it money makes you love anything my suggestion is very clear to everyone take it aur leave it and if company is reading it than i will say can i get my money back

2.2

Knowing well a recreated Jawa would be contemporary and with advanced technology, I test drove the 42 series. except for the bikes weight and twin cilinder and size, ntg else got be engrossed with it.. the single box speedometer with fuel, battery etc indicator spoils that place..creates a hollow on the other side..Next, not sure why gear pedal isnt sea-saw type like in other cruise bikes (quite inconvenient in these times with big traffic jams). Exhaust sound is like Pulsar/Hero honda.. No kick start option available.. (is Jawa company that confident that button start will never fail for ever? Seat also quite flat.. not ergonomic enough for long rides. Suspension is so-so..the rear light could have been bit bigger & wider (required in dark times on highways). Speed/pickup is good for city rides.. headlight looks real small, compared to Royal enfield..few more to write..

4.2

Got my delivery in December, and writing this review after a little over 2000kms. My daily commute is less than 8kms roundtrip, so almost the entireity of the 2000kms have been on weekend rides. 1. This bike loves the highways, and seemed comfortable cruising between 90-100kmph for extended periods.2. Travelling solo, with luggage is fine, but grund clearance becomes a major issue with pillion. Have to be extra careful while banking hard or crossing the odd speed bump.3. Average mileage over 2k kms is 38.4kmpl. Pure steady highway rides have got me 39+ kmpl, and pure in-city traffic heavy commutes have got me 34.7kmpl.4. 2nd 3rd gears feel too short and frequent gear changes in city traffic can be a bother.

2.6

Not at all Happy.. Waste of Money.. Should not have wasted 2lacs for this.. You can not trust the Odometer and lights on speedometer. Engine Malfunction Light and Batter Malfunction Light turned on after 159km only and even if I left the bike in service center for 2 days they did servicing and said sensor was not working changed the battery the light turned on again after riding 50 more kms. Not at all happy selling within a month... Can not spend my time at service center anymore... Entire day is wasted and issue is not resolved. Silensor sound is like normal 40-50000 bike and so normal. Got fooled with much hyped promotion and wasted money waited for this Bike for 1 year and very very disappointed
All Jawa User Reviews
Images of Jawa Competitors
5 Offers Available