Triumph Bonneville Speedmaster: Road Test Review
---
Does the Triumph Speedmaster bring quintessential British sophistication to the American dominated mid-size cruiser space?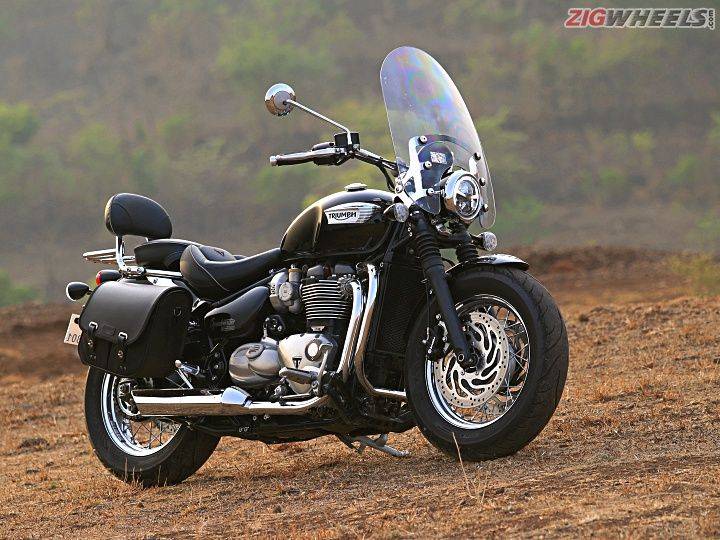 What's the difference between a cruiser and a tourer? Quite a lot actually. However, for the sake of brevity, we will try and explain it in one sentence. A tourer is used to cross continents, while a cruiser will take you from Pune to Bangalore in armchair comfort. While full-size cruisers fit the bill, they are large and can be unwieldy elsewhere; like backing one out of a parking lot, for example. What about mid-size cruisers then? Scaled down but equally capable, they also exude road presence and may just be the right tool for munching miles on Indian highways.
Harley-Davidson and Indian Motorcycles have been playing this game for a while with the 1200 Custom and Scout, respectively. Now, there's yet another cruiser vying for your attention - the Triumph Bonneville Speedmaster. Although it's based on the Bonneville Bobber, the two couldn't be more different. To explain it quickly, the Speedmaster gets a rear subframe that's been beefed up to accommodate a pillion seat, while the rear wheel travel has been reduced. Other changes include twin discs with Brembo calipers at the front, a sharper rake and a fatter 16-inch front wheel. To put it In a nutshell, the Speedmaster is a softened up version of the more focussed Bobber with traits expected of a cruiser. Is this change of character as likeable though?
Design and features:
Retro-modern design. Traditional mechanical elements blend well with modern touches like LED headlamps and digital instrument cluster.

High-quality accessories available in two packages - Highway and Maverick.

Beach-style handlebars look cool.

While the silhouette looks similar to the Bobber, there are a host of design changes to set the two apart.

High levels of fit and finish and attention to detail.

Best-in-class features include ride-by-wire, two-stage riding modes, traction control and cruise control.

When was the last time you saw an ugly looking cruiser? Can't remember? That's because one of the more defining aspects of a cruiser is the way it looks. Shiny, low slung, large (well not exactly large in this case) and brimming with road presence. The Speedmaster might miss out on size but it perfectly marries modern technology with vintage design. It gets LED elements in the headlamp, tail lamp and turn indicators, while the vintage Beach-style handlebars are a nice touch.

And while it may be smaller than traditional cruisers, it makes up for it with the optional Highway pack our test bike came fitted with. This pack costs Rs 1,23,736 (excluding taxes) and includes a front windshield, more comfortable rider and passenger seats, pillion backrest, pannier mounts and two beautifully crafted leather panniers. Sadly, the panniers aren't lockable or detachable. Fit and finish levels are top notch, as is the case with other motorcycles in this segment.

Where the Speedmaster impresses is with its features list. Apart from the all-LED lighting, it gets ride-by-wire, two riding modes, traction control and cruise control, features that are missing on both the Harley-Davidson 1200 Custom and Indian Scout.
Engine and performance:
Comes with a 1200cc liquid-cooled 'High Torque' parallel twin motor also found on the Bonneville T120 and Bobber.

The motor makes 77PS at 6100rpm and 106Nm at 4000rpm. It is mated to a 6-speed gearbox.

270-degree firing interval provides V-twin like performance characteristics and sound.

0-100kmph in 5.05 seconds; 17.58kmpl in the city, 27.6kmpl on the highway

The motor is quick to rev, pulls strongly from 2000rpm onwards to its 6800rpm redline.

Refined motor, vibrations are well contained.

Will cruise at 100kmph in sixth gear with rev counter hovering around 3000rpm.

The gear ratios are quite tall.. But thanks to the motor's tractability, it can be ridden in the city in third gear all day long.

Lightweight clutch action and throttle makes it effortless to ride in the city.

While the motor might have the same internals as the Bonneville T120's 'High Torque' unit, it is tuned to the same specification as the Bonneville Bobber. It is a highly torquey motor with plenty of shove available across the rev range before tapering off post 6000rpm. It will rev all the way to 6800rpm but you don't want to do that as most of the poke lies in the lower to mid-range. Refinement is of top order with only a small amount of vibration creeping around the top end of the rev band. Compared to its competition, it is quick to rev and is assisted by a lightweight throttle actuation courtesy of ride-by-wire.

The Speedmaster is quick to hit 60kmph and 100kmph too. In our tests, the Speedmaster managed 0-60kmph in 2.51 seconds and 0-100kmph in 5.05 seconds. In comparison, the Harley-Davidson 1200 Custom does the same in 3.05 seconds and 6.19 seconds, respectively. One thing to note is that the torquey motor coupled with the ride-by-wire throttle does not allow the speed to drop below 30kmph in third and 40kmph in fourth gear, and keeps the revs up by itself to maintain those speeds. This also shows in the fuel efficiency, where the abundance of torque sees the Speedmaster running at a relaxed 3000rpm in sixth gear at speeds of up to 100kmph on the highway, helping it achieve an impressive efficiency of 27.6kmpl. In the city, the motor is barely ticking over 2000rpm at 50kmph in fourth gear. But at crawling speeds, the need to keep it in first gear often sees that number drop to 17.58kmpl.

On the highway, overtaking is easy thanks to the abundance of torque. The motor's quick-revving nature allows it to pickup up the pace in a rapid manner despite the tall gearing on the 6-speed gearbox. The shifts are positive even though they are a tad clunky and lack the finesse of a slick-shifting Japanese unit. There is little to complain though. The clutch has good feedback and is surprisingly light thanks to the slipper clutch assist.

Although not a V-twin, the motor has a lot of character and sounds fantastic with those slash-cut exhausts. It makes the right sounds when poked and, as a bonus, the exhausts crackle and pop on overrun too!
Ergonomics
Low 710mm seat height and closely placed handlebar, makes the Speedmaster accessible to shorter riders as well.

'Beach-style' handlebars look cool but are set too low for comfort, leading to aching palms on longer rides.

Optional comfort seat provides the right kind of support even though there isn't much space to move around. Forward set footpegs make the Speedmaster accessible to shorter riders.

Optional front screen ends at eye level leading to wind buffeting at speed. It is mounted quite well, with just a bit of rattle when you hit sharp bumps.

The cruiser we had for the test came with the optional comfort seats. While they provide fantastic cushioning, the seat contouring does lock you in place and doesn't allow you to move around while riding. This caused a few of our colleagues to experience a mild backache on longer rides, while I was perfectly comfortable with it. What I had an issue with was the low-set handlebar, which with its beach-style design and inward angled palm grips, caused a lot of discomfort on long rides.

Again, none of my colleagues faced this ignominy, so I reckon you will have to ride the bike and check for yourself. The one thing we did agree on was that the bike seems to be built for average-sized riders, what with its closely-set handlebars and forward control footpegs. The optional windscreen felt a tad short for those who were between 5'8" - 5'10" tall. The screen, which ends at the eye level, meant that the top of the helmet was open to buffeting. An adjustable screen would have helped matters here.

The optional Highway pack makes sense if you plan to travel long journeys. The comfort seats are some of the best seats in the business with excellent cushioning. The pillion seat and backrest upped the comfort quotient even further. However, the non-removable panniers do eat a bit into the passenger legroom.
Ride and handling:
Front forks and rear monoshock have short travel. They are a tad stiff but feel plush when compared to the Bobber's sporty setup. The rear suspension has lesser travel when compared to the Bobber, but has a variable spring rate.

Fairly light-footed, but footpegs drag almost immediately. So it's next to impossible to tackle corners at speed without sacrificing the pegs.

The rear suspension, despite having lesser travel than the Bonneville Bobber, was less prone to bottoming out thanks to its variable spring rate, with only the occasional speed breaker or sharp rut causing an issue. Even then, the suspension did not transmit sharp jerks and judders to the rider or pillion and provided a thick layer of cushioning between the road and rider. That said, ground clearance is on the lower side, so you do have to be careful while negotiating badly designed speed breakers.

Handling is as good as the sporty Bobber. The fat 16-inch front wheel (19-inch on the Bobber) feels heavy at initial turn although it tips in quicker. In fact, the Speedmaster corners quite well for a cruiser. So well in fact, that it brings forth the cruisers only drawback - cornering clearance. We spent a better part of the afternoon scraping the pegs in every corner. Though the pegs are fairly high set for a cruiser, we wish they were even higher.

The Avon tyres too held up quite well. We never noticed a loss of grip, be it during our spirited cornering or launches or hard braking during our test runs. When compared to the Bobber, the Speedmaster gets upgraded brakes. The front gets twin 310mm discs with Brembo calipers compared to the single disc Nissin caliper setup of the Bobber.

During our test, the bike came to a dead stop from 100kmph in 46.28 metres, which isn't the best result when compared to other cruisers in its segment. While the brakes have a strong bite, the front brake lever requires quite a bit of effort to squeeze, and we reckon this heavy brake feel also eats into braking efficiency. Thankfully, it gets ABS which feels non-intrusive for everyday riding speeds.
Verdict?

The Speedmaster looks fantastic, has a gem of a motor, rides well, handles well and ticks all the boxes required of a good cruiser. It costs Rs 11.11 lakh (Rs 12.34 lakh with Highway kit, ex-Delhi) which puts it between the Harley-Davidson 1200 Custom (Rs 10.65 lakh) and the Indian Scout (Rs 12.7 lakh). It's light on its feet, easy to ride and comes with a host of electronic aids that make it appealing to even novice riders while also offering fantastic value.

Apart from the odd handlebar position, there's nothing here that detracted from giving us a great cruising experience. But then you could just pick a different, higher-set bar from Triumph's expansive accessories catalogue. As far as mid-size cruisers go, the Bonneville Speedmaster is ace.
Triumph Bonneville Speedmaster Video Review
More on Triumph Bonneville Speedmaster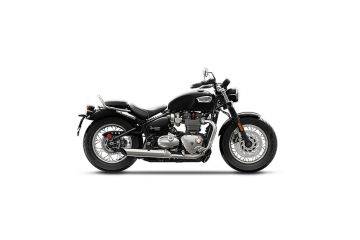 Rs. 11.33 Lakh Onwards
Ex-showroom, Delhi
Bonneville Speedmaster Alternatives