2018 Triumph Tiger 1200 - First Ride Review
Dec 15, 2017
Views : 20688
---
The new Triumph Tiger 1200 is here with more power, less weight and a host of new features. How is it to ride?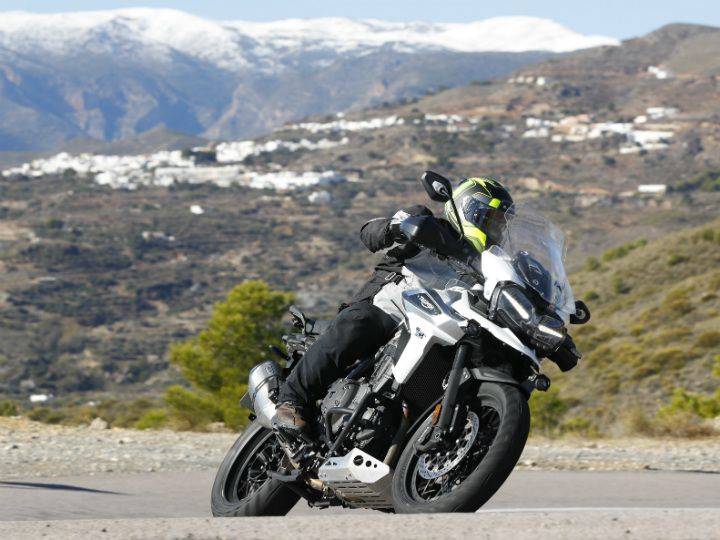 Triumph Motorcycles is among the few bike makers who have their presence across almost all different segments of motorcycles. One segment where it has been doing extremely well is adventure-tourers, with its Tiger range. While the Tiger 800 has been the popular choice, if you wanted to really up your off-road exploration game, or circumnavigate the globe on two-wheels, the Triumph Tiger Explorer 1200 was the way to go. Now, for 2018, the company has dropped the Explorer moniker and introduced a whole host of updates for its flagship adventure tourer. We got to spend some time with this new beast from Triumph on some breathtaking mountain roads and tricky trail roads and boy, is it impressive.

What's New?
Triumph says that it has spent four years in developing this new Tiger 1200 and there are more than 100 improvements. Triumph engineers had three main focus areas - weight reduction, better low speed manoeuvrability and a more tractable motor. Talking about weight savings, the new Tiger 1200 has shed 10kg from its predecessor. Most of this reduction has come from a titanium Arrow exhaust that's 2.1kg lighter, a lighter flywheel that saves a massive 2.5kg and new battery which drops a further 2.6kg. There hasn't been any drastic change to the design, but the fairing is slightly altered along with metallised tank badge and side panels. We were riding the top-spec off-road friendly Triumph Tiger 1200XCa and road-biased XRt, which were equipped with LED headlights as well as LED DRLs that run across the lamp for a unique look.

The adaptive cornering lights have been improved and now are dependent on the bike's lean angle, which is monitored by the IMU (Inertial Measurement Unit). It also gets the brilliant full-colour TFT digital console as already seen on the Triumph Street Triple RS and revised backlit switchgear and a 5-way joystick. There is also a new 6th ride mode called "off-road pro" which disengages any electronic intervention including ABS while the suspension gets set up for better performance off-road. Last but not least are the addition of a bi-directional quickshifter, hill hold function and keyless ignition.

On Asphalt Heaven
The ride was split in two days and the itinerary for first day included riding through the beautiful mountain roads of the Sierra Nevada. As I walked towards the array of Triumph Tiger 1200's parked on the driveway, I noticed one big problem, and that was the tall seat. Standard saddle height of the bike is 855mm, but thankfully you can manually lower it down to 835mm, which was much comfortable for me (there is also a low seat height option that drops it further to 790-810mm). As I got astride the bike, the first thing that grabbed my attention was its friendly ergonomics and riding posture as the handlebar is now closer to the rider. It was a chilly morning and the roads were a bit damp thanks to overnight showers and we set off the ride with the bike in "rain" mode. Even in this low power mode, the Tiger 1200's motor felt eager in lower revs as we rode through city roads before hitting the highway. Despite its huge dimensions, it also felt light on its feet as we rode through narrow lanes, with mild traffic for company.

Once on the open roads, it was time to put the 141PS and 122Nm torque that the 1215cc, triple-cylinder motor makes, to test. I switched to "sport" mode and it seemed as if the Tiger was now roaring with full power on tap to play with. The ride-by-wire throttle offers precise throttle control and twisting your wrist slightly was enough for the Tiger 1200 to breach triple digit speeds. The new motor feels very responsive in low and mid-range with a likeable punchy nature and we were cruising effortlessly on the straight and smooth Spanish highway. Another likeable aspect is the loud, deep and bassy intake noise, but the exhaust note itself is quite mellow, with the typical Triumph triple-cylinder whistle more subdued as well.

One aspect about the engine that could have been better is refinement, as there are some vibes past 3,000rpm, and although they aren't very harsh, they are a bit of a killjoy while cruising. Also, the motor has a bit of gruffness that can be be felt between 2,500rpm to 5,000rpm. The 6-speed gearbox did its job well on most occasions, but few upshifts took a bit effort and also the clutch action certainly could have been lighter. Thankfully though, at highway speeds, wind blast is kept to a minimum with the easy-to-operate electronically adjustable windscreen, with no buffeting up to 140kmph.

Time To Twisty
After clocking over 100km on the highway, we hit the Sierra Nevadas and some wonderful winding roads. I was a bit sceptical about the new Tiger 1200's handling prowess given its imposing dimensions. But I was in for a pleasant surprise. The tubular trellis frame on the new bike, though similar to its predecessor, has been altered slightly for better cornering. So this big Tiger took on corners with enthusiasm, while the chassis felt very communicative. The other contributor to its cornering ability, and the major one at that, is the Triumph Semi Active Suspension (TSAS) which works in conjunction with the six-axis IMU to alter damping and preload settings based on the weight of the rider. Also, the rebound and compression damping is adjusted automatically every 10ms to offer the best possible suspension setting for any given situation. And if that wasn't enough, the rider has the choice to completely customise any of these settings and revise them on the move too.

This meant that unlike a conventional long travel suspension motorcycle, the front-end didn't dive as much, allowing us to carry faster cornering speeds. Yes, the front does feel a bit wallowy initially but you can just trust the TSAS and the Metzeler tyres to sort things out as you pitch the bike into a turn. It also felt unfazed in fast switchbacks and only while taking sharp turns at slow speeds did the Triumph feel a bit front heavy and cumbersome. There's also IMU-linked cornering traction control that works based on lean angle and throttle input, adding even more confidence, and smiles, whilst cornering. And you can even brake into corners with impunity thanks to cornering ABS, although we would've appreciated a bit more bite from the disc brakes.

The idea of having a bi-directional quickshifter on an adventure-tourer feels a bit odd. But given how engaging the Tiger 1200 felt on mountain roads, it took no time for us to be convinced that it really is an useful feature. That said, while downshifts were smooth, the same couldn't be said for the upshifts, which felt a bit hard to engage at times.
As we kept going up the mountains, the temperatures started to drop. It was at this moment that I was thanking the lord above that the Tiger 1200 comes fitted with heated grips and seats which were instrumental in keeping my fingers and derrière from going numb. Being a Mumbaikar, I have never had a chance to use them on any motorcycle before. On our way back to the hotel after clocking more than 250km, I was absolutely comfortable and was enjoying the vistas of the setting sun in the Mediterranean sea.

Dirty Dancing
The second day was all about trail riding I wasn't feeling too upbeat. I have hardly ever ridden off-road and the prospect of riding a 250kg motorcycle on the loose stuff wasn't too appealing to be honest. Luckily for me, Triumph had arranged some off-road experts who were gracious enough to give me crash course on off-road riding. Matthew, my instructor told me, "You will be sliding within 10mins mate!" For a second, I felt that he was the most optimistic chap I had ever met in my life, but little did I know that my opinion was about to change soon. Our off-road spec bikes running Pirelli Scorpion Rally knobby tyres with pressures dropped to 21 psi. After getting familiarised with the bike, Matthew asked me to switch the bike to "off-road mode" which disengages rear-wheel ABS disengaged and softens up the suspension. Riding the bike standing up felt natural and after few minutes it was time for me to slide.

With the handlebars locked and my body leaned in the opposite direction, I opened the throttle. "Whoop", the rear tyre stepped out, slid on the gravel fighting for traction and came back straight, all this happened in a fraction of a second and I was grinning like a little kid. As I spent more time on the Tiger 1200, sliding this two-wheeled behemoth began to feel natural - something I thought was just not possible. The off-road mode allows a limited amount of slide before the traction control kicks in. Allowing a noob like me to slide so easily, I affectionately termed it as "tu mera bha hai mode".

I did have a few moments here and there, but my first off-road experience went smooth, and only while riding at slow speeds did the bike show its weight and front-heavy nature. I didn't dare to try the "off-road pro" mode that disables all electronic aids and firms up the suspension, but I did see the experts ride in it and they were all praises for it. Last but not least is the Hill Hold Control (HHC) that applies the rear brake when the front brake is tapped so that the bike doesn't slide back on inclined surfaces. And the system automatically disengages once it senses that the rider is moving forward. Clever, eh?

Verdict
After two days of riding the 2018 Triumph Tiger 1200, all I can say is that the new Tiger is an impressive machine. All the updates on the bike have been made in the right direction to make this big adventure-tourer more appealing both on the road and off it. The electronic wizardry makes it a bike that will be appreciated by inexperienced riders, while simultaneously making it more fun for the seasoned riders to explore its full potential. It really is among the few motorcycles on sale on which you can actually explore the globe, that too in utmost comfort.

Yes, there are a few drawbacks. Despite the drop in weight it still tips the scale at a fairly hefty 250kg. The motor too feels a bit gruff and there are some minor vibes while cruising down the highway. However, these factors aren't deal breakers in our opinion. What will really restrict the Triumph Tiger 1200 in India will be its steep pricing, which we expect to be around Rs 20 lakh (ex-showroom). But if that is within your means, and you need a motorcycle to take on the world with, we highly recommend getting one.
More on Triumph Tiger 1200

Rs. 17.00 lakh Onwards
Ex-showroom, Delhi
Get Loan starting @6%
View On Road Price
Triumph Tiger 1200 Alternatives