Honda CBR650F: Road Test Review
---
Do the mild updates for 2018 make the Honda CBR650F more appealing? Or is just a case of too much money for too few cc's?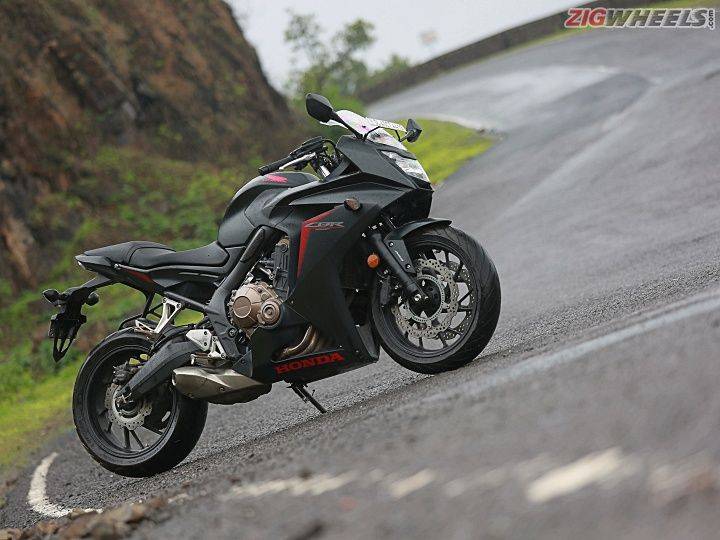 A mid-capacity, inline-four, full-faired sportbike has pretty much been the motorcycling dream for most of us, but just like most dreams, it's been out of reach. Well, until recently that is. In 2015, Honda introduced the CBR650F in India - a bike that met nearly all the above criteria. Now while it's not exactly a supersport bike, it's still plenty quick, and while it's not completely inexpensive, it's not exorbitantly priced either. Somewhere though, the bike never got its due. For 2018 though, Honda has brought in the updated version of the 650F. But is there enough change to warrant a second look at it? Well, here are five things to know about the new CBR650F that'll help you understand just that.

1. There are minor design changes
Gone is the HRC-inspired paint scheme, instead replaced by a stealth matte black (pictured here) and a red paintjob, the latter of which we think looks the better of the two. We absolutely love the new minimal stickering scheme which adds an air of maturity to the overall design. For 2018, the swingarm is coated in black with the engine casing as well as cylinder heads getting a matte bronze treatment, reminiscent of the new CBR1000RR Fireblade. The fairing itself hasn't changed, except a little at the front to accommodate the new, narrower headlight (but we'll get that in a bit), which does lend the front end a more aggressive feel. And around the back, the LED tail light now gets a clear lens housing, but both the indicators are still regular bulbs and look kinda old at this point.

While it still remains a pretty good looking and extremely well-built motorcycle, there are some nits we gotta pick here though. The switchgear, for example, has the buttons for the indicators and horn switch places, which does take a bit of getting used to. Then there's the instrument cluster - it looked dated back in 2015, and now it looks positively ancient. It doesn't even get a gear position indicator.

2. It gets an LED headlight
Of late, Honda has been on an absolute spree plonking LED headlights on all their products, not just in India but internationally as well, as can be seen on this CBR650F. Now this headlight does provide good illumination and the reach of the high beam is quite commendable too. But the spread of light at low beam could've been much better. While it wouldn't be fair to compare, we think the low beam spread of the Activa 5G's LED headlight is more impressive.

3. The engine has changed, but not exactly
On a mechanical note, none of the internals of the CBR's 648.72cc DOHC inline-4 engine have changed, though there are some small changes to how the motor breathes. The air intake is now larger than before and the exhaust is more free-flowing. This has allowed the bike to get a minor horsepower bump to 90PS, but that's only on the international model. In India, it's been detuned slightly as it needs to handle lower quality fuel here, and it makes 86PS at 11,000rpm. That's the same power figure as before, and even the peak torque output remains unchanged, with 60.5Nm coming in at 8500rpm.

In our tests, from a standstill, this CBR650F went from zero to 100kmph in just 4.76 seconds. To put that into perspective, it's quicker than something like the Ducati Monster 797 but slower than the Kawasaki Z900 and the Suzuki GSX-S750. However, the latter two bikes are more powerful as well. We believe that this acceleration figure can be bettered, but the cold tarmac conditions (thanks to the monsoons) during our performance tests made it very difficult to keep wheelspin in check.

While the motor is mostly unchanged, there is a more significant change to the gearbox. All except first and sixth gears now get shorter ratios than before. So acceleration through the gears is quicker. It manages to go from 30 to 70kmph in 3rd gear in just 3.09 seconds, with 40 to 80kmph in fourth coming up in 3.63 seconds - that's actually quicker than the more powerful Triumph Street Triple S! Thankfully, sixth gear stays as it is, so the bike is just as relaxed when riding long distances.
More than anything though, it's the motor's friendly nature that makes riding the CBR650F such a pleasurable experience. Tractability is the mantra here, as the CBR is able to pull from speeds as low as 30kmph in sixth gear without any hint of lugging.

Yet there's enough grunt here to take you well north of 220kmph in a jiffy! This incredible tractability also makes for great efficiency, with this CBR managing 24.2kmpl on the highway, and an even more impressive 27.2kmpl in the city. There's incredible refinement to be found here too. While there are minor vibes which can be felt in the footpegs, the overall riding experience is as smooth as ever.
One change that most people will like however is the exhaust. Its internal structure has gone from a three-chamber design to a two-chamber design. So it sounds much nicer than before, filling the air with the sonorous symphony of its inline-4 howl when you really open the throttle.

4. There are slight mechanical tweaks
For 2018, the suspension layout hasn't changed - it still gets conventional right-side up forks at the front and a preload-adjustable monoshock at the back. But the forks are now Showa dual-bending valve units. Now these haven't really affected handling directly, but the front end feels more supple than before, and the bike handles mid-corner bumps much better. And aside from that, the ride quality does remain as good as it was on bad roads, at least at slow to medium speeds. At higher speeds though, on sharp bumps, the front end does tend to bottom out, though it doesn't upset the bike as such. The rear too has a habit of bouncing a bit over sharp bumps at higher speeds, but you have the option of adjusting the preload here to change this behaviour to a certain extent.

What has changed the riding experience for 2018 are the handlebars, which are slightly lowered than before, resulting in a mildly more aggressive riding posture. Now this CBR650F is far from being a nimble bike, weighing in at 216kg. But the posture is now great for the occasional twisty road. Still, it isn't aggressive enough that it'll put a strain on your wrists, back or neck over long durations in the saddle - great news for those who want to take the CBR touring. What also makes this CBR such a great sport touring motorcycle is its comfortable seat, for both rider and pillion, and even some luggage mounting hooks at the back.

In terms of brakes, it retains the older bike's twin 320mm discs at the front. This is an interesting setup which sees the rotors use a peripheral mounting system, allowing them to use less metal for the same rotor size, reducing unsprung mass. The 2-piston calipers now, though, are from Nissin and provide improved feel and bite. The rear 240mm disc and rotor are carried over as is. In our brake test from 80kmph, this CBR650F came to a stop in 30.21 metres, and it took 47.74 metres from 100kmph. Not great numbers, but reasonable considering the heavy kerb weight of the bike. Thankfully, ABS is standard (as before).

One area we believe needs drastic improvement is the rubber. The Dunlop SportMax tyres (120/70 ZR17 at the front and 180/55 ZR17 at the back) take forever to get up to temperature, and even when they are, they have a very flat profile, which means you can't lean over much before you run out of edge grip. Anyone buying a CBR650F would do well to immediately swap out these tyres for better ones.

5. It's priced the same as before
At Rs 7.38 lakh (ex-showroom Delhi), this 2018 CBR650F costs almost identical to its last generation avatar's launch price from 2015 - a rarity in the automotive world. Taking inflation into consideration would mean that the bike is actually cheaper now.

Thoughts?
But then, is the Honda CBR650F worth its price? Well, it feels a bit pricey when you consider that you get the more powerful Suzuki GSX-S750 and Kawasaki Z900 for not much more money. Still, this remains the only inline-4 full-faired sportbike that you can buy in India for under 10 lakh Rupees on-road. To top it off, it's a great "everyday" big bike that's really adept at sports touring, and can even be fun to ride on a twisty mountain road, or for an occasional track day. But more than that, it's ridiculously cheap to maintain, with extremely affordable spares prices and paid service costs that hover in the Rs 5,000 region. Heck, you can even extend the warranty to 5 years for just Rs 2500. So in that sense, while it is expensive, it is certainly money well spent.
Add Your Comments