Honda CB300R: Road Test Review
Jun 1, 2019
Views : 13284
---
Is this the right sub-400cc motorcycle for the matured enthusiast?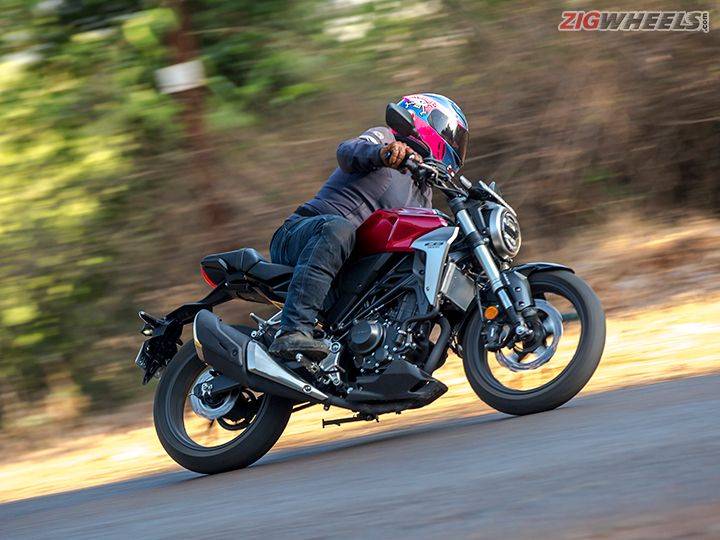 It might not have been love at first sight, but my feelings for the CBR250R grew with each ride. It remains one of the creamiest singles that I have ridden with ergonomics fit for city as well as highway duties. At the time of its launch in 2011, it only had the Kawasaki Ninja 250 to contend with. Eight years on the competition has grown leaps and bounds. Honda India needed to bring in something tempting in what has become the now-hotly-contested sub-400cc class. And instead of bringing in a faired option, it brought the retro-styled naked – the CB300R. On paper, the engine might not have enough oomph to whet your appetite, but there is more to it than meets the eye. Plus, this has been priced quite competitively considering it has to play the part of a premium offering and that it comes to India via the CKD route too. The question that begs to be answered, is this just playing the part of a premium, well-made looker, or does it have something serious to bring to the table as well?

Stealing a second glance
The CB300R is sure to grab eyeballs everywhere it goes. On a short run inside the city from our shoot location to the office, I was constantly met with faces of onlookers filled with curiosity and adoration. It is unlike any other modern retro that we have in India, especially since most of the available bikes are much higher up in the price spectrum.

Honda made a big hoopla about going with the Neo Sports Cafe design philosophy for its naked motorcycles after the 2017 EICMA motor show where it first showcased the CB300R. And this bike definitely leans more towards the modern side. The plastic tank covers are styled as if these were modern representation of a classic design. The plastics might not appear to be as tough as the ones on some high-end motorcycles, but for a bike in this segment, they're very well finished and feel solid enough.

The round headlamp looks cool and does have a bit of retroness to it. But housed in it is an LED setup and so are the other illumination bits on the motorcycle. The spread of the headlamp is fairly decent, but the intensity as well as the throw was lacking.

USD fork, monoshock, radial brake caliper and alloy rims make up the list of other modern bits on the bike. The full LCD digital-dash has a simple layout, but misses out on a gear position indicator, which is a modern amenity that we have come to rely on. On the whole, the design is quite pleasing to the eye with the red colour lending enough flair to please our bling-loving audiences.

Extremely relaxed ergos
The biggest thing going for the CB300R is that it is quite a tiny motorcycle, but the rider does not feel too cramped. The straight bars offer more than enough leverage, the seat height of 800mm is inviting for riders of all heights. Even the rider triangle is completed with foot-pegs which aren't all that rear-set. And again, since it weighs just 147kg, there are no complaints when it comes to living with the CB300R.

Heavy set riders will appreciate the roominess of the saddle. You are not locked in the seat despite its scooped profile. The seat is rock hard though. Spending nearly an hour and a half riding the bike, I did find it unpleasant to say the least. It was not so much as to hurt your tailbone, but the seat dug into my thigh and that is not a feeling I wanted to sustain for long.
Needless to say, only the skinniest of us can feel comfortable riding pillion on the CB300R. The small grab handles do a decent task and the overall pillion position is not too stressful. But the seat is quite tiny. Better keep your two-up riding duties limited to just small city rides.

The irritating bit here is that the switchgear on the left hand side has its switches for the indicator and horn interchanged. This does cause massive confusion, especially when you have just started riding the bike. We really wish Honda had stuck to convention here.

Motor isn't silky enough
| | | |
| --- | --- | --- |
| Engine | Honda CB300R | Honda CBR250R |
| Specs | 286cc single-cylinder, DOHC, liquid-cooled | 249cc single-cylinder, DOHC, liquid-cooled |
| Bore x Stroke | 76mm x 63mm | 76mm x 55mm |
| Max Power | 30.45PS @ 8000rpm | 26.5PS @ 8500rpm |
| Max Torque | 27.4Nm @ 6500rpm | 22.9Nm @ 7000rpm |
While this 286cc mill has the same bore as the CBR250R's mill, it features an 8mm longer stroke (now 63mm). This configuration ensures that the CB300R's motor doesn't just make more power and torque, it makes it lower down in the rev range as well. To meet Indian noise emission laws, Honda has had to detune this motor too, but the power advantage is still significant over the CBR250R. It scores less on engine refinement as this new bike sounds as well as feels gruffy. That said, the buzz is not as much compared to the BMW G 310 R or for that matter even the old-gen KTM 390 Duke.

| | | |
| --- | --- | --- |
| Roll-on acceleration | 30-70kmph in 3rd gear | 40-80kmph in 4th gear |
| Honda CB300R | 4.21 seconds | 5.15 seconds |
The engine has a wide powerband with fairly strong bottom and mid-range performance. What riders will love is the way the power is laid down. It is super friendly when you want it to be and can show traces of being a hooligan too. It does feel slow in roll-on accelerations, an area where we thought its zippy characteristics would prove to be a boon.

| | | |
| --- | --- | --- |
| Acceleration | 0-60kmph | 0-100kmph |
| Honda CB300R | 2.94 seconds | 7.35 seconds |
Since it is so light, it makes for a quick motorcycle. It was a pleasant surprise to find out that the Honda was quicker to a hundred than even the more powerful 310s from BMW Motorrad, even though it might be just be fractions of a second ahead.
The motor is quite efficient too. It managed to return a fuel efficiency figure of 39.84kmpl in the city and 37.92kmpl on the highway. Sadly, it just gets a small 10-litre fuel tank and in normal riding conditions, you are looking at close to 300km on a full tank.

European setup isn't favourable
This is Honda's smallest CKD motorcycle in its India lineup. We never expected the ride quality to be this stiff as every other Honda that we have ridden has leaned more towards a plush setup. The front end tends to skip over mid-corner bumps which can be very unnerving when leaned over. The rear end too feels skittish despite the stock rear preload setting at second-from-softest. This form of a setup could work wonders in Europe, but not on our not-so-great roads.

Show it a set of corners and you will feel a lot more connected with the CB300R than you would with the G 310 R. It tips in fast, holds its line well and there is no fuss at corner exits. The Michelin Pilot Sport radials are not the best in the business but since this bike does not spool up as quickly as its rivals, the rubber does perform well to a certain extent. We would still advise to slap on stickier rubber if you want more corner-carving thrills.

| | | |
| --- | --- | --- |
| Braking | 60-0kmph | 100-0kmph |
| Honda CB300R | 17.86m | 51.07m |
A 296mm disc on the front wheel and a 220mm one on the rear handle braking duties. The front disc is one of the smaller ones in the class and hence it does slow down the braking process to a certain extent. We would have definitely loved to have a bit more ferocity in the bite, but the lever feels quite accurate when you're giving fine braking inputs. The CB300R does get an IMU-based ABS system which also factors in pitch movement aside from the normal wheel speed sensing. That said, ABS calibration could have been better as we found it to be a bit too intrusive for our conditions.

Even though the motor feels relatively relaxed doing triple-digit speeds in sixth gear (sits at 6000rpm doing 100kmph), one might not find the package to be touring friendly. Since it is so compact, the windblasts one experiences are far too much to sustain high speeds and we have already addressed the issues with its rock hard seat. But this bike was not meant for touring in the first place. It was meant to be a city slicker and that it does quite well. The CB300R is a hoot flitting in between traffic. With upright ergos, wide 'bars for leverage and a zippy motor, one can really flick the bike with minimal inputs.

Premiumness on a budget
We could live with the dip in engine refinement or the silly switchgear positioning, but the firm ride quality is something that takes a bit more commitment to learn to live with. At Rs 2.41 lakh (ex-showroom), the CB300R has to a lot of competition to deal with in 2019. Is it the best bike at that price? Perhaps not. But what we do like about this bike is the fact that it feels very un-Honda-like in the way it behaves. Its engine feels energetic, it's fun around corners, and its agility is enjoyable even in urban conditions. On top of that, it feels premium in design as well as build quality. This blend of madness and maturity is really unique to the CB300R, and this is something that might just make it more appealing to those who find the KTM 390 Duke a little too brash and the BMW G 310 R just ridiculously priced. Luckily, we got our hands on the G 310 R too. So stay tuned for our comparison test coming soon on ZigWheels.com.
Honda CB300R Video Review
Honda CB300R Alternatives