Car vs Bike: Honda Hustle
---
Does the mighty Civic have what it takes to outpace the CB300R?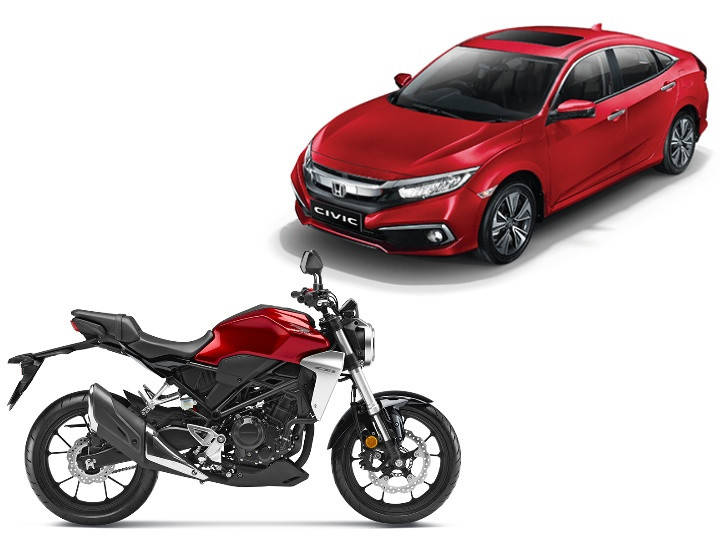 The Honda name is synonymous with everything from lawnmowers to private jets, but the Japanese brand is most well known for its motorcycles and automobiles. Its recent nakeds have gone down the neo-retro route, and the CB300R is no exception, while its Civic family sedan has made quite a name for itself in India. Both of these share a common link because they represent Honda's more premium offerings on both two and four wheels. Not quite as high-end as something like a CR-V or CBR650R, but still, definitely not urban and mundane like the Unicorn or Amaze. But which of the two is quicker? Well, fortunately, we've had a chance to test them both, so we can answer that for you:
Acceleration
| | | |
| --- | --- | --- |
| | Honda Civic | Honda CB300R |
| 0-100kmph | 11.96sec | 7.35sec |
| Quarter Mile | 17.60s@128.24kmph | 15.57sec @ 132.21kmph |

Though no longer available, the version of the Civic we tested is the grunty 1.6-litre diesel with a manual transmission. And despite registering a rather respectable 0-100kmph time of under 11 seconds, the Civic is comfortably outpaced (by over 4 seconds!) by the little CB, thanks to its considerably superior power-to-weight ratio. Even over a quarter mile, the bike is significantly quicker and travelling at a higher speed too, making this department a clean sweep for the CB300R.
Braking
| | | |
| --- | --- | --- |
| | Honda Civic | Honda CB300R |
| 80-0kmph | 26.41m | 31.72m |
| 100-0kmph | 41.32m | 51.07m |

When speeds start moving in the opposite direction, though, the extra stability offered by the Civic's additional pair of wheels helps it come to a stop quicker than the motorcycle. Despite being equipped with dual-channel ABS, the CB300R requires an extra 6 metres in the 80kmph braking test. This gap grows rapidly to a healthy 10-metre advantage for the Civic when stopping from 100kmph. That extra buffer can come in handy when you need to brake in an emergency - something which happens quite often on our roads.
Verdict
You'll be very hard-pressed to find a bike that can stop quicker than a comparable car. The extra traction offered by the additional pair of contact patches is hard to overcome. But on the acceleration front, the bike's superiod power to weight ratio helps it pull away from the Civic, and even though the Civic will most likely go on to a higher ultimate top-speed, the bike should be able to maintain its advantage for quite a long time.
Honda CB300R Video Review
Add Your Comments