BGauss B8 Electric Scooter: Road Test Review
by

Gaurav

Jan 3, 2021
Views : 6025
---
Could the compact little BGauss B9 be the perfect alternative for everyday commutes?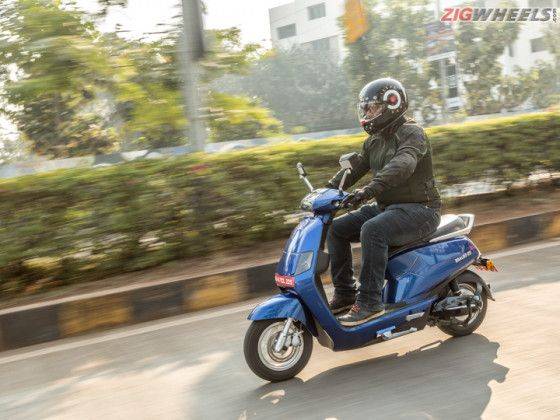 The Indian electric two-wheeler segment is currently swamped with rebadged Chinese imports. It's the easiest and most affordable way to tap into the current EV segment. But what bothers me the most is that these scooters are indistinguishable from each other for the most part.
BGauss aims at changing this perception with the B8 Lithium ion. This sleek looking pint-sized e-scooter has a lot going for it. But at Rs 82,999, is it really worth it?
THINGS WE LIKED:
Looks Like A Million Dollars!

There's no denying that the B8 is one heck of a looker. I had onlookers gawking at this tiny little scooter everytime I stopped at a signal or slowed down in traffic. Anyone who knew a thing or two about electrics seemed to be fascinated with the BGauss B8, with its electric blue colour scheme adding to the drama. So I'd say the scooter scores high in the looks department.

Moreover, unlike the current crop of mainstream EVs, the B8 features LED lights all around that are actually practical and not just a marketing gimmick. It's the striking details on the headlight and the tail light that'll really catch your attention. And they work well too. The throw of the handlebar-mounted headlight is strong, lighting up a major portion of the road while the spread of the bream enables you to view dimly lit corners, further enhancing your ride at night.

You even get a full digital console which is not only informative but quite legible in both day and night.
| | |
| --- | --- |
| Features | BGauss B8 Lithium Ion |
| Lighting system | All LED |
| Instrument console | LCD |
| Smartphone connectivity | Mobile App |
| Other features | Side Stand Sensor |
| | USB Charging |
| | Anti-Theft Motor Locking |
| | Anti-Theft Alarm |
| | Remote Lock-Unlock |
| | Find your Vehicle |
| | Push Button Start |
| | Hazard lights |

Other noteworthy features include an USB charger and a cubby hole on the front apron, remote lock-unlock, a side stand sensor and hazard lights just in case things go south. We wouldn't recommend charging your phone on the go since the storage isn't deep enough and your phone may just get bounced out of it.
Featherweight

Unfortunately, BGauss hasn't given us the weight of the scooter. But it feels extremely light and downright manageable as soon as you get it off the side stand. The proportions of the scooter are compact so it does take some time getting used to. And once you do, it's a hoot to ride. It's extremely flickable (alarmingly so at times) which means you can chuck it around in city traffic and weave through with utmost ease.

Moving the B8 around in the parking lot is also a piece of cake, something women would really appreciate. You even get a reverse mode capped at 2kmph which makes backing up the scooter from tight spaces even simpler.
Enough Range For Daily Commutes
| | |
| --- | --- |
| Battery Specs | BGauss B8 Lithium Ion |
| Battery pack | Lithium ion |
| Capacity | 1.45 kW installed |
| Nominal voltage | 57.6 V |
| Removable/Fixed | Removable |
| Waterproofing | IP67 |
| Range | Mode 1: 70km |
| | Mode 2: 65km Claimed. Tested Range: 77km |
| | Mode 3: 60km |
| 0-80% Charging time | 2 hrs (Claimed) |
| 0-100% Charging time | 3 hrs (Claimed) |
| Regenerative braking | Yes |
| Charger | Free home charger |

Range anxiety is one of the biggest problems when it comes to EVs, especially in a market like India considering the lack of electric infrastructure. But e-scooters like the B8 work just fine if your daily commutes don't exceed a total of 70km. We in fact were able to extract a range of 77km on a single charge, which is more than what the manufacturer claims. That said, there are several elements to be considered like traffic conditions, speed, weight of the rider etc.

In the event that you run out of charge, you have two options to juice up the scooter -- first being the most convenient one! Simply plug the port under the front of the seat into a 5amp socket in your parking lot.

Alternatively you could remove the 10kg lithium ion battery, carry it up to your home and charge it there. The battery is on the heavier side but it's still a lot more manageable than say the 19kg unit on the Odyssey Hawk Plus.
Once plugged in, it'll take around 3-4 hours for a full charge, which is quite close to the company claimed charge times. That's pretty decent considering there's no fast charging option. In essence, you could have a full charge half way through a day at work.
Powerful Enough?
| | |
| --- | --- |
| Powertrain | BGauss B8 Lithium Ion |
| BLDC Electric Motor | 0.8kW Continuous power |
| | 1.9kW Peak Power |
| Motor Torque | 94.6 Nm (at wheel) |
| Top Speed (claimed) | Mode 1: 36kmph |
| | Mode 2: 42kmph |
| | Mode 3: 50kmph |
| 0-40kmph | 8.07sec |
| True Top Speed (as tested) | 45.80kmph |

The torque on the B8, like all electric vehicles, is immediate, unlike conventional ICE-powered scooters which put down their power progressively. This can be a bit intimidating if you aren't used to it. The throttle calibration is a bit too sensitive, so you really need to dial back on the twist action. Twist the throttle a bit more than necessary and the scooter tends to give you a small jolt before lunging off.

On the bright side, you get used to it fairly quickly. The B8 feels fervent as you open the throttle in mode 3 but the acceleration weakens as you get up to its top speed -- a speedo indicated 50kmph (45.80kmph as per the V-box). While that's enough for city traffic, it does leave you craving for more poke out on open roads. The B8 does come with a boost button which gives the motor a surge of power for a couple of seconds, but it's only useful for quick overtakes.

Mode 1 and 2 will offer better range but they limit the top speed to 36kmph and 42kmph (indicated) respectively. We'd recommend sticking to the latter for the most part as it's more usable in an urban environment and shaves just 5km off the total range. Performance dims as the battery's charge depletes across all three modes. The drop is gradual and only tends to fall off a cliff when you've bordering the range limit.
Customers will also appreciate the fact that the company provides 3-years of standard warranty on most of the crucial components.
| | |
| --- | --- |
| Warranty | |
| Battery | 3-years |
| Motor/controller | 3-years |
| Vehicle | 3-years |
WHAT COULD HAVE BEEN BETTER?
Build Quality & Ergonomics

Get on the B8 and its diminutive size gives you the impression of an easy going scooter. The riding posture is comfortable with easy to reach handlebars and a decent amount of legroom and floorboard space even for my 5'10" frame. The seat though is a bit too small for two aboard, unless you have a stick sized figure. You would enjoy the scooter a lot more if you treat it as a single seater. Speaking of the seat, it's well cushioned which enables you to spend a large amount of time in the saddle without any back aches.

As for the build quality, it feels rather premium despite not having a metal body. Fit-finish levels are consistent with neatly designed components like the cast side stand, grab rail and flush-fitting footpegs adding to the overall appeal of the scooter.

The elegantly laid out switchgear is a sight for sore eyes but feel ergonomically flawed and a bit too complicated. It took me a couple of days to get used to it. Most of the switches are far too inset and nearly inaccessible. Push buttons like the headlight, right turn indicator, reverse and hazard switch require you to loosen your grip or have an abnormally long thumb to operate.

Next up is the lithium ion battery pack. Though it's fairly compact, freeing it from its tray does take some effort. More importantly, it isn't a snug fit once put back in and tends to rattle around while going over rough roads or speed breakers.

The battery cover also eats into the boot space, leaving you with just enough room for some groceries and knick-knacks.
Ride and handling
| | |
| --- | --- |
| Underpinnings | BGauss B8 Lithium Ion |
| Front suspension | Telescopic |
| Rear suspension | Twin shock |
| Front brake | 180mm disc |
| Rear brake | 180mm disc (CBS) |
| Front tyre size | 90/90-10 |
| Rear tyre size | 90/90-10 |

If you've been riding an ICE powered scooter for years, you'll take a couple of days of riding to get used to the B8. It's compact dimensions paired with rather small 10-inch wheels make the front end feel a bit too reactive, scary even. So if you're a bit long in the tooth we'd suggest you get a feel of the scooter before heading out into the bustling city traffic.

We also felt that the suspension could have been tuned to be a bit softer. It's on the firmer side which means it doesn't even out bumps and undulations. And it's glaringly evident on rough roads.

The B8 comes with disc brakes at both ends, but it isn't necessary for a scooter of this size in my opinion. While they help anchor the scooter, they are a bit too sensitive and tend to lock up rather quickly. But the brakes can't be held entirely responsible for this: the B8's low rolling resistance tyres have an equal role to play here.
We believe a single disc up front and a drum brake at the rear should be more than sufficient.
Price & Verdict:
| | |
| --- | --- |
| Price | BGauss B8 Lithium Ion |
| Ex-showroom | Rs 82,999 |

The BGauss B8 is definitely worth considering if you're looking for a compact electric scooter for daily runabouts. Sure it's pricey, but it still makes a more compelling case for itself compared to rivals like the Ampere Magnus Pro and the Odyssey Hawk in this segment.
It's beautifully designed, packs a decent amount of features and has enough juice to get you through your daily commutes. It isn't perfect but it has character, something that most EV manufacturers miss out on.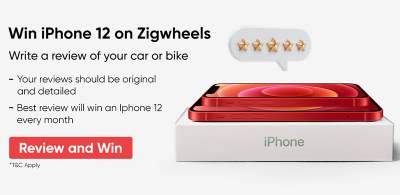 See what our community has to say!
NEW
India's largest automotive community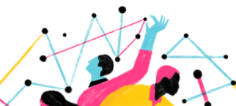 5 Other Things You Might Want To Do