2019 TVS Apache RR 310: First Ride Review
---
Are the updates to the Apache RR 310 big enough to warrant us to reconsider it?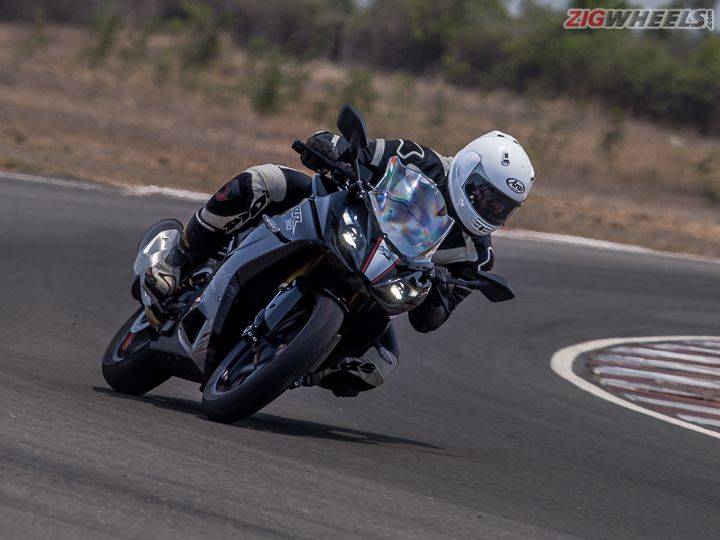 We first sampled the Apache RR 310 back in December 2017, and boy did it impress us on the race track. But after having spent some time riding it in the real world, and especially having one with us for a year in our long-term garage, it proved to have some shortcomings that were a bit difficult to look past. However, TVS hasn't been sitting idly by for the last year and a half, and has taken loads of customer feedback to roll out an updated RR 310 for 2019. But if it looks the same, what exactly is new?

It gets a slipper clutch
TVS says that this is a race-derived slipper clutch unit and that the company has spent over 200 hours on track-testing it to get the tuning just right. And to be honest, it shows. Out on the Chennai racetrack, the slip function worked beautifully when downshifting aggressively. There was no wheel lock-up or hop even when we quickly tapped the slick shifter down from sixth to third gear when braking for some of the tighter corners. Now, this makes the bike safer in a variety of situations, from going down the gearbox when leaned over or even shifting down when on a loose surface. And then there's the assist function, which TVS says reduces clutch effort by as much as 20 per cent. While this wasn't something we could really test properly on the track, we're sure it'll be a big boon when riding in the traffic. One thing worth noting here is that TVS hasn't forgotten its existing customers either. This slipper clutch has been specifically designed to be retrofitted on the previous bike. Those who already have the bike can just walk into a TVS showroom and get it fitted for Rs 3950.

There's a new Phantom Black paint scheme
Now we've already seen the RR 310 in a black paint scheme before, but that was matte black. This new colour is gloss black, and it comes with silver decals on the nose, tank and the tail. The '35 years of racing' sticker from the tail has been given a miss as it's 2019 now, and it's been 37 years since TVS started racing in India. Aside from these, there are absolutely no visual changes to the bike. It looks the same in every way and stuff like the vertically stacked instrument cluster hasn't seen any changes either.

The 2019 model gets no mechanical changes
Mechanically, the Apache RR 310 stays identical to the previous model. So it carries over the same trellis frame, the same suspension setup (fat upside-down forks at the front and a KYB tuned monoshock at the back) and 312cc reverse incline single-cylinder motor is untouched as well. So it produces the same output figures - 34PS @ 9700pm and 27.3Nm @ 7700rpm. But that means it's got the same lovely, meaty mid-range grunt that made us like this Apache in the first place. Open the gas in any gear, and the bike has a strong pull all the way up to its redline. And that makes it supremely fun coming out of corners on the race track or lining up some quick overtakes on the road. There is one concern though. Because the engine hasn't changed, it's still got vibrations to a certain extent.

Speaking of vibes, TVS has been addressing them for some time
Over the last year and a half, TVS has rolled out subtle updates that have taken care of the vibration issues to a certain degree. One of the biggest of these - an improved ignition - has tried to address the inherent vibey nature of the motor. And it has yielded some results. The other upshot of this has been an improved engine response at really slow speeds, which is said to make life much easier when crawling through bumper-to-bumper traffic. Then there are the larger and heavier bar-end weights, which have almost completely negated vibrations at the handlebars, though seat and tank vibes can still be felt. In order to make the bike less noisier, a softer chain roller has been used to reduce chain slap over bumpy roads. A new rubber seal between the windscreen and fairing bodywork takes care of the irritating plastic-on-plastic rattling noise, apart from preventing dust from getting behind the windshield. There are many more, smaller updates that TVS had made and passed on for free to their existing customers. Now these are all included together on this 2019 model.

It costs just about Rs 3000 more
At Rs 2.27 lakh (ex-showroom Delhi), this upgrade barely costs anything over the previous motorcycle. In fact, it costs almost exactly as much extra as the slipper clutch retrofit on the earlier RR 310. So then is it worth spending all that money on this bike now? To be honest, while not exactly affordable, the RR 310 always offered pretty good value, considering its performance, versatility and features list. It's still not a perfect bike now. But, all the little changes have really addressed the niggles that held back the Apache RR 310 from ranking high in our books. So we'd say that now it's definitely worth your attention and your hard earned cash.
TVS Apache RR 310 Video Review
More on TVS Apache RR 310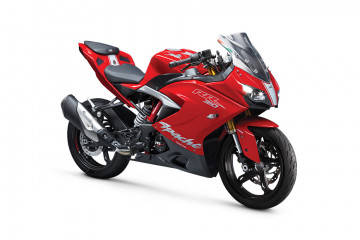 Rs. 2.48 Lakh Onwards
Ex-showroom, Delhi
View January Offers
View On Road Price
Apache RR 310 Alternatives