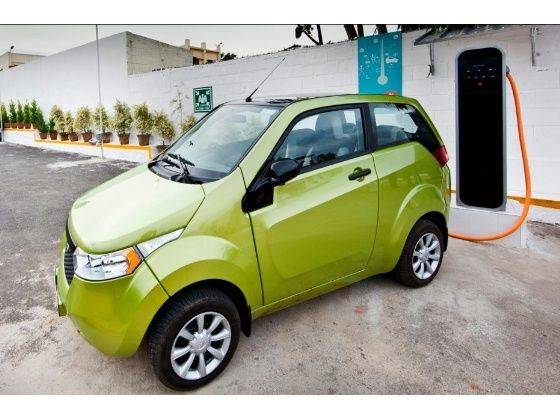 The much delayed and anticipated Mahindra Reva e2o electric car is finally set for launch today. Formerly known as the NXR, the e2o, (pronounced 'Ee-too-oh') is powered by 48-volt lithium ion batteries that offer a claimed range of 100km per charge.

Charging can be done anywhere through a standard 15-ampere plug point. A full charge takes 5 hours, while a quick charge option is also there. Mahindra has plonked in some ingenious technologies into the e2o such as Sun2Car, Revive and regenerative braking system that further boost the car's range. The Sun2Car, for instance, allows people to charge the e2o using solar energy while it's parked.

Inside, the two-door hatchback can seat four adults. The automatic gearbox features three drive modes including 'Boost' for a more spirited driving experience but at the cost of lower range. Also, don't harbour any hopes of zipping past 80kph – the e2o's max speed.
The e2o is being assembled at Mahindra's new factory in Bengaluru, which has an annual output of 30,000 units. The company hopes to sell at least half that number in the domestic market while the rest will be imported to Europe and developing countries in Asia and Africa.

But will the e2o find many takers? Like most small cars in this segment, pricing will be critical. Mahindra had hoped of keeping the e2o's price just 15-20 per cent higher than regular premium hatchbacks such as Maruti Swift and Hyundai i20, which cost around Rs 5 lakh. But with the government not doling out any subsidy benefits on electric car sales in this year's Budget, that plan has suffered a jolt.
Still, the e2o's biggest talking point over its petrol-powered rivals would be its low running cost. Exactly how low, we'd be able to tell only after a comprehensive, rigorous test drive but, in general, electric cars boast an operating cost of 50-60paise/km as against Rs 5-6/km of petrol cars.

In the absence of any sops to the customer, Chetan Maini, Founder and Chief of Strategy & Technology at Mahindra Reva, said he'll rely on the company's "internal strategy" to ensure correct pricing. How it all pans out at the launch today will be interesting to see.
Update: Mahindra e2o launched in India at Rs 5.96 lakh (on-road, Delhi). What do you think about the pricing? Share with us in comments.
Photo courtesy: Mahindra Reva Facebook page
Related Mahindra e2o stories:
Mahindra e2o: Special Coverage
Mahindra e2o unveiled at India Gate