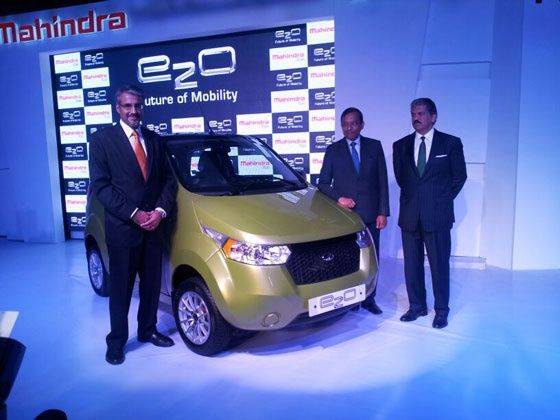 Since acquiring the Reva Electric Company back in 2010 Mahindra has been busy reengineering the country's first and only indigenously built road going EV, better known as the Reva into something more than what so far has been merely looked upon as a valiant effort with unimpressive results.
Closely resembling what Mahindra has been teasing us as the Mahindra Reva NXR over the past year has taken production form as the new Mahindra e2o that was unveiled at India Gate, New Delhi amidst the country's massive extended automotive fraternity. The exact scale of the e2o's evolution from the original Reva EV appears to be a massive one and this next-generation all-electric from the house of Mahindra has clearly been built with many considerations in mind (Read : Mahindra e2o First Drive).
Powered by 48V maintenance-free lithium-ion batteries and a 3 Phase induction electric motor the Mahindra e2o produces 19kW@3,750 rpm and 53Nm torque between 0-3400rpm. The two door hatchback has a top speed of 80 km/h; it takes 5 hours to completely charge its batteries and just an hour to charge it enough for 20 km range.

With a full automatic boost mode for quick acceleration and a range of 100 km (80km old Reva) the e2o is now a far more practical city vehicle. Charging the e2o will be a particularly hassle free affair considering it can draw power from 15A power socket available in any home.


Things have gotten rather high tech with the e2o especially with regards to its integration with smart phones that allows one to remotely access the zero emission vehicle from a smart phone (switching on the AC and locking/unlocking the car). It is also the first vehicle of its kind to offer what the company calls its REVive system, which quickly charges the e2o in an emergency situation through commands given out by your smart phone or a call to RIA (Remote Interactive Assist).
Driver assist features on the tiny Mahindra e2o now include Hill Hold, Courtesy Lights, Follow-me-home headlamps, rear defogger, electric wing mirrors, keyless entry and Start/ Stop, a reverse camera, a digital user manual, and GPS Navigation with preloaded maps (Read : Mahindra e2o First Drive).

A 6.2 inch touch screen infotainment system being offered with the e2o isn't merely a pretty display area for vehicle related information that may concern the driver, but also a CD/DVD/USB/AUX/Micro SD and Bluetooth supported entertainment system which gets the praise worthy backing of 3 JBL speakers and two tweeters. The e2o has been built with a strong focus on safety offering 3 crumple zones, side impact dual beams, ISOFIX Child seat mounts ALR seat belts and 6 energy absorbing structures in the front of the vehicle.
Speaking at the nationwide launch of the new Mahindra e2o, Anand Mahindra, Chairman, Mahindra Group, said, "The Mahindra e2o is the embodiment of a shift from old to new within the automotive industry. It also advances the Mahindra Group's efforts at redefining sustainable urbanization with the creation of an eco system that includes mobility systems along with other environment friendly innovations."

Priced at Rs 5.96 lakh (on-road Delhi) the Mahindra e2o is priced slightly higher than the outgoing Reva but now packs in far more advanced technologies and creature comforts that makes it a far more advantageous urban mobility alternative than the Reva ever was.