KTM 390 Duke: Top Five Must-have Accessories
---
Here's everything you'd need to spice up your Austrian hooligan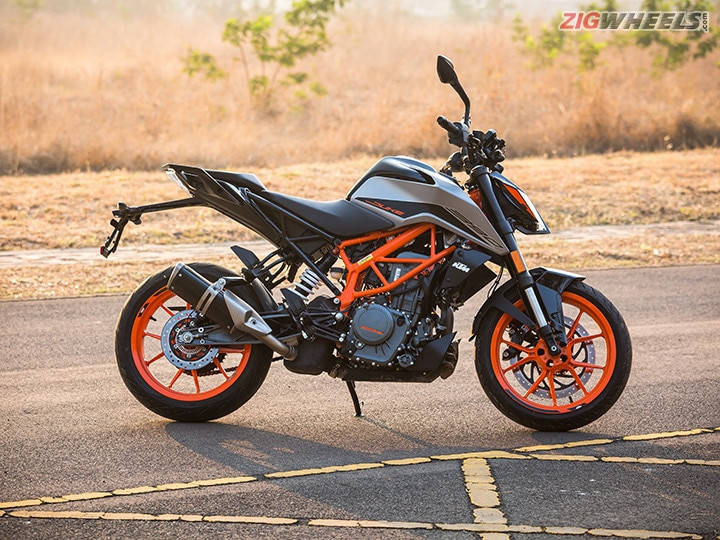 It has been almost a decade since the KTM 390 Duke debuted in India. We have seen two generations (the third one is due soon) and also witnessed its value-for-money proposition slowly fade away. But what this Austrian hooligan has been consistent with is plastering a wide grin on your face every time you open the throttle. And we have just the perfect list of accessories to make that grin even wider.
Aesthetics

Motofusion Tail Tidy
Price: Rs 3,437
The stock licence plate holder just doesn't fit with the aggressive design of the 390 Duke. Of course, there are plenty of options available in the market. But this one, though slightly heavy on the pocket, is really worth it. Constructed using anodised aluminum, this piece is durable and barely takes 15 minutes to install. Plus, it comes with a provision to fit your stock licence plate light as well.

Autologue Street X3 Tank Shrouds
Price: Rs 6,320
Given the popularity of the 390 Duke, it's a task to stand out from the crowd. And this is where the tank shrouds come into the picture. Autologue's tank shrouds are straight bolt-on parts that you can install by yourself. If you want to go the extra mile, you can purchase the whole kit for an additional Rs 6,000, and the brand will throw in a seat cowl, tail tidy, flyscreen, and tank grips.
Luggage

Rynox Hybrid Tail Bag
Price: Rs 3,999
Every Duke owner loves hooning around the town with their bike. Still, at some point, you'd definitely want to venture beyond that. Saddlebags are good, but they are cumbersome, especially when you don't have a saddle stay to firmly fix them. That's where this tail bag comes into play.
It is pretty easy to mount and doesn't require your bike to have additional support. Also, with the weight concentrated in the middle, you don't have to worry about the bike tilting on one side too. The downside, though, is that you won't have room for a pillion.

Rynox Magnapod Tank Bag
Price: Rs 3,575
Now, this is the epitome of versatility. The Magnapod can be used as a tank bag, a tail bag, and even a backpack. It comes with magnetic holders as well as straps that firmly hold it down. When fully expanded, it can take up to 28 litres; that's enough to gobble up your documents, some food, a toolkit, a charger, and even a spare T-shirt.
However, tank bags are notorious for giving deep scratches or swirl marks to the tank. So, we suggest you have some scotch tape or a thin cloth handy.

Ergonomics

Autologue Tank Grips
Price: Rs 1,000
Though the 390 Duke has gone a little mellow over the years, it's still one frantic machine. And when you put those 43PS to work, you better have something to hold on to. The tank grips not just keep you in control during acceleration but also reduces stress on your upper body. At Rs 1,000, these are pretty economical as well.

SW Motech Universal Mirror Extender
Price: Rs 5,090
More than the traffic behind you, it's your elbows that you see in the stock mirrors. Unless you want those stick-it convex mirrors on the stock units, your best bet is to use these SW Motech extenders. These provide a 40mm extension over the stock mounting point, which should be enough to give you a better view of the traffic behind.
Protection

R&G Fork Protectors
Price: Rs 6,400
A bent fork can set you back by at least Rs 16,000. The R&G fork protectors fit where your axle nut would go (and don't stick out as well). In the event of a crash, these absorb the impact, saving your fork from bearing the brunt of the fall.

Kreiga Fork Seal Cover
Price: Rs 1,799
Considering the kind of environment our bikes are subjected to, a busted fork seal is not really a surprise. Not only can it be messy and threaten the tyre's traction but (in extreme cases) even cause striations on the fork. The fork seal covers keep the dust and debris from breaking the seal and prolong the life.
Performance

TVS Protorq
Price: Front: Rs 4,650; Rear: Rs 5,650
With the ban on the import of tyres, Indian manufacturers are stepping up their game to replace the likes of the Metzelers. The TVS Protorq tyres are radial tyres with zero-degree steel belts, making them flexible and resulting in lesser rolling resistance. If you are still apprehensive, know that we have been testing out the set on the KTM 390 Duke.

Apollo Alpha H1
Price: Front: Rs 4,750 Rear: Rs 5,500
Another excellent option from Apollo. The H1 uses a zero-degree ply construction and a dual radii cavity profile that improves its cornering capability and handling. In fact, we have tested these tyres thoroughly on the KTM 390 Duke. Read this story for our review.

Lluvia Rear Sprocket (40T to 47T)
Price: Rs 1640 to Rs 1940
Finding the 390 Duke a bit too difficult to tame? How about dropping down to a smaller rear sprocket and boosting the fuel economy instead? Or if you want to make it more frantic and pop wheelies, there's also a 47-tooth sprocket for that. Lluvia gives you the option to choose between a 40T, 42T, and a 47T sprocket, all of which are relatively affordable. However, Lluvia doesn't sell the chain or front sprocket, so you'll have to source it via brands like Rolon.
KTM 390 Duke Video Review
More on KTM 390 Duke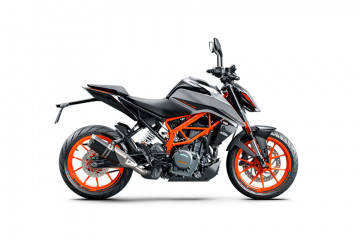 Rs. 2.87 Lakh Onwards
Ex-showroom, Delhi
See what our community has to say!
NEW
India's largest automotive community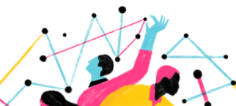 5 Offers Available