Forget The Tesla Cybertruck: Here Are Three Other All-Electric Trucks You Should Be Excited About
---
The Cybertruck is fast, capable and affordable but these are some lesser-known all-electric trucks that are fast approaching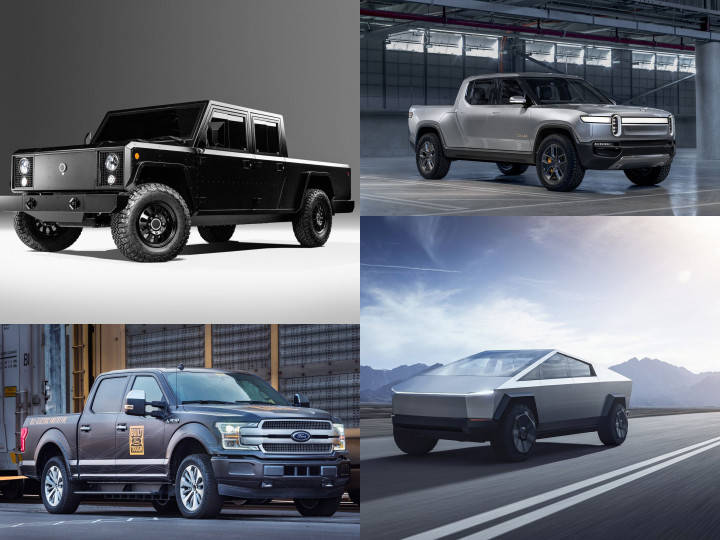 Tesla broke the internet with the Cybertruck grabbing over 2 lakh bookings in less than 10 days of its unveiling! Well... it's capable, fast, practical and maybe even the future. But there is no escaping the fact that it looks absolutely hideous. There, I said it. In this age, where a carmaker like BMW is being ridiculed for plastering huge kidney grilles, this comes across as a total blasphemy of the idea of a pickup. Looking at Tesla's current lineup also makes us wonder if the same guy designed it or if this whole thing was a PR stunt like Michael Perschke, CEO of Automobili Pininfarina says. I seriously hope the latter because if this looks different, then I could also say the Pontiac Aztec was different when it came out. Instead, here are three other trucks/pick-ups that deserve your attention:
Rivian R1T

Backed by two big names, Ford and Amazon, Rivian's take an an all-electric pickup truck is this proportionate R1T. Although it is claimed to start at a much higher price of USD 70,000, the Rivian will have three powertrain options ranging from 105kWh to 180kWh battery pack. Numbers say the R1T is capable of doing 640+km of maximum range while pushing out 750PS of power and 1,120Nm of twist. Rivian says the R1T can do the 0-100kmph in 3.0 seconds while it also gets a maximum towing capacity of 11,000lbs. Now to the main question -- when is it coming out? Sometime in late-2020.
Ford F150 Electric

We all might've seen the video where an F150 lost to the Cybertruck in a tug of war. While it is impressive what the Cybertruck can do, nobody pointed out that the F150 was indeed a rwd low-powered version making the whole stunt pointless. Anyway, that is a story for another day. Meanwhile, Ford is cooking something up in the form of an all-electric F150 truck. Details are scarce right now but it will be a badass truck going by the video where a prototype version of the all-electric F150 pulls a 1 million pound train. We can speculate it might come out in 2021, but technical details and price are still out of our reach.
Bollinger B2

If you think the Cybertruck is boxy, you haven't seen the Bollinger B2. And this is how you make a vehicle boxy and good looking at the same time. See, it's doable. Numbers say 614PS/905Nm of torque with a towing capacity of 7500lbs and the range is rated at 321km. That said, the steep price tag of USD 125,000 is hard to digest. Instead, what you get is an all-electric off-roader exuding old-school charm. The Bollinger B2 also gets fast-charging capabilities, which helps it charge up in 75 minutes using a level 3 fast charger. What's also impressive is the electronically controlled and self-leveling suspension with 10-inch of travel.

In the meantime, California-based Rezvani called out Tesla for a real ballistic test while also calling it the worst designed car of all time. Rezvani's weapon of choice is the TANK X, which is an evil looking truck packing a 6.2-litre supercharger V8 putting out 1012PS and 1180Nm of twist. It is also an armoured truck with fancy goodies and an even fancier USD 295,000 price tag. Now you know why it didn't make it to the list above.
Add Your Comments