Buying A Used Kawasaki Versys 650
---
A little patience and a lot of research is all you need to make that out of reach motorcycle your new ride.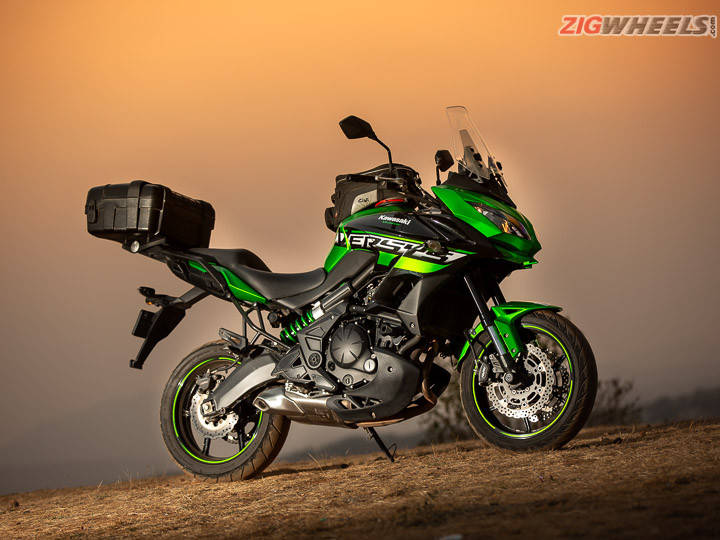 It seems unreal even now. For the longest time, much like many of you, I've dreamed of owning a premium motorcycle of my own. Let's be honest; whether you're looking to go touring, off-roading or straight line sprinting, you don't need a high end bike. But you sure as hell can want one. And I managed to fulfill that want in 2019.
However, buying one new seems to be a dream that's perpetually out of reach for many of us. The Triumphs, Ducatis, Harley-Davidsons and indeed, Kawasakis of the world only seem to get more expensive. And you can bet your bottom dollar, the government has no interest in making your hard to reach bike any easier to grasp. Reasonably so. It is, after all, a luxury.
But there's no lack of options if you're looking to buy used. You can shave lakhs off your budget and get a motorcycle in good knick, as long as you're ready to put in a few week's of gruntwork. Here's my experience of going through the process, as a first time premium bike owner/buyer.
What Did I Ride Before?

I saved up for my first bike, a 2010 Royal Enfield Thunderbird 350, since I was about 11 years old. I'm a big guy by any measure and not one whose particularly interested in romancing the redline too often. So I opted for an easy going motorcycle which could be easily ridden/modded/repaired. That last bit was important because reliability was still not a strong suit for Royal Enfield a decade ago. But after anywhere between 80,000-1,20,000km on my Thunderbird (the speedometer cable failed so many times, I lost track) I wanted something more capable. Something that could make long distance riding less stressful and wouldn't have me wondering if I'd be stranded by the highway midway through a harmless chai omelette ride.
Enter The Versys 650

The Kawasaki Versys 650 fulfilled all of my criteria. I wanted something reliable, proven, comfortable and quick but not overwhelmingly so. I also need good ground clearance. Our national highways are quite smooth, but unpredictable lunar patches are almost guaranteed. Additionally, reaching those highways from Mumbai's suburbs is more trekking than riding, owing to speed breakers that love leching at vehicle undercarriages.
I wasn't too picky with the category of bike, though, since I considered everything from the Kawasaki Z800 and Ducati Monster 821 to the Triumph Tiger 800 and Honda CBR650F. The Versys won the picking order, simply because it seemed like the perfect balance. It had to be a one size fits all deal (I can't own more than one bike at a time); something I could commute on without having the radiator cook my thighs and something I could use for my weekend tours, including frequent Mumbai-Pune-Mumbai runs. Importantly, the Versys' core has been extensively tested. The same heart powers an entire family of Kawasaki 650s (Z650, Ninja 650 Versys 650 & the Vulcan), so its reliability is proven and it also helps in making parts more readily available. As you may have figured out, my risk appetite isn't too high.
The only thing this bike lacks is a personality. I can't pick any serious flaws but it just feels...synthetic or too machined. If you get what I mean, you get what I mean. But how did I get here?
The Big Question: Do I Really Want This?

I had the money for my bike ready a full year before I went through with the purchase. So why did I wait? Because I'm familiar with the theory of diminishing marginal utility. I know for a fact that a new toy seems less and less lovable, the more you play with it. So I gave myself a full year to decide if I still wanted the bike as badly or if this was just a fleeting infatuation. It wasn't and you need to be sure it isn't for you either.
Ask yourself why you're buying a big bike. Is it to show off? For your pride? Because that stuff is temporary. I've seen one too many middle class people such as myself, buy high end brand cars/motorcycles only to realize that an elephant costs as much to feed as it does to buy. Maintenance aside, bear in mind that a bike that costs lakhs to purchase also costs a pretty penny to insure every year. Ultimately, what is supposed to be a great experience becomes a burden if you don't walk into the deal, knowing what you're signing up for.
That includes dealing with morons who assume you're always looking to race them or inconsiderate onlookers who have no problem sitting on your bike or fiddling with the switchgear because it's something cool. Once you're past this phase, let the hunt begin.
Research, Research & Research Some More!

90 per cent planning, 10 per cent execution. It's a rule that does you well, no matter what you plan to do. Hunt through popular listing portals, forums and websites. Look at how much information is given and how well the vehicle's history and condition has been documented. If an owner is detailed with the vehicle's information and shares detailed and clear images, that's a big positive sign. It shows a degree of transparency which reflects confidence in what's being sold.
Make contact with the owner and don't lead in with the price. If you're a genuine buyer, act like it. Insist on meeting the person, find out why they bought it and why they're selling it. Understanding the owner is as important as knowing the bike. Be sure to inspect the bike during the day time. Check for scratches, rims damage, tyre health and modifications. Several big bikes are bought by rich lads who just want to make as much noise as possible and make sure everyone gives them the attention their parents never did. Tread lightly around such bikes.
Don't limit your research to just documentation, insurance history and maintenance proof. Stalk the owners on social media. Check out photos of the bike being used and any experiences shared. If you see the bike doing burnouts, being used for stunting and generally being put into situations that are bad for the bike, it might be wise to walk away or at the very least, question the owner about it.

I got lucky. The bike I was looking at was just over a year old, had run less than 2000km and the owner looked after the bike like it was an infant. It was never taken out in the rain, washed only by himself, always parked with a bike cover in a secure basement parking and used for light weekend tours. The bike had a detailed ownership review too, in which I could analyze the bike, literally from its unboxing to a few weeks before I went to check it out in the metal.
If anything, this bike was handled a touch too delicately but I wasn't complaining. Generally, buying the bike from someone in their late 20s-late 30s is a slightly safer bet. Too young and it's possible that the owner didn't put in the blood, sweat and tears to actually earn this pocket burning purchase and instead, it's daddy/mommy who couldn't say no to their little baby. Having an owner who understands the value of the bike makes all the difference.
I then met the owner, rode the bike and checked for anything that seemed off. The tyre pressure was a bit low but otherwise, this may as well have been delivered with TC plates. It was THAT well cared for. Of course, this means the owner understands what his bike is worth, so then comes the tricky bit.
Bargaining

This is why you don't lead in with the price. The seller always quotes his price and no matter how rigid, there's always some room for bargaining. However, don't be disrespectful. If you've ever sold something on popular classifieds websites, you will know what I'm talking about. Motorcycles listed for Rs 40,000 get offers of Rs 18,000. Such offers are infuriating and owners will block the sender immediately.
The Versys 650 I zeroed in on was listed at Rs 7 lakh. However, the listing was a few months old, which is why I offered Rs 6.50 lakh. A little back and forth and the deal was closed at Rs 6.65 lakh. To top it off, the price included a top box mount, tank bag mount, crash guards, paddock spools and a radiator guard. And the insurance is valid for nearly a year since my purchase. So I got a barely used,showroom condition motorcycle with accessories and insurance, from a great owner who I'm still in touch with, all for a little less than the bike's ex-showroom price.
Living With It

Service costs for most bikes do vary based on your location. Kawasaki, for example, charges Rs 1000 - Rs 1200 per hour for labour in Mumbai. Including consumables, a regular service for a Versys 650 can cost Rs 5500 at the very least.
The first service of the Versys 650 is scheduled at 1000km, followed by the next service at 6000km & then a service at every 6000kms.
Summary of previous services
| | |
| --- | --- |
| 1st Service @ 457km (with previous owner): Labour, engine oil & oil filter | Rs 5406 |
| 2nd Service @ ~ 1900km (day of my purchase): Labour, engine oil, oil filter, chain cleaning/tightening/lubing, air filter cleaning, brake pad check & throttle body cleaning | Rs 11,100 |
My most recent service, carried out at around 7400km came with the following expenses.
| | |
| --- | --- |
| Parts (spark plug cleaning, new air filter, new oil filter, chain cleaner, chain lube etc) | Rs 4148 |
| Labour (general service charges & rear brake bleeding) | Rs 5500 |
| Other Consumables (engine oil, coolant top up, rear brake fluid) | Rs 2046 |
| Total Bill | Rs 12,684 (including Rs 990 in state and central GST) |
*Both the services I have carried out have been done outside the authorized service network. These are technicians I know through the community/personal contacts, who have been vouched for by other premium bike owners I know. While the authorized service channels have had mixed reviews, these technicians have been sworn by, so I went with the latter.


Mamba, my Versys 650, has been primarily used on the highway since my office commute is rather short. On a mixed cycle, including a rider+heavy top box+other luggage, she manages about 24kmpl, which I'm more than happy with.
Parting Notes
-Be patient. Don't rush your purchase or seem too eager. It hampers your bargaining power. Remember, this is business and any deal should be mutually beneficial.
-Always be punctual and clear in your communication. Push for a better deal but don't be rude.
-Be flexible. If the owner doesn't budge on the price, see if you can stretch a bit. Contrarily, if you want more bang for your buck, see if the owner will at least cover a service before handing the bike over to you.
-Stay ready for expenses. Chain and sprocket kits, tyres, air filters - everything has a quicker replacement cycle and each component comes at a premium. For the Versys 650, a branded set of new tyres can cost between Rs 25,000-30,000. Some newer brands are available that cost half as much. A new set of brake pads (front+rear) will cost you around Rs 11,000, while a new chain and sprocket kit costs around Rs 12,000. Replacement cycles vary but these are expenses that pop up every 16,000-20,000kms.
Is It All Worth It?
Yes.
Kawasaki Versys 650 Video Review
More on Kawasaki Versys 650

Rs. 6.79 Lakh Onwards
Ex-showroom, Delhi
View Finance Offers
View On Road Price