2012 Bajaj Pulsar 200NS: PULSAR REVOLUTION!
Jan 30, 2012
Views : 112498
---
Spotted and charted, blow-by-blow by Adil Jal Darukhanawala, Editor-in-chief, ZigWheels.com

GENESIS & EARLY GROWTH
This is the story of a bike, which not only rescued a long-standing manufacturer from going under but also spearheaded one of the most dramatic turnarounds in the Indian automotive world. It started almost a decade ago, December 2001 to be precise when yours truly broke the news about the Pulsar twins – a brave move to give Indians brought up on a steady stream of "fill it, shut it, forget it" dogma. Nothing wrong about this aspect of fuel efficiency but with the nation on a roll and beginning to aspire to pleasures beyond fuel efficiency, the Pulsars in 150cc and 180cc displacements came in as a breath of fresh air. They defined what most motorcycle enthusiasts desired but OEMs were hesitant to deliver – a sporty offering on two-wheels!
The Pulsars were an instant hit and they went on to create a segment of sports bikes which even the likes of the Yamaha RD350 and the RX100 couldn't and this is the true measure of how the Pulsar and its maker created an entirely welcome new segment for Indian motorcycling. Lets face it, if it weren't for the Pulsar there wouldn't have been a Yamaha R15 or for that matter the Honda CBR250R! Many might feel I am going OTT here but what prevented these two Japanese worthies from doing the same, that too in a more pronounced manner and giving this segment ample encouragement and push so that it came out not like over-powerful racers for the road but sporty machines everyone could ride and enjoy. No wonder then that Bajaj Auto never ever considered putting the Pulsar on to the racetrack, staying away from it being one of the trump cards of its management style!

The one thing, which Bajaj Auto did right with the Pulsar or the Discover and the Boxer brands, was never to be complacent. I remember once during the course of many interactions with Joseph Abraham, the finest motorcycle engineer and designer the country has ever known, put it down very simply: "The Pulsar isn't, and will not be, a static target. It is always a moving target and that will ensure no one gets a clean shot at what we want this brand to do." More versions followed, the Pulsar adding not just tweaks but wholesale technological leaps to be at the forefront of motorcycle design and technological evolution in the country. The DTSi top end with twin-spark technology, the ExhausTEC detail, fuel injection, were just three of the big leaps pioneered by the first generation Pulsar along with enough visual style, radical yet comfortable riding positions, attention to detail and a surfeit of one clear ingredient: the smiles per rupee ratio which no other bike could deliver. So much so that the team at Bajaj Auto were unhesitant to go back to the humble carburetor just so that they could make yet another big leap forward in sustaining the pleasure – the Pulsar 220 jettisoned its fuel injection and stomped to the fastest Indian production bike mantle!

No wonder then that this combination ran strong and true as well as very very successfully to set up the sporty performing motorcycle segment in the Indian market. However, there is a time for everything and nowhere was this basic tenet clearly in focus than within the precincts of Stars Ahead, the legendary R&D department at Bajaj Auto. As part of the company's forward planning strategy where they were looking at the big picture (always), the scenario in 2008 was mighty different from 1999 when the Pulsar programme began in dead earnest. The first time it was survival at stake, which had seen the firm pulling out all the stops to come up with the Pulsar. This time round the stakes were much higher because finally the firm had got everything right with its back end and didn't want to make a mistake while also grappling with the sheer force of its alliances and acquisitions to make the large global picture come into sharp clarity. Must make a point of mention about Bajaj Auto's back end which has been the envy of the industry. How many know that in sheer profitability, Bajaj Auto ranks as the most profitable automotive enterprise in the world with an EBITDA in excess of 21 per cent?

EVOLVED SCENARIO
Much changed within Bajaj Auto as Rajiv Bajaj went about creating a team and a company which would work with a minimum of brands. The objective was to make these brands so strong and positioned so well that they would more than hold their own against competition across the globe. In such a changed policy, it further began the process of acquisition and in Austrian bike maker KTM found the right partner to make for a great marriage. KTM comes with its 'Ready to Race' tag that has been earned across motorcycle racing, from world championship MX to rally raids (it has won a record 11 straight Dakars' including the 2012 edition), from 125cc and 250cc World Championship motorcycle road racing Grand Prix events to IDM sports bikes, the tie-up (for want of a better word given that the Indian company is gradually picking up stake in the Austrian firm) with KTM is a win-win situation for all and that includes motorcyclists the world over.

If that wasn't all, it kept its relations with Japanese superbike maker Kawasaki intact and helped build on it by getting a CKD operation going in India for the world famous Ninja range of sports motorcycles. Now all it needed was to get the next generation Pulsar right and that as we now know and can confidently state is that the second generation Pulsar is even more of a tour-de-force than the original was, and this time with competition all around it, I am sure that the original values of design, style, cutting edge tech, high performance, all-round ability, high efficiency as well and great value just do not remain but have been taken to an altogether new level!

DEVELOPING THE SECOND GENERATION PULSAR
Work began on this bike sometime in 2008 and by then the Bajaj Auto – KTM equation was also moving in the direction envisaged by both. In such a scenario, the global outlook was factored in and the onus fell to Joseph Abraham and his young team at Stars Ahead to do justice to not just the Pulsar and other Bajaj brands but also to a completely new range of affordable and exciting KTM motorcycles! Let not anyone tell you that the range of small capacity KTM Dukes was designed and manufactured anywhere else but by Joseph Abraham and his team with logical branding and positioning attributes in line with the KTM brand. Of course KTM helped to define its product as well as its positioning within the international bike market but everything else was done at Stars Ahead at Akurdi in Pune. That the Duke 125 and 200 have gone on to storm bike markets in Europe, the US and Japan is now well documented and need not be emphasized.
The best thing to get the low down on the new Pulsar meant a proper one-on-one session with Joseph Abraham and lest one forgets, his very first effort for Bajaj Auto came with the Chetak 4S scooter with its imaginative ignition system. Of course timing wasn't on the side of the Chetak or side-engine scooters then but if one cared to unravel that wholly indigenous single-cylinder four-stroke motor, one would have seen instances that were to bear out not just the early Pulsars but also the DTSi and ExhausTEC and many more technologies yet to come.

Joseph said that things came to a head in 2008 when the onus to develop an all-new platform for both KTM and Bajaj Auto fell to him and his team. It was a challenge which was both exhilarating as it was taxing. I got Jo to speak on the brand propositions and in his own words: "We had to see that we developed a strong engine platform which could work for both brands and yet be differently enabled not just for different bikes but also for a reasonably long term. In so doing we also had to ensure that the KTM branded vehicles were distinctly different from the Bajaj branded ones otherwise all the effort would have been wasted. Machines with KTM and Bajaj branding had to remain true to their individual brand essence, from the way they looked to the way their exhaust note played out the music to the way the bikes felt in keeping with their performance capabilities.
"On top of that we had to very clearly put the hierarchy of our brands up front with the Boxer at the lowest end being the workhorse in the range and doing the functional bit for the masses. From the portfolio moves to the Discover, which is the one for emotional commuting with loads of performance to it, way beyond what other manufacturers in that segment would offer. The Pulsar comes next in the Bajaj range as the aspirational model, technology driven, aggressive, in-your-face, with this attitude of being able to perform everyday, rather than being single-minded about just one thing. At the end of the day, this man who rides the Pulsar, may want to use it in many different ways, and it has still to be coming out on top in relation to what it does. That was our focus for the Pulsar and then on to the KTMs with their single-minded approach to being "Ready to Race."
"The aim with the KTMs was most apparent because the guy who wants this sort of a bike is a purist and that's how we have stacked up all our brands and what each and everyone of them stands for without defining their limits. We didn't obviously want to overlap things and so we defined what should be the cost and this in turn defined the performance the buyer could expect, while maximizing this performance spectrum as is the Bajaj Auto way to doing things."
Jo may well have given us an overview of how the brands within the Bajaj Auto range might have been positioned, but this small insight, especially as regards the KTM Duke and the new Pulsar range, clearly spelt out the design and engineering challenges his team faced.
So in a nutshell, without apparently going into way too many details about product differentiation, the obvious needs to be spelt out. The three year period from 2008 to the launch of the KTM 200 Duke meant not just designing two completely different bikes but also a range of completely new engines using just the same bottom end and reciprocating parts (crank, con road and piston) to make for a cost spread which was intelligent and smart to deliver performance at a very low price while yet having enough differentiation in feel, character and performance to enliven things. Of course the looks were another determinant and visually the Duke 200 and the Pulsar 200NS are stunning to behold in their own individual right. The amazing thing is that they both deliver performance of a class leading nature, which in turn is heightened by the different ways they go about achieving the same!
More on Bajaj Pulsar NS200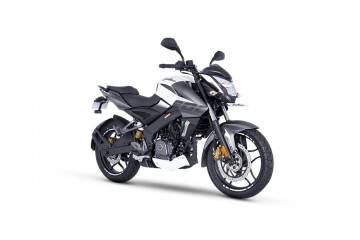 Rs. 1.31 Lakh Onwards
Ex-showroom, Delhi
View Finance Offers
View On Road Price
Pulsar NS200 Alternatives