If The Swedes Designed A Royal Enfield Electric Bike...
---
…. this is how it'd look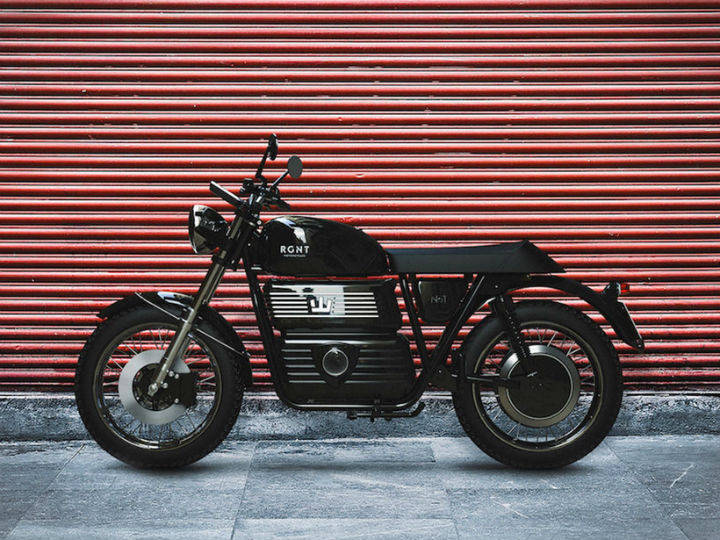 Lately, we've been seeing quite some interesting designs of electric bikes coming out of Sweden. Recently, we came across the Cake Kalk Ink SL and now, this - the RGNT No. 1 electric bike. Founded in 2018, RGNT is a Stockholm-based niche electric bikemaker. The availability of their maiden offering, which for some reason was named "No. 1," was initially planned for this month but as we all know, the coronavirus pandemic then wreaked havoc across the world. Consequently, the brand's plans also got delayed. Now, RGNT intends to start the deliveries abroad in July/ August 2020.
Also Read: This Electric Royal Enfield Costs As Much As A Harley-Davidson LiveWire
Pre-orders are open for EUR 150 (around Rs 12,410) and the electric bike is priced at an eye-watering EUR 10,500 for the Standard Edition. That's approximately Rs 8.68 lakh, which is about Rs 34,000 more than the Zero DS dual-purpose themed electric bike. To give you a better perspective, the Zero DS comes with a 132km city range, 34kW motor with a massive 106Nm of torque, and a top speed of 158kmph.
Apart from the minimalist retro-themed bodywork, the specs seem to be a bit underwhelming. It is powered by a 11kW (peak power) hub motor linked to a 7.7kWh lithium-ion battery, which offers a claimed range of 150km and a top speed of 120kmph. The continuous power output of the electric motor stands at 8kW. The battery takes four hours to charge completely using a standard outlet.

The 35kg battery pack sits inside a steel frame, which is suspended on a 35mm front telescopic fork and twin rear shock absorbers with adjustable preload. Brakes include a 275mm front and a 220mm rear disc with CBS as standard. The 18-inch spoke wheels are shod with Metzeler Perfect ME77 tyres. With a dry weight of 130kg, the No. 1 is a bit on the higher side.
Other notable features include an all-LED lighting system and a 7-inch LCD touchscreen with cloud connectivity that is GPS-ready too. RGNT also lets you customise the fenders, handlebar grips, seat, rear shock absorber, fuel tank colour and even add a luggage rack to carry small knick knacks at the rear.
Also Read: This Hubless e-Bike Packs 1000Nm And Can Go 300km
The company says it comes with a two-year warranty and is available in Europe, Switzerland and Norway. Overall, the RGNT No. 1 electric bike looks more of a lifestyle choice that's environmentally friendly too, rather than just a point A to B commuter motorcycle.
Add Your Comments