This Electric Royal Enfield Costs As Much As A Harley-Davidson LiveWire
Apr 5, 2020
Views : 19436
---
No thump, only whoosh!
It gets a water-cooled hub motor with peak power of 12kW.
There are 4 battery packs on board with a total battery capacity of 10kWh.
It costs a whopping Rs 19 lakh, and that is excluding Indian customs and duties!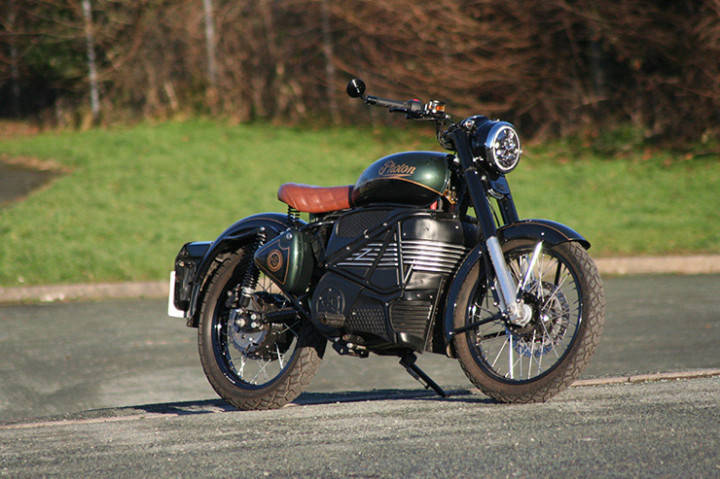 Royal Enfield and electric motorcycles? These two words are as poles apart as, well… Harley-Davidson and electric motorcycles until three years ago. But then came along the LiveWire. So, is the Photon Enfield's electric Eureka moment? Not quite. The Indian-owned British retro bike maker has shown interest in exploring the electric space but this is not the final product. Much rather, it is a shed-built Classic 350 that ditches its gasoline origins for electricity.
The builders, UK's Electric Classic Cars (ECC), are known to convert old school cars to electric vehicles. It is the first time the folks have worked on a motorcycle and the results are quite promising to say the least. Barring the enormous battery packs and electronic circuits, you would be hard pressed to find something different to distinguish it from the Royal Enfield Classic 350.

It is running a rather large hub motor that is water-cooled. As baffling as that sounds, it produces a steady power output of 10kW, peak output rated at 12kW. It roughly equates to around 16.32PS, significantly lower than the Classic 350 BS6 then. Will this electric actually be slower than its petrol-power counterpart? No. Not one bit.
That is because you have a healthy dose of torque that will spurt this Photon from naught to little under 100kmph quicker than any Enfield thumper would. In fact, it is said that it goes from 50-65kmph in roughly three seconds and it takes only another three seconds to reach 80kmph. In our performance tests, the Classic 350 BS4 takes 7.53 seconds to complete the same 50-80kmph run. So that is 1.5 seconds quicker already, yay!
Top speed of the Photon is capped off at 112kmph (70mph). Anything faster and the range would be hampered. Speaking of range, this electric Classic can go around 130km on a single charge, which is rather unflattering considering that it has four battery packs that have a combined charge capacity of 10kWh. The batteries can be topped up full in 90 minutes via a Type 1 fast charger. Regular charging times haven't been shared but expect it to be considerably higher.

Given that the chassis, ergos, suspension and wheel sub-systems are exactly what you would find on the Classic 350, the Photon is also an easy rider. It is nowhere as sporty in its intentions as the LiveWire, the Zero S or any electric motorcycle currently on sale. But that is beside the point for ECC who want to offer the same old vintage motoring experience despite switching to electric propulsion.
The price that you pay for this nostalgic electric riding experience is a heartache-inducing Rs 19 lakh, without Indian customs and duties that is. The Harley-Davidson LiveWire costs Rs 33.53 lakh (without taxes). Which one would you have? The answer is obvious.

What is more interesting about this conversion kit is that Royal Enfield has shown a keen interest in this project. If anyone wants one of these electric Classics, the company will provide the rolling chassis to ECC for the Photon to be built. What's in it for RE? Currently, nothing. However, it would be keeping a close eye on this project for its own electric aspirations.
This isn't the first time Royal Enfield has paid close attention to a niche company who used existing RE tech to build something brand-spanking new. In the late 1990s, Aussie Paul Carberry combined two Enfield 500cc motors in a Vee formation and began producing 1000cc crate engines. Carberry even managed to sell a few 1000cc Bullets over the years. Enfield did show interest in the early stages but it never developed into something concrete.
There might not be connections to Carberry any longer but the idea of a V-twin Bullet did stick with the boffins at Royal Enfield and Sid Lal himself (click here to read up on how he managed to change the fortunes around for RE). Cut to EICMA 2018 and we saw the Concept KX, the first official sign of a large capacity V-twin from Royal Enfield. Whether that V-twin enters production or not is still up in the air. But this Photon could very well be the spark that Royal Enfield needs to drum up its own electric concept. Now, are you interested in the Photon?
Source: Bennetts BikeSocial
Royal Enfield Classic 350 Video Review
Add Your Comments

More on Royal Enfield Classic 350

Rs. 1.57 Lakh Onwards
Ex-showroom, Delhi
View July Offers
View On Road Price
Royal Enfield Classic 350 Alternatives