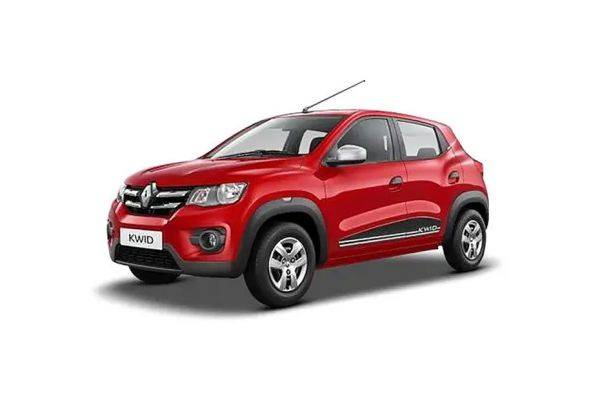 Renault KWID 2015-2019
Rs. 2.66 - 3.50 Lakh
Discontinued Model since 30 Sep 2019
---
About Renault KWID 2015-2019
The car that has taken the budget hatchback segment by storm, Renault's Kwid is a breath of fresh air in this rather utilitarian segment. It comes with a lightweight body, a responsive 799 CC petrol engine and a rather impressive 25.2 kmpl mileage. The Kwid comes with a host of features that are segment firsts, and takes on the Maruti Alto and Hyundai Eon backed by its clever engineering. Priced in the range of Rs. 2.67 to 4.60 lakh, ex-showroom Delhi, the Kwid car is excellent value for money.
Renault KWID 2015-2019 Overview
Renault has just teased the facelifted Kwid in a video. The teaser reveals that the new model takes styling cues from its electric cousin, the City K-ZE. Notable design elements include the split headlamp setup with LED DRLs.
Renault KWID 2015-2019 Colours
KWID 2015-2019 Alternatives
Must Read Questions & Answers Before Buying KWID 2015-2019
Q. What is best in KWID? Can I go for long drive with it?
I had kwid 2016 model 800cc RXL. I sold it dec 2020 after 45000 kms. I have comfortably driven this kwid to hill stations, valparai, ooty, Conoor, yercaud etc without any troubles. I have drivin it off road in bandibur, nagarhole forest, even i was chased by an elephant in nagarhole... thanks to good pickup i could escape. I have also driven very long routes about 1200 kms at a stretch...from Bangalore to kanyakumari, trivendrum, Kochi, Coimbatore to Bangalore. I have also driven Bangalore to Hyderabad up and down several times. So the answer is - this is the best car at this budget. Go for it!!
Yes, for 2-3 people it's awesome. I drove almost 1600 kms in 3 days, 3000 kms in a week and 1000 kms multiple trips. I would be fair. It's awesome if you r 2-3 people and driving in plains and roads like expressways etc. Not drove very long with 4or5 people so not sure about that. Also in hills it's fine.
Kwid comes in 2 variants. 800cc and 999 cc (also known as 1 L) engine. For long drives, the 999cc variant is advisable as it produces more power.
View All Answers
Q. Which is the best model in kwid?
Renault Kwid RXT (o) is the best variant as it consisits of all the features that normal car contains..it has driver airbags,ac, Touch screen, rear camera and navigation......
I want purchase kwid amt or cerlerio amt pls suggest
Base model
View All Answers
Q. Can kwid climber run on the Hill?
I would not recommend.......had bad experience in Nainital area.........with 2 people and no luggage, the car could not take a climb smoothly and at most times it rolled backward more than forward....had to take a diagonal climb across the road to reduce slope effect....or the car might have ended in the valley
Driving at hill is entirely different learning of driving. If you are expert at hill drive we suggest take car expert advice before buying it. generally 4 wheel bit big car with more displacement (engine power) car is best.Kwid is not advised for Hill.
I have checked almost all the cars for three months,at laaast I might as well go for kwid.
View All Answers
More Questions
KWID 2015-2019 Questions and Answers
KWID 2015-2019 User Reviews
All

Comfort (31)

Mileage (31)

Looks (26)

Maintenance (20)

Performance (17)

Small (16)

Price (15)

Service (14)

Experience (14)

Safety (11)

Engine (11)
1.0

Iam a recent buyer of Renault Kwid AMT and bought it to gift my wife.All the booking were done as we were convinced of the service and effort taken.But on 25th March 2019(delivery date) things changed really bad when I arrived to get the delivery of my car-1) As I was waiting in the longe finishing the formalities ,I noticed a staff showing our car like a demo car to a new customers. The customer"s kids got in the car and spoiled the interior . When asked on the situation , they said its normal. I demanded that I get my car cleaned again for which they had done a very shabby job.-2) I got into my car to check the features, I found out that the Apple car play and Android auto that was promised to us is not available in the model given to us, where as Ms Radhika your sales associates promised it to us not once but more than twice. Again all they had to say is sorry.With much reluctance and unhappiness we took he delivery of the car.-3) Once delivered, on road we found out that the light inside the car was not working & infact had a lose contact. We bought the car back to the showroom to rectify it and to get the fast tag sticker done which they apparently forgot and I had to ask them.They said they rectified the light but the same issue continued post the correction. I have a video as proof taken to show the showroom, but as usual everyone was too busy to attend to our inconvenience . There is also a complaint in the meter console as inspite of putting petrol worth 2000 rs , the milage and indication of petrol dropped to almost empty within less than 10km of drive. Milage shown was 7km/l. On complaining all these, they promised to pick up the car from our house to rectify it, but even now the pickup has not been done . And they are forcing us to register the car, Why should we?This is not our first car and we own other brand as well. But we are highly disappointed at what happening and really sad that they have no care attitude towards us.-The customer service at the TVS & Sons, Renault Maradu,Kerala is beyond bad and never expected this before buying ,- We expected Renault to keep up a standard-Promise are done from the sales consultant to the sales managers. Why promise and commit when you cannot keep it?- It is our money and emotions involved. Is the service only till the car is booked by giving false promises?-Past sales we don"t even have human consideration.Never expected this from a brand like Renault.Waiting for at least a positive response from the customer service teamWith much regret

1.0

Its a pathetic car and worst service people also. I recently bought this car. As its my first car i thought i should buy new one because i don't want to face any problem which usually happened with second hand car on a regular basis so i took the decision to buy a new one but in 4 months i visited the service 5 times for repairing my new car. It doesnt matter it is in warrenty because for me my time is very pricious and why should i have invested in new car if this kind of problem is happening, again and again, it is still not repaired yet. From the first month AC problem, average issue and automatic stop on highway issue happened. Today again someone picked for AC repair and again they said it will take 5days to correct the issue. Its height now they gave me a defective car and they have to replace it now otherwise I will take legal action against them its my hard earn money and i will not accept this defective car. same service centre people are not able to fix it till yet how i can believe again and what about my time my patience

4.3

this is the ideal first car for a budget... best for city and can go good lengths for tour also...i have been using this car for 5 years now and have completed 1 lakh kms.It has been used for traveling to different mountains almost every weekend and also on longer tours like mumbai to Goa and mumbai to Diu.I have driven this car for almost 800 kms in a day and it's again ready for more the next day.city mileage is around 16 if the AC is On and you r in a bumper to bumper traffic situation in Mumbaifor highways with AC on, the mileage would be around 20 if you go at a constant speed of 85kmph and without ac and constant speed i have observed the mileage of 25 and even sometimes more...Very much satisfied with the car

3.3

Good looks, had tonnes of features and descent for a first time driver. Gave really good mileage of 17-20kmpl in city traffic conditions. Not too comfortable to sit, ride quality is not great and driving couldve been better. At the same time, very pratical, lots of storage space & bottle holders. As accessories you can convert rear seats to power window.Its a pure city car and is not suited for highway driving, I'm satisfied with the car as it serves my needs.

4.7

●Best suspension in its class●Strong AC●Ground clearance 180 mm is enough to pass big hump at road●Boot spaces 300 Ltr is sufficient for 4 member family on long tour.● Amazing mileage on long tour with AC ● Stability at 110km/hr. Speed at express way.● SUV look● Rear seat keep back straight that is helpful in long tour● Low maintenance cost● Wondering assistance from company and its dealer and always.
User Reviews
Renault KWID 2015-2019 Expert Reviews
Renault KWID 2015-2019 Images & Videos