Suzuki Access 125 BS6: Road Test Review
---
Is the new Access 125 BS6 worth the extra Rs 6,500 over its outgoing version?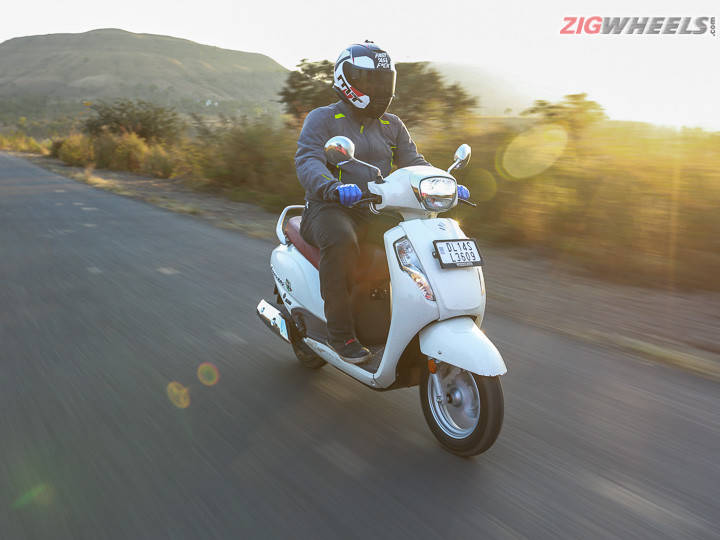 For years, our pick in the family 125cc scooter segment has been the Suzuki Access 125. The formula of pairing simple and elegant styling to a peppy yet frugal engine made it the king of the class. Even in our recent test against new rivals like the Honda Activa 125 BS6 and the Hero Maestro Edge 125, the Access 125 reigns supreme.
That, though, was the BS4 variant. Does the story continue with the updated Access 125 BS6? And what do you get for the extra Rs 6,500?

Updated Engine
The transition to meet BS6 emission norms has led Suzuki to ditch the old carburettor for a fuel-injection setup with the required change of engine tune as well. Mechanically, however, the 124cc engine remains the same.
| | | |
| --- | --- | --- |
| | Suzuki Access 125 BS6 | Suzuki Access 125 BS4 |
| Engine Specs | 124cc single-cylinder, SOHC, fuel-injected engine | 124cc single-cylinder, SOHC, carbureted engine |
| Power | 8.7PS @ 6750rpm | 8.7PS @ 7000rpm |
| Torque | 10Nm @ 5500rpm | 10.2Nm @ 5000rpm |
As a result, the peak torque is fractionally lower than before. These max outputs are also produced at slightly different revs than the carb engine. The max power is churned out at 250rpm lower while the peak torque arrives at 500rpm higher. Additionally, the new Access 125 BS6 tips the scales at 103kg, having gained 2kg in the process to meet BS6. Has the performance taken a hit?

A Peppier Ride
Surprisingly, no. The new Access 125 is almost half a second quicker than its BS4 version in our 0-60kmph run. It gets off the line briskly, reaching respectable city speeds in no time. Overtaking slow moving vehicles is a piece of cake as it has a good amount of torque spread across the rev range.
| | | |
| --- | --- | --- |
| | Suzuki Access 125 BS6 | Suzuki Access 125 BS4 |
| 0-40kmph | 3.18s | 3.75s |
| 0-60kmph | 7.19s | 7.66s |
| 20-50kmph | 3.7s | 4.29s |
The old Access' 124cc mill was already a smooth operator. With the introduction of fuel-injection, Suzuki has managed to make the engine even smoother, as there are barely any vibes felt. Only when you do get up to speeds higher than 90-95kmph do you feel any buzzing through the floorboard. The fueling is precise, with none of that throttle jerkiness that one experiences on a carb scooter.
Has this increase in performance come at the cost of fuel efficiency then?
Can Go Further
Suzuki's tagline for the new Access 125 is 'Kam Peeta Hai,' which translates to 'consumes lesser fuel,' and we have to agree. In our fuel efficiency tests, the new Access 125 BS6 returned 52.45kmpl in the city and 57.22kmpl on the highway, bettering the old BS4 variant by 1.15kmpl and 4.5kmpl in respective scenarios. Credit must be given to the fuel-injection unit. Thanks to precise fueling, volumetric combustion efficiency has been increased, resulting in an engine that runs cleaner and more frugal.

More Convenient?
Suzuki has finally kitted the new Access 125 with an external fuel filler cap. While it is meant to increase convenience, we are not sure that it truly does. Yes, it does allow you to fill fuel without exposing the contents of your items stored beneath the seat. But you cannot open it remotely like most other scooters with this feature. You are forced to get down and open the cap with the key slot located right on top of the cap. The cap comes off completely, with no hinge mechanism to keep it in place. While it is meant to be a convenience feature, turns out the implementation isn't that convenient.

Supple Ride
The new Access 125 BS6 glides over road imperfections. Slow speed bumps are rarely felt and the scooter isn't unsettled when taking the same bumps at a brisk pace. Even when you have two large riders on board, the suspension manages to retain its suppleness. The seat is firm, long and roomy, and the pillion ergonomics don't feel cramped as well. Thankfully, the Access 125 retains its chunky grab handle which most pillion riders will find easy to grab on to.
Braking
| | | |
| --- | --- | --- |
| | Suzuki Access 125 BS4 | Suzuki Access 125 BS6 |
| 60-0kmph | 20.44m | 26.07m |
Where the Access struggles a bit is in braking, which is surprising as the previous gen Access was pretty good in this department. There is no feedback at the brake lever and the bite is not really fierce. This results in the scooter taking a long time to come to a dead halt.

If It Ain't Broke…
Suzuki has adopted that mantra when it comes to the styling of the scooter. One will be hard pressed to find any distinguishing factors between the two scooters from afar. The elegant front apron, the round side body panels as well as the smooth tail section are all the same as before.

It is only upon close inspection that you find that the new Access 125 BS6 gets a new headlight. The conventional bulb is replaced by LED lighting. Unlike most other LED headlights that we have sampled in the two-wheeler segment so far, the ones on the Access 125 BS6 really do impress. The headlight is bright enough, with great intensity and a decent throw.

You still get an analogue speedometer with a digital inset like on the previous gen. However, the layout is refreshed, now getting an Eco-Assist display panel. In normal conditions, the panel stays blue but it changes to green when the scooter is ridden economically. Shame it doesn't turn to red when you are riding spiritedly.

The 12V charging socket makes way for a more convenient USB port with a cubby-hole located next to it. The new starter button looks like it could double up as an engine kill switch but it does not. Aside from the above, there are no changes on the scooter. No ACG starter like the Hondas or the new Yamahas, no underseat storage light, no engine start/stop system or any other nifty features.

Verdict
The big question remains: are the updates worth the extra asking price? Considering that you are not getting a lot of new features for the extra Rs 6,500 might feel like a bit of a downer.
| | | | |
| --- | --- | --- | --- |
| Variants | Suzuki Access 125 BS6 | Suzuki Access 125 BS4 | Premium |
| Access 125 Drum (steel wheels) | Rs 64,800 | Rs 58,323 | Rs 6,477 |
| Access 125 Drum (cast alloy wheels) | Rs 66,800 | Rs 59,999 | Rs 6,801 |
| Access 125 Disc (cast alloy wheels) | Rs 67,800 | Rs 61,292 | Rs 6,508 |
| Access 125 Drum Special Edition (cast alloy wheels) | Rs 68,500 | Rs 62,004 | Rs 6,496 |
| Access 125 Disc Special Edition (cast alloy wheels) | Rs 69,500 | Rs 62,892 | Rs 6,608 |
But consider this, for the extra money, you are getting a scooter that is quicker, has better fuel efficiency and is better to ride. The already high benchmark that the BS4 Access 125 had set has been elevated to a new level by this new Access 125 BS6. Hence, if you are looking for a scooter that does scootering well, then the Access 125 is a no brainer according to us. We think it will continue to be a success in the years to come -- that is until the electrics take over Suzuki Access BS6 Price.
Suzuki Access 125 Video Review
More on Suzuki Access 125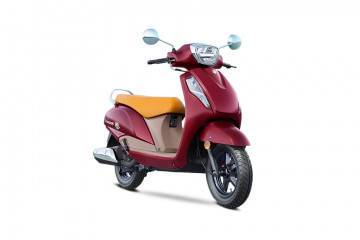 Rs. 71,000 Onwards
Ex-showroom, Delhi
See what our community has to say!
NEW
India's largest automotive community