Lexus NX300h: First Drive Review
Nov 24, 2017
Views : 16982
---
Lexus' fourth offering for the Indian market is an Audi Q5 rivalling crossover and boy is it a looker! We delve deep to find out if there's more to the NX300h than just a pretty face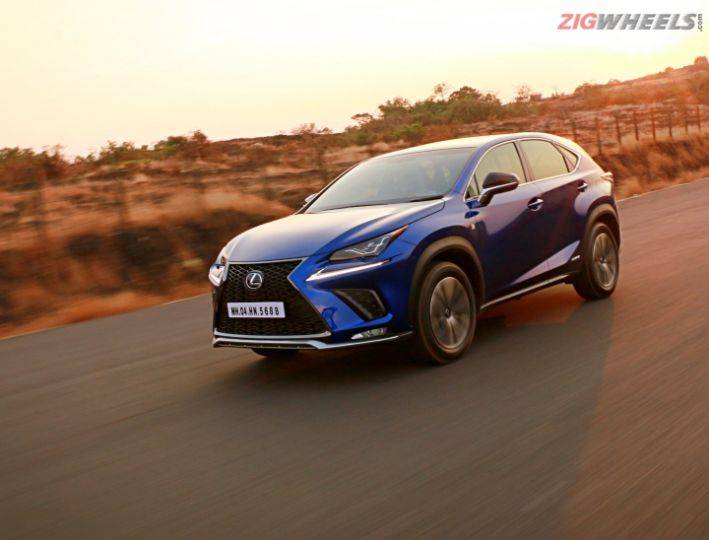 When was the last time anyone described a mid-size luxury crossover as stunning? Think about it. The Audi Q5 looks pretty sedate and I'm personally not a big fan of the way the BMW X3 looks. The Jaguar F-Pace certainly fits the bill, but I think it might just be relegated to second place by a new Japanese upstart - the Lexus NX300h. It certainly looks like the most stylish crossover we've ever seen, but are its remarkable looks enough for it to make a dent in a segment that's been dominated by well-rounded Teutons?

Stunned, at first sight


Yes, the NX does manage to look extremely attractive in pictures, but in the flesh, it's just jaw dropping, especially in that mad orange colour you get on the F-Sport trim. The basic shape is all about sleek, sharp lines, which is personified by the narrow 3-pod LED headlight cluster underscored by slash-like LED DRLs. The gigantic spindle grille might be a little too bold for some (myself included), but there's no denying that it's a real headturner. There's muscle in the design too, with big, flared, squared-off wheel arches over 18-inch alloy wheels. Around the back, the roof spoiler continuing from the sloping roofline adds a sporty touch while the protruding, wraparound taillights are simply gorgeous to behold. There are two trim levels of the NX300h being offered in India: the F-Sport and the Luxury, with primarily cosmetic and feature differences. On the outside, both get a different size and design for the spindle grille; the F-Sport gets a chin spoiler, and the alloy wheel design is different. It also gets black ORVMs, while the Luxury has them in body colour.

It's almost identical in its exterior dimensions to the Audi Q5 that was on sale in India till recently, and it's marginally smaller in its length, width and height as compared compared to the current Indian BMW X3. However, at 2,660mm, its wheelbase is significantly narrower as compared to the other two, giving the NX300 a slightly smaller footprint. When viewed from the sides, it's taller doors with shorter windows gives it a much sleeker profile as compared to its competition. Its overall appearance therefore feels longer and narrower than others in this segment.

Behind the wheel


With such a unique exterior design, you'd expect the interiors to be rather unique as well. And you'd be right. But even the way you actually get in is quite special. It gets a metal access keycard which can literally fit into a credit card sleeve in your wallet. The doors themselves are completely keyless and feature soft lighting behind the handles, beckoning you to pull on them. The cabin layout is very unlike any of the NX's European counterparts. With a high centre console, the dashboard seems to wrap around the driver's seat. There's lots of premium materials in use here, with loads of leather, soft-touch plastics and even some organic textures from the bamboo or Shimamoku trim on the door and dash (on the Luxury variant). The F-Sport on the other hand gets aluminium trim bits instead.

The big highlight in the cabin is the widescreen 10.3-inch centre display. While many might balk at the notion of it not being a touchscreen, it's actually not a bad thing at all as it is fairly tricky to reach from the driver's seat. Instead, the NX gets a touchpad on the centre console right next to the driver which can be used to navigate various menus, including the navigation system. It also supports 'pinch-to-zoom' gestures for the map, and provides haptic feedback every time you highlight a menu item. It can seem like a slightly unintuitive system to use at first, but feels as natural as controlling a laptop using its built-in touchpad. No Google Play or Android Auto here, though the system does support a myriad of connectivity options such as Bluetooth, USB and even MiraCast to cast your phone screen on the centre display. But the best part of the entertainment package has to be the music player - a 14-speaker Mark Levinson system that sounds just awesome. This screen also doubles as a display or the dynamic reversing camera as well as the incredible 3D 360-degree panoramic camera.


The Luxury trim also comes equipped with heated and cooled front seats as well as heated rear seats. And these rear seats are electrically adjustable, and can even be electrically folded flat with controls from the boot. The F-Sport trim misses out on the above features, and only gets heated front seats which are more supportive, clearly designed for more aggressive cornering, along with a G-meter (for all the racer boys). Speaking of racer boys, the F-Sport trim also gets aluminium pedals and a 'sound generator' which plays back a bit of engine and exhaust note through the interior speakers when you give the car a bit of stick. Both cars do share the same above mentioned infotainment system, a heated steering wheel, as well as a multi-function HUD (Heads Up Display) projected onto the driver-side windscreen and a massive panoramic glass roof.


Backseaters don't get to enjoy as many luxuries as those in the front, and have to make do with just a couple of rear AC vents at the centre. And while the seats themselves are comfortable for two adults (three at an absolute pinch), providing adequate underthigh support and knee room, taller passengers are going to be left desperate for more headroom thanks to the NX's sloping roofline.

On the road


The "h" in the NX's name represents that this is a hybrid vehicle, and although not one of the plug-in variety, the company does label this as a "strong" hybrid - that's Lexus-speak for a parallel hybrid system. So it gets a pair of electric motors - one at the front axle and the other at the rear, that complement its petrol motor at the front. Yes, you read that right. This is one crossover that doesn't offer a heavy fuel option. With the 155PS 2.5-litre four-cylinder unit doing driving as well as battery charging duties, the combined system is good for 197PS of peak power and 210Nm of peak torque. This is the same motor that you get on the Lexus ES300h as well as the Toyota Camry Hybrid, but those sedans deliver marginally higher power and torque figures.

You can even drive the NX in pure EV mode, where it's just the electric drivetrain propelling the car. It's a smooth, eerily silent process. But pure electric mode is limited to just a couple of kilometres at a time, before the petrol motor kicks in to charge the rapidly depleting NiMH battery pack. Heck, even when you get mildly heavy on the throttle, you'll find the petrol motor taking charge.


The whole thing works through a 6-step Continuously Variable Transmission (CVT), which also features manual ratio selection through either the steering-mounted paddles or the selector stick when it's slotted into S mode. It's all a very smooth process, with the CVT 'box providing smooth, almost imperceptible shifts, whether it's doing it automatically or listening to manual inputs from the driver. Put your foot hard down though, and it takes a second for the NX to respond. There's no hard kickdown you normally associate with dual clutch systems or torque converters, but once the gearbox has decided the optimal ratio to call upon, acceleration is rapid. Overall though, you get the sense that this Lexus doesn't like to be hurried along. Give it a boot-full of throttle and from a standstill, it can get to 100kmph in a claimed 9.2 seconds - not too shabby for a car that weighs 1.9 tonnes (thanks to the heavy hybrid system). To do that dash from standstill, the NX actually has a trick up its all-wheel drive sleeve.

Clean and Green


Clearly, the point of the NX300h isn't outright performance. High efficiency and low emissions has been the driving force behind this hybrid, and it manages to deliver some incredible numbers there. Lexus claims a fuel economy figure of 18.3kmpl for this NX, and that actually matches what its diesel powered rivals claim. And it CO2 emissions are pegged at 138g/km, which is more akin to a mid-sized luxury sedan rather than a mid-size crossover.

AWD, not 4WD


The NX300h isn't a pukka SUV, so there's no proper 4x4 system on offer, no transfer case or locking differentials or any such off-roading hardware. But it is a legitimate crossover and does offer full-time AWD (All Wheel Drive), although not in the way you't think. Under normal conditions, torque is sent to the front wheels and in a majority of the use cases, the NX behaves like an FWD. However, whenever there's a need for traction at the rear wheels, or even if it needs a quick burst of acceleration (such as the aforementioned zero to 100kmph sprint), the electric motor at the rear axle spins up. It even helps curtail understeer to a certain extent during spirited cornering by reducing some power at the front and running the rear electric motors harder. It's a fairly smart system, this! Of course, pitch it into turns too fast, and the front does have a tendency of washing out, akin to standard FWDs. That said, any off-road ambitions are best kept as humble as possible. The AWD system helps maintain good control over loose surfaces, but the suspension hasn't really been designed with severely bad roads in mind.

City-slicker


The NX's tarmac inclination are clear. Its laser spot-welded monocoque has been designed for maximum rigidity. So while its on-road manners are impeccable and it's a lot of fun to chuck around corners, the ride is far from plush when the tarmac isn't smooth… or nonexistent. Both chassis and suspension feel quite firm over broken roads, and sharp bumps do translate into thudding into the cabin. But thanks to the use of what Lexus calls 'adaptive variable dampers' as standard, body control is on point, and even the sharpest of bumps don't unsettle the car for more than a fraction of a second. Its low, squat stance and stiffer setup also keeps body roll in check and the NX almost feels like a slightly tall sporty sedan to drive.

Many-trick pony


With a twist (or press) of the mode selector dial on the centre console, you can switch the NX into one of its five driving modes - Eco, Normal, Sport, Sport+ and Custom. These are pretty much self explanatory and alter the car's throttle response, gearshift programme, steering feel and even damping on the adaptive suspension. Eco mode tries its best to keep you under electric power as much as possible while at the other end of the spectrum, Sport+ is all about quick driving.

Dropping the anchor


This is one area where the NX300h isn't super impressive, and takes a bit of getting used to. Firstly, every time you get off the throttle, the motor/generator unit starts using the retardation to charge the batteries, which means you get a bit of braking just on lift-off. So, during more sedate driving, you don't need to get on the brakes as much to shed speed. However, when you do start using brakes, the ventilated front discs and solid rear disc provide decent initial bite, but require a more deliberate push on the pedal. And there's not too much feel to work with here, so more often than not, you end up braking too little and then slamming the brakes too hard at the end because you didn't slow down quickly enough.
Space sacrifice



A lot of potential buyers are just going to love the notion that the NX gets a full size alloy spare wheel. But there's a big flip side to this. It eats up a huge amount of boot space, and already the NX is far from class-leading in this department. Long duration vacations with the full family might just need some spartan luggage here.
Verdict


The NX300h will be available in India from January-February of 2018, with prices expected to be starting from about Rs 60 lakh. Lexus India will be announcing the price early next year, and have confirmed that the F-Sport will come in at a marginal premium over the Luxury trim, even though the earlier skimps over a few of the latter's interior features (it's the other sportier touches that are responsible for this).

For someone looking at this segment from a pure practicality standpoint, it's a bit difficult to recommend this Lexus. It really does take a hit in terms of rear seat headroom and boot space. Also, nearly all of its direct competition are expected to undercut it in terms of pricing by a decent margin. To drive it isn't like a conventional luxury SUV or crossover, obviously plush or sporty, but driving the NX is certainly no chore and the hybrid powertrain makes you feel special and maybe a bit green too. However, what really sets the NX apart is a certain joie de vivre - an x-factor so to say. It really looks like, and makes a style statement like, nothing else in its segment. So, if you choose to put your money down on one, you might feel cramped, but not shortchanged.
More on Lexus NX

Rs. 54.9 Lakh Onwards
Ex-showroom, Delhi
View September Offers
View On Road Price