BMW G 310 R BS6 Ridden: Bavaria Bounces Back
---
Has BMW managed to cure its smallest roadster of all the ailments that plagued the previous version?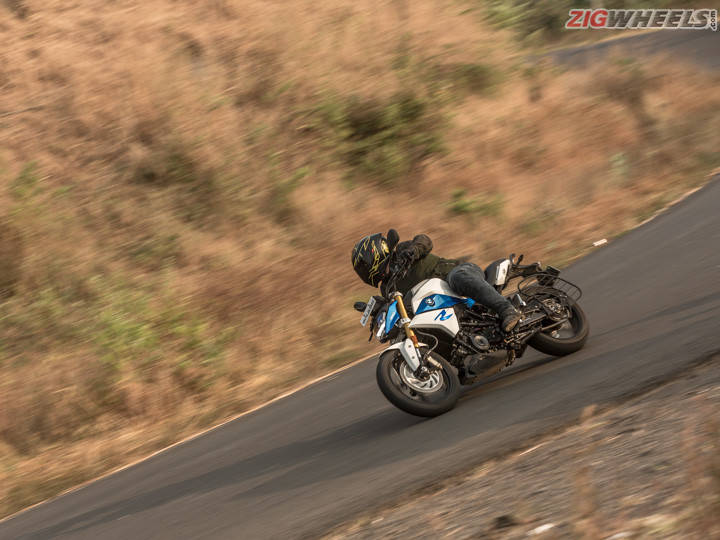 The tale of a small capacity BMW roadster didn't go as well as it should have in India, did it? As likeable as the G 310 R was in many aspects, its pricing was quite over-ambitious, taller and larger riders found the riding posture a bit cramped and the feature list was not exhaustive, missing out on some modern touches. But most importantly, those harsh vibrations from the engine robbed you of a good post-ride vibe.
All, well at least most, of these issues are a thing of the past, because BMW has just brought out the new and improved BS6 iteration of the G 310 R.

Good Vibes Only
BMW has been closely working with its Indian ally, TVS, in improving the refinement levels on the G 310 siblings. While TVS did give its Apache RR 310 a mid-life update last year, with small improvements like a slipper clutch, the seismic change in appeal came with the BS6 model that got ride-by-wire, revised engine internals and a few other goodies. Nearly all of these updates have made their way on to the G 310 R. The end result: controlled vibrations. There's none of the harshness from the motor anymore. It feels creamy smooth at 4000rpm and only mild vibes start creeping up post 6,000rpm. They are non-existent at the handlebars but you do feel them at the pegs and when gripping the tank.
This bodes well for highway cruiseability as you can sustain 100-110kmph comfortably. It can go faster, but consequently the G 310 R will start signalling that it isn't enjoying being there and will also sip more fuel. If you are going to ride a bit more sensibly at a lower pace, you would be able to extract almost 40kmpl of fuel efficiency from the motor. That coupled with the 11-litre fuel tank gives you a range figure of 440km, which is not bad at all.

Wheelie Wheelie Lively

| | | |
| --- | --- | --- |
| | BMW G 310 R BS6 | BMW G 310 R BS4 |
| Engine specs | 313cc single-cylinder, liquid-cooled, 4-valve | 313cc single-cylinder, liquid-cooled, 4-valve |
| Power | 34PS at 9500rpm | 34PS at 9500rpm |
| Torque | 28Nm at 7500rpm | 28Nm at 7500rpm |
| Gearbox | 6-speed with a slipper clutch | 6-speed |
| Kerb weight | 158.5kg | 158.5kg |
From BS4 to BS6, there has been no change in engine tune as well as kerb weight. It still isn't the most power-packed naked in the sub-400cc segment: the KTM 390 Duke still has a sizeable edge here. The KTM, though, has gained considerable weight since we last rode the G 310 R, and is now the heavier of the two by 8.5kg. Would it affect the acceleration times? It should bring the gap down by a bit but the Austrian should still have an upper hand we think.
That said, the performance on tap is enough to liven up the most mundane of rides. The VBox acceleration figures (see table below) do reveal slightly slower times compared to the BS4 version, though there is no shortage of fun. And this rev-happy engine does like to pull a wheelie or two, if you are game for it.

| | | |
| --- | --- | --- |
| Acceleration | BMW G 310 R BS6 | BMW G 310 R BS4 |
| 0-60kmph | 3.29 seconds | 3.07 seconds |
| 0-100kmph | 8.01 seconds | 7.47 seconds |
| 30-70kmph in 3rd gear | 4.05 seconds | 3.53 seconds |
| 40-80kmph in 4th gear | 5.21 seconds | 4.51 seconds |
What is crucial though is that the torque is evenly spread across the rev range, allowing you to potter around town in higher gears. Earlier, the engine would shudder if you rode below 30kmph in fifth or 40kmph in sixth. Now you can. This is also possible thanks to the presence of the automatic idle speed increase feature. The name is pretty self explanatory, BMW adopting the Apache RR 310's Glide Through Technology Plus onto its own 310 motorcycles. The system is active in all six gears, allowing you to crawl up to 35kmph with no throttle input.

Corner Carving Comfort
The G 310 R remains one of the sweetest handling machines out there. The bike isn't very demanding, tipping into bends in a jiffy. It can get a bit hairy the first time round, the sharp steering coming to the fore. However, it just gets better with each corner that comes your way. The suspension is tuned nicely, allowing you to take these corners with much enthusiasm, plastering a wide grin inside your helmet. Mid-corner bumps do not fluster the bike whatsoever either.
Ride quality has always been a likeable trait of the G 310 R. BMW has changed the tune of the suspension units ever so slightly, making them slightly firmer now. This does rob the bike off its suppleness by a tinge, but it still remains very calm and composed upon encountering a bad stretch of road. Also, there is none of that wallowy feel from the units any longer when riding two-up. Even at the softest preload setting, the monoshock doesn't bottom out over sharp bumps.

No Longer In A Tight Spot
The sense of comfort with a dash of sportiness continues to be the mantra for the G 310 R's ergonomics. There's not much change here in terms of the rider's triangle. The bars are still wide. You still need a slightly lean forward to get to them. The 785mm seat height is still fairly low. Even the footpegs, which while set slightly on the higher side, aren't too rear set.

One notable difference is the actual shape of the seat. The older bike had an aggressive scooped section for the rider, locking the rider in a fixed position. This was a problem especially for larger riders who didn't have enough space to move around in the saddle. This new seat solves this issue to a great extent. It is a bit like a split seat setup with the seat cover hiding the step section. As a result, generously proportioned riders are no longer sitting huddled up to the tank.
BMW is finally offering span adjustable clutch and brake levers, additions which are highly appreciated on this baby roadster. At its shortest setting, the levers are 6mm closer to the bars, which should be a big help for those with small hands.

Uber Cool Stance
There are minor styling updates to the G 310 R, and the bike still looks large and wholesome. Arriving in the company's signature colour schemes, the pictured Polar White option does offer quite a clean look to the bike. The blue isn't overpowering, the gloss white plastics work nicely with the black frame and engine, and the chunky gold USD fork adds to the premium look. The Cosmic Black shade on the other hand is rather underwhelming while the Sport style red-black option is quite in your face, which we think might look appealing to your inner child.
The switches have been revised and we are happy to report that they still feel like something you would usually expect to find on a Rs 10 lakh motorcycle, not on something that costs one fourth the amount.

The new LED headlight and turn indicators add an extra layer of premiumness to this already brilliantly put-together motorcycle. The headlight is a remarkable improvement over the old halogen setup, and does a fantastic job of illuminating dimly lit roads. And the turn indicators - don't they look a bit Lamborghini-esque?

Chinks In The Armour
There is still a bit of room for improvement on this baby Beemer. In this age of colour, the blue backlit monochromatic LCD dash feels too simple. Given that the rest of the motorcycle is so premium, we expected a TFT unit. No Bluetooth connectivity module here either. So no turn by turn navigation, call alerts or any such connected features.

The biggest drawbacks now on the new bike are the Michelin Pilot Sport tyres. We still cannot comprehend why BMW didn't follow TVS's suit and spec out the bike with the superior Road 5 rubber. These Pilot Sports don't live up to the bike's great handling potential, failing to communicate any information back to the rider. And their wet weather performance isn't that great either.

| | | |
| --- | --- | --- |
| Braking | BMW G 310 R BS6 | BMW G 310 R BS4 |
| 100-0kmph | 49.26m | 50.61m |
| 80-0kmph | 31.79m | 32.45m |
Due to the tyres, the superb brakes are being let down too. It stops a bit sooner, but the tyres' inability to provide adequate feel in panic braking situations leads to some nervy moments.

Versatile Street Hooligan
By slashing Rs 55,000 off the ex-showroom price for the BS6 G 310 R, BMW has made this baby roadster quite affordable and accessible for a lot of aspiring enthusiasts at Rs 2.45 lakh. It no longer is the harsh, vibey motorcycle it once was. The engine feels as lively as ever. It handles corners with as much grace as it does bad stretches of roads. Fancy LED tech does improve its appeal but the monochrome dash doesn't belong on a bike like the G 310 R in 2020. And neither should those tyres. While it doesn't have the same outright oomph as the KTM 390 Duke, the G 310 R is a lot more versatile and definitely more premium than the Austrian naked.
Team Orange loyalists will still revel in low spares and maintenance costs but BMW claims to have reduced these as well. The cost of spares is said to be lower than that of the Apache RR 310, but the Apache's parts weren't that cheap to begin with. Still, this is a big plus point in BMW's favour.
The BMW G 310 R has finally become the bike that we were expecting and should have got two years back. It still has what it takes to attract riders who seek a mature yet spirited riding experience. Will that be enough to recover lost ground and improve its reputation in the minds of Indian buyers? BMW India has certainly taken a step in the right direction but we will have to just wait for a while longer for a clearer picture.
More on BMW G 310 R

Rs. 2.50 Lakh Onwards
Ex-showroom, Delhi