Benelli TRK 502X, TRK 502: First Ride Review
---
Benelli's latest adventure tourers are certainly great value. But are they doing enough to appeal to more than just your wallet?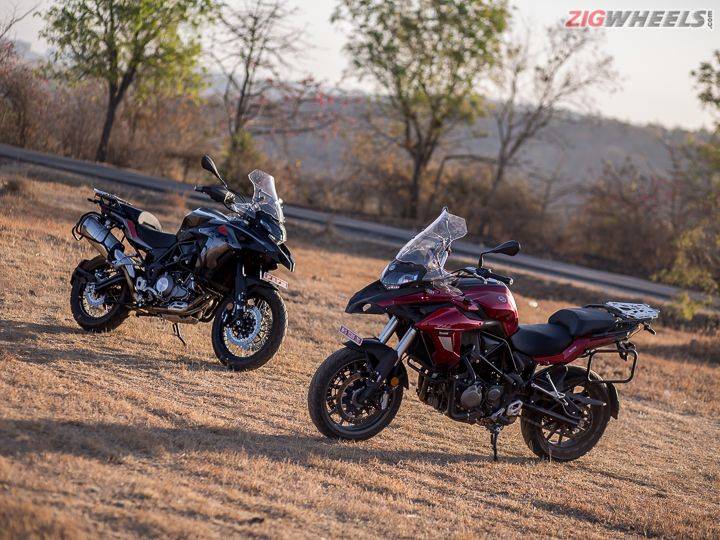 The Benelli
TRK 502
and the TRK 502X seem be tricky propositions. On one hand, they seem to be offering great value; bringing adventure-touring oriented hardware such as beefy, long travel suspension (more so on the X), wire spoke wheels (on the X), great wind protection and relaxed, travel-friendly ergonomics, at very approachable prices. On the other hand, Benelli, as a bikemaker, has had somewhat of a rocky relationship with Indian buyers in the past, especially with regards to the performance and quality of their previous products. So, naturally, we were a bit apprehensive about how the new TRKs would be, and had a bunch of key questions that needed to be answered.

Is the motor underpowered?
On paper, this certainly might seem to be the case, with the 500cc parallel-twin motor making just 47.5PS of power and 46Nm of torque, while propelling a kerb mass of 235kg (or so we've read). In comparison, the Ninja 400 makes 1.5 PS more from 100cc less, and weighs significantly lesser too. And you'd be right in thinking that the performance is lacklustre. In our tests, both the TRK 502 and 502X managed figures on the lines of 300cc machines.


| | | |
| --- | --- | --- |
| Acceleration | 0-60kmph | 0-100kmph |
| TRK 502 | 3.03 seconds | 7.29 seconds |
| TRK 502X | 3.28 seconds | 7.57 seconds |

The bottom line here is that this engine barely has any bottom-end punch as Benelli has opted for a 360-degree crank on this motor. Other, more off-road oriented parallel twins usually have a 270-degree crank, as that's what you need to get that pulse-y power delivery for that extra traction in the dirt. This becomes especially problematic on the 502X, even though it runs a bigger rear sprocket than the 502 (44 teeth vs 42). So, off the road, you end up in first and second gear most of the time. Spinning up the rear wheel needs a lot of revs, and by the time you get there, your speeds have gone up quite a bit, requiring superhuman skills off the road then.

What about tractability?
Just like Benelli's other twins, this too can pull from really low speeds in high gears. Open the throttle at 40kmph in sixth gear, and both the 502 and 502X pull away cleanly, without any judder. The in-gear acceleration figures reflect this fact as well.


| | | |
| --- | --- | --- |
| Roll-on acceleration | 30-70kmph (3rd gear) | 40-80kmph (4th gear) |
| TRK 502 | 3.93 seconds | 4.72 seconds |
| TRK 502X | 4.00 seconds | 4.75 seconds |

And then, this motor is super refined at low rpm as well. Some vibes do creep in past 6,000rpm in the footpegs and the tank. But at city speeds, you barely need to stay at higher rpm, thanks to the motor's tractability. And even if you're cruising on the highway at higher speeds (and higher revs), the vibes don't seem bothersome at all because Benelli has used plenty of rubber on the footpegs and handlebar, and plenty of cushioning on the seat as well. In fact, both the 502 and 502X can sustain speeds of 120-130kmph all day long. And as we discovered, riding some 800km from Chikamaglur to Pune wasn't tiring at all.

Kitna deti hai?
Because of this engine's rather easy-going nature, the upshot is pretty great fuel efficiency numbers. In fact, here the TRK 502 surprisingly managed to match smaller 300cc motorcycles, both in city and on the highway. That said, the TRK 502X's highway efficiency number did take a small hit as the shorter overall gearing meant that it sat at slightly higher speeds on the open road.


| | | |
| --- | --- | --- |
| Fuel Efficiency | City | Highway |
| TRK 502 | 30.79kmpl | 33.50kmpl |
| TRK 502X | 32.79kmpl | 29.78kmpl |

Is the weight an issue?
Now, Benelli India hasn't given us official weight figures, but from international websites, we have gathered that both the TRK 502 and 502X weigh 235kg (which is unlikely - the X should be a bit heavier). To put that into perspective, the Suzuki V-Strom 650XT weighs just 216kg. Off the road, all this mass is the last thing you need, which makes the TRK 502X more than a handful in the dirt. It would've been a different thing if all this weight was focussed low-down and centred. But it's pretty much at the top. So when you're standing on the pegs and riding, the whole bike feels really top-heavy. As a result, taking turns in the dirt when you're standing on the pegs requires a lot of skill and a lot of courage.



Things do get a little bit easier when you're sitting down in the saddle and are on the tarmac, especially on the standard 502. But especially in the corners, you can still feel the weight. Turn in, and all that weight just drops into the turn a little too suddenly, and that does take a little bit of time and patience to get used to. But once you get used it, the handling does inspire confidence. The 502 and 502X have a rather steep rake for adventure tourers, which means, turning in isn't as cumbersome as you would imagine. And their weight, along with the long 1505mm wheelbase, also keeps them well settled, whether it's through the corners or at speed on the highway. Here, of course, the 502 with its 17-inch front wheel and road-biased tyres feels more nimble, and you would have no problems filtering through city traffic on this large motorcycle.



Both these bikes run twin 320mm discs at the front and a single 260mm disc at the back. But the differences here are that the 502 runs with radial callipers and standard rotors, while the 502X gets axial callipers and petal rotors. Braking feel is lacking to be sure, but there's a fair amount of bite here, and both of these manage respectable stopping distances.


| | | |
| --- | --- | --- |
| Braking | 100kmph to 0 | 60kmph to 0 |
| TRK 502 | 48.29 metres | 17.63 metres |
| TRK 502X | 50.72 metres | 17.86 metres |

Can short people manage easily?
Managing the TRK 502X' weight becomes especially more difficult because of its tall seat height of 840mm. Plus the seat itself is a little bit on the wider side, which means that even with my height of 5'10", I'm basically just on tiptoes. And if you're 5'5" or under, touching both toes to the ground is also going to be an issue. On the TRK 502, however, the seat height is just 800mm, which makes it all the more easier to manage. While the seat height might be a little bit on the higher side, the seats themselves are extremely comfortable. In the 12-hour ride from Chikamaglur to Pune, our backsides had nothing to complain about.

How well does it handle bad roads?
One saving grace for the TRK 502 and TRK 502X is their suspension. While their beefy 50mm USD forks at the front are not adjustable at all, the rear monoshock does have settings for preload and rebound. And while it's not as sophisticated as something you'd find on the Triumph Tiger, you're only paying one-third the price of a Tiger. And for that, it does a very good job on bad roads, and even no roads. Now, the front end does feel slightly skittish on very sharp rocks, and the rear does have a slight bounce if you're riding solo. But plonk a pillion at the back, and not only will he/she find the back seat comfortable, but the ride also settles down immediately. So, while the TRK 502X is not really designed to attack and bash trails, if you want a relaxed, and relaxing ride on dirt roads, with a pillion, it does a pretty good job. As for the standard 502, yes, you do lose a bit of suspension travel compared to the 502X, so it won't tackle bumps as big as what the X can. But over most surfaces, the ride is just as good. Whether you're going through potholes or over speed breakers, the suspension just soaks everything up with ease.



Is it built to last?
Honestly speaking, while we still won't stick our necks out for it, these TRKs are two of the best-built Benellis we've seen in India. The quality of plastics is acceptable, and far from mind blowing. But the bike feels like its put together rather solidly. Everything feels like its over-engineered. Simple things such as the windshield mount are made from pretty heavy gauge metal pipes, which then extend into the massive fairing to support the whole structure. We don't imagine any of these panels rattling for a long time to come.



To top things off, they look rather good too, mimicking the Ducati Multistrada from the front and the Triumph Tiger from the back. While looks might be subjective, we can say with surety that these TRKs have got massive road presence and are proper head-turners. Some things, though, are not so impressive, such as the analogue-digital instrument cluster and switchgear - which look rather simple at best.



Should you get one?
Now, we don't think that these Benellis are going to excite people all that much. Performance wise, they do feel a bit underpowered if you're in the mood for mucking about. Weight wise, they're rather on the heavier side, and managing them, especially off the road is no easy task. That said, if you want to travel long distances and are going to be tackling a lot of dirt or bad roads, then the TRK 502X will really allow you to do so with ease, especially if you're going to be riding with a pillion and luggage. And at Rs 5.40 lakh (ex-showroom, India), you won't get similar capability at a better price.



But if you're going to be sticking to tarmac mostly, the standard 502 makes a lot more sense. For forty grand less, i.e. Rs 5.00 lakh (ex-showroom India), you get radial brakes, a sportier ride, but more importantly, a more manageable seat height. Maybe "excite" is the wrong term to use with these two bikes - "capable" and "likeable" seem a lot more apt. They might not immediately appeal to your heart, but we think they're definitely going to appeal to a lot of people's heads. And for that, they certainly deserve your attention.
Benelli TRK 502 Video Review
More on Benelli TRK 502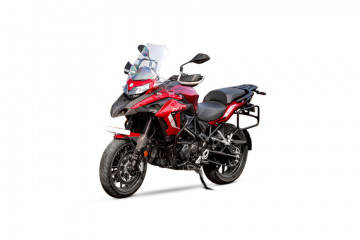 Rs. 4.85 Lakh Onwards
Ex-showroom, Delhi
See what our community has to say!
NEW
India's largest automotive community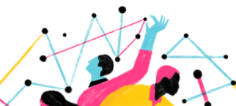 5 Offers Available