2018 Hero Passion Pro, XPro, Super Splendor - First Ride Review
Jan 10, 2018
Views : 35636
---
We took a quick spin on the updated versions of three of Hero MotoCorp's mass-market motorcycles to check out if they has upped the company's commuter game.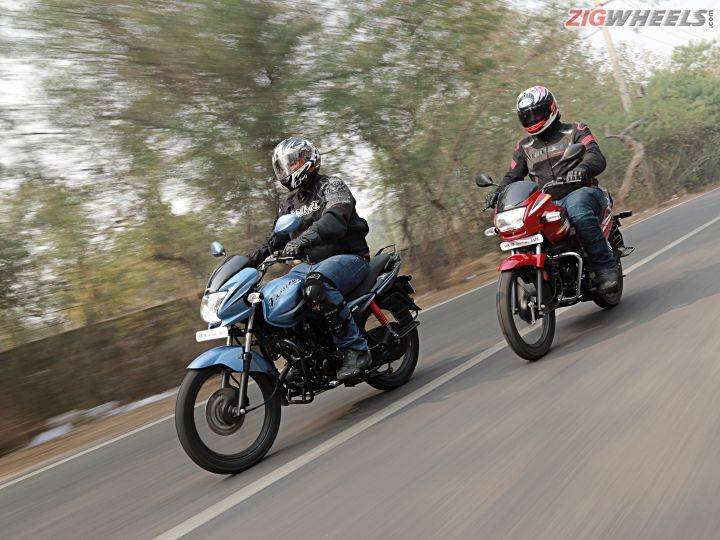 "The plan for 2017 was to revamp our bread-and-butter motorcycles. In 2018, we start focusing on performance bikes." said Malo le Masson, global head of product planning at Hero MotoCorp. Ok, I may not be quoting him verbatim, but that's the gist of the point Malo was trying to get across. That certainly is good news for enthusiasts, who've been craving more excitement from India's largest two-wheeler maker for quite a while now. That said, the simple fact of life is that you don't get to the top of sales charts by catering just to enthusiasts, and Hero's commuter lineup has always been solid for that effect.
So, when the company decided to completely revise three of its best selling products, you'd best believe that it means business. We got a chance to have a very small taste of them on a short ride on the roads outside Faridabad, and here are our first impressions.

Hero Passion Pro
While Hero MotoCorp's best selling bike of all time is the Splendor, it's the Passion which has been following close, racking up about 15.7 million sales ever since its launch in 2001. While it's based on the Splendor - sharing engine, chassis and other components - the Passion has offered its distinct dose of style to the commuter market. And the currently on-sale Passion Pro is the culmination of years of minor tweaks and evolution. However, this new bike is something completely different.

The new Passion Pro shares its underpinnings with the Splendor iSmart 110, which debuted in 2016. It gets the same 109.15cc air-cooled single-cylinder motor from the iSmart that's good for 9.5PS and 9.0Nm of power and torque respectively. This has a more upright cylinder orientation when compared to the Honda-derived 97cc 'sloper' motor from the current Passion Pro, and makes 12 per cent more power and torque as well. And unlike the smaller capacity 'sloper' where the torque trails off drastically after 5500rpm, this motor has an absolutely flat torque delivery till about 7500rpm.

Out on the road, you can really feel the difference this motor brings. Open the throttle in any gear and at pretty much any speed, and this Passion Pro responds immediately. In fact, this motor is so tractable that you can take off from speeds as low as 25kmph in fourth gear without any signs of the engine lugging. While we didn't get to spend much time riding this bike, we get the feeling that this tractability is going to result in great fuel efficiency as well. And to assist in that department, it's equipped with Hero's i3S tech (Idle Start Stop System) as standard. This means that the engine is automatically killed when idling for over 5 seconds in neutral, and restarts the moment you pull in the clutch. It's a very convenient system that has been proven to yield real world benefits such as increased efficiency and reduced emissions.

The chassis too is from the Splendor iSmart - a traditional dual cradle setup. Hero says that it's a lot stiffer than the older dual cradle frame and that has allowed the bikemaker to tune the suspension with much more sophistication. And it shows. The ride is certainly on the firmer side, but it never crashed through whatever potholes and bumps we encountered on our brief ride. This has also allowed Hero to strike a great balance between ride quality and handling. Now of course, we don't expect a motorcycle in this category to have sporty handling characteristics, but the Passion Pro feels quick to tip into turns, and inspires confidence carrying the moderate lean angles it's supposed to.

Our test bike came equipped the optional 240mm front disc brake. While it doesn't have the finesse of disc brake setups found in more premium motorcycles, it's a marked improvement over the standard drum setup.
At the end of the day, the Passion Pro is a pukka commuter motorcycle, and the ergonomics are well suited for city riding. You're sitting absolutely upright in a feet-forward position, with suitably tall handlebars. We do have a couple of gripes though: The seat on the Passion Pro feels quite squishy, and the shifter has that typical old-school, flat heel-and-toe arrangement, which means you can't get your toe under it to shift up. Clearly, these two features have been designed with traditional commuter customers in mind.

And it's exactly this traditional focus that has kept Hero from doing anything drastically different with the Passion Pro's design. It doesn't deviate too much from the Passion Pro formula, although the 11-litre fuel tank has been redesigned to be a lot curvier than before. Even the bikini fairing, while maintaining its familiar shape, has some slight design tweaks. It gets an analogue speedometer with an LCD screen next to it which shows the odometer, tripmeter and fuel gauge. Switchgear too is standard Hero-commuter fare and there's nothing to really complain about here, but the tell-tale lights do get a side stand indicator. Hero has also given some thought to modern-day utility and included a little storage box under the seat with a USB charger for phones.

This new Passion Pro is a step in the right direction for one of Hero's most popular commuter motorcycles. It doesn't step too far away from what typical commuters want from their motorcycles, yet thoroughly modernises the bike in every way that matters.

Passion XPro
For those who love the idea of buying a Passion, but want a little more flair in terms of design, there's the Passion XPro. The XPro isn't a new name in Hero's lineup. But it might have slipped under the radar for some as the previous generation was discontinued a little while back. However, its refreshed avatar boasts many improvements, both mechanical and visual. On the mechanical front though, the chassis and engine are identical to the new Passion Pro. So same frame, same suspension (albeit slightly retuned), as well as same power and torque figures, along with the i3S system.

But here, the firmer suspension and grippier tyres (80/100x18 front and 90/90x18 rear) definitely endow the XPro with much more confident handling. A point to note here is that the XPro gets tubeless rubber while the Pro doesn't, even though both run on alloy wheels. It feels as nippy around traffic as the Pro, but there's a certain amount of stability here when riding quickly through turns. The firmness of the suspension also helps the XPro cope better with undulations on the road, although we believe a majority of commuters would prefer the plushness of the regular Passion Pro.

The Passion XPro's seat is firmer too, and a bit narrower and marginally lower when compared to the Pro (778mm vs 781mm). At 9.3 litres, the fuel tank holds less, and is narrower too. But this, we think, feels much better when gripping the tank with your knees. The handlebars too feel a bit lower when compared to the Pro, but the rest of the seating posture is similar. The overall effect, and bear with us on this, is a 'sportier' feel when in the saddle. While both bikes feel the most comfortable at speeds between 40 to 60kmph, and can hit 80kmph without feeling extremely stressed, it's the XPro which has more poise as the speeds go up.

This sportiness, or premiumness, whatever you might call it, is immediately apparent even when you look at the XPro. The redesigned headlamp and bikini fairing is larger compared to the Pro, while the extensions on the slimmer tank look quite handsome. On the handlebars, the XPro sports two-tone mirrors - a combination of black and contrasting body colour. Between them, the instrument cluster is a funky mix of shapes, with an analogue speedometer in the centre, an LCD panel on one side and tell-tale lights on the other. Around the back, the sharp tail has got a larger taillight that uses LEDs.

On the whole, it's a great looking bike that complements the purposefulness of the Passion Pro with a bit of flair. And while it might feel like a bit of a compromise for the traditional commuter demographic, it has a certain youth appeal that's undeniable.

Super Splendor
Hero ventured into the 125cc space back in 2005 with the first Super Splendor. Its engine was essentially a bored and stroked version of the 100cc sloper motor which has been the heart of the evergreen Splendor. This Super Splendor is still around, but will soon be replaced by this new bike. It might carry over the same name, same cubic capacity and similar styling, but it really is a completely different bike. It, in fact, gets its engine and chassis from the recently launched New Glamour 125.

However, unlike the New Glamour, which is available with a carburettor as well as fuel injection, this new Super Splendor only gets a carburettor. But in every other way, the motor is identical. The 124.7cc air-cooled single-cylinder unit makes 11.5PS of peak power and 11Nm of peak torque - that's 27 per cent more power and 6 per cent more torque as compared to the earlier sloper motor. This new motor uses a semi-vertical layout and shares its bottom end with Hero's new 110cc motor. And Hero's fuel- (and environment) saving i3S technology is offered as standard as well.

Out on the road, the extra performance available from this larger motor, as compared to the pair of Passions, is immediately apparent. There's a lot more torque available low down in the rev range, and the slick 4-speed gearbox allows you to shift into fourth at speeds as low as 20kmph and just keep the bike there. And this Super Splendor will pull from there all the way till about 90kmph in a clean, linear manner. However, once you get to speeds over 65-70kmph, there are noticeable vibrations. From 40 to 60kmph, the motorcycle feels like it's in its sweet spot, and gave us the impression that it is in this range that it will be most frugal.

Compared to the current Super Splendor, the suspension has been been revised and feels noticeably firmer. Our first ride was too short to really get a proper feel about how the bike tackles bumps and potholes, but whatever few bad roads we countered were handled without any fuss. A lot of this ability also has to do with the single downtube semi-cradle frame that the Super Splendor borrows from the New Glamour. It has a lot more torsional rigidity and that has really allowed Hero to tune the suspension to perfection on this bike. If we had to nitpick, the only problem we felt here was the lack of a front disc brake. It requires too much effort to engage and while that might be okay for very traditional commuters, we really wish Hero at least offered disc brakes as an option. And yes, another thing we would've really liked to see is tubeless rubber - easily possible as this bike does come with alloy wheels. But understandably, Hero has opted for tube-type tyres in a bid to keep costs low in the extremely price-sensitive segment that the Super Splendor plays in.

Visually, this new Super Splendor maintains the flavour of the current bike, but that said, all the panels, as well as the 13-litre fuel tank, have been redesigned. Instrumentation is a three-pod affair, but no digital displays here - just a large analogue speedometer in the middle flanked by an analogue fuel gauge on the right and a pod with tell-tale lights on the left. It still gets the typical Splendor/Super Splendor lock box under the tank, as well as a small storage compartment under the seat. The seat is quite flat, well cushioned, and very accomodating. So riding two-up is actually quite comfortable, although it's best to dial up the rear suspension preload for that.

Of the three bikes that we rode, the Super Splendor felt the most no-nonsense one. While Hero has enjoyed an incredible domination in the 100-110cc commuter segment, the company is still not at the top of the 125cc game. While we think that these updates to the Super Splendor might not be enough to help it reach the top of the sales charts here, they've certainly done enough to make it a very competent offering in this segment.

Final thoughts
Initially, Hero hadn't announced prices for these bikes, which allowed us to speculate a little. The earlier Super Splendor cost Rs 56,215, while the Glamour comes in at Rs 58,485 (both ex-showroom Delhi). So we were expecting something in the region of Rs 57,000, and we were right, the 2018 Super Splendor can now be yours for Rs 57,190 (ex-Delhi). With the Hero Passion Pro, we were expecting a bit of a premium over the Splendor iSmart 110 (which itself is at Rs 55,387, ex-showroom Delhi), but surprisingly, the company has managed to price it at Rs 53,189. Whereas the Passion XPro pegged is available for a premium of just Rs 1000, priced at Rs 54,189 (all prices ex-Delhi). Overall we are quite impressed with the competitive pricing of Hero motorcycles here.

Our short first ride of these three thoroughly updated Hero motorcycles was just that… short! Seeing how they actually stack up against their respective competitors will need thorough road tests and comparisons. But these are marked improvements over the bikes they will eventually replace. And we say eventually, because Hero hasn't launched any of them. That launch, along with the announcement of prices, is expected to happen sometime in January 2018 itself, before the Auto Expo kicks off.
Words: Priyadarshan Bawikar
Photography: Vikrant Date