Tata Nexon Overview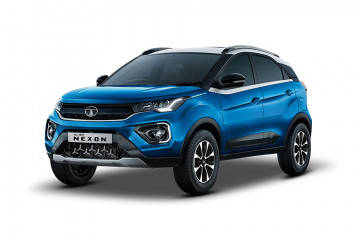 Tata Nexon User Reviews
Mileage

Comfort

Performance

+ 3 more
Maintenance Cost

Safety

Features & Styling
Preferred For : Family & Daily Commute
63% of users have given a rating of 4.5 and above
4.3

Other than luxury and sheer performance i wanted everything in a car. Among those good amount of ground clearance, decent angle of approach and departure, safety, space, comfort, fuel economy, price were my main points which I was looking for. My budget was stricktly under 10lakh. So there was only one car that was fulfilling all my criteria and that was Tata Nexon XM, petrol manual. I considered Ford ecosport and Hyundai Venue also. Ecosport i rejected it because of the tiny tyres and overall space. Didn't go for venue because it more looks like a soft roader than a muscular SUV. This is my personal opinion only and looks are highly subjective. Did a lot of comparison between Venue and Nexon as Venue had an upper hand in terms of quality, fit and finish but it could not match the Nexon's build quality and driving dynamics, ride and handling. On top of all these things, I am a very big fan of Mr. Ratan Tata and its an Indian brand. So decided to go for Nexon. 🙂

4.7

DRving experience is so far is good but not excellent Reason for good is you will get three driving mode(Eco, city,sport) depending on requirement you can switch the mode, easy to drive and handling with great comfortOverall perormance is good but not very good. As this is AMT so you will feel the delay in gear change if you suddenly push the acclerator.In bumper to bumper traffic i am getting around 8-9 KMPL mileage. you will feel the power in sport mode and very stable even at 160 speed. build quality everyone knows so no comment its great.

5.0

I won't expect RR or Beemer kind of things from a 12 lakh vehicle, But what Nexon offers you is the Safety, Comfort, Fun of Driving, Fuel Economy and a lot of satisfaction. Have done 10000+ kms in 4 months, and never ever had any major issue apart from the ones that comes with new vehicles like software update, usb port issues.Highly recommended in the budget around 10 - 13 lakh.Now that Mahindra XUV 300 is also 5 Star rated, you have two worthy options in the price range.

4.0

so far looks good and decent... not high not low as far as performance is concerned...The performance might also be a subjective matter like the design.. I like to drive 'kheench ke' and this this is clearly missing in this when I test drove it.. it does not have the ecosport's sprint nature but is better than many many others in it's category..

4.0

Good vehicle in terms of comfort and safety. But it is not suitable to the persons expect more mileage. mentioned mileage is 17kmpl. Present it is giving 15kmpl. But, with heavy weight, giving this much mileage is not easy. But,you should remember that resale is less for TATA vehicles. And also available service centers are also low
All Nexon User Reviews
5.0

I didn't expect from tata but trust me it's a amazing 🚗

4.0

Good vehicle in terms of comfort and safety. But it is not suitable to the persons expect more mileage. mentioned mileage is 17kmpl. Present it is giving 15kmpl. But, with heavy weight, giving this much mileage is not easy. But,you should remember that resale is less for TATA vehicles. And also available service centers are also low

5.0

I won't expect RR or Beemer kind of things from a 12 lakh vehicle, But what Nexon offers you is the Safety, Comfort, Fun of Driving, Fuel Economy and a lot of satisfaction. Have done 10000+ kms in 4 months, and never ever had any major issue apart from the ones that comes with new vehicles like software update, usb port issues.Highly recommended in the budget around 10 - 13 lakh.Now that Mahindra XUV 300 is also 5 Star rated, you have two worthy options in the price range.

4.7

Every moment spent with Nexon was good except the ones with the TATA service center engineers.

4.7

DRving experience is so far is good but not excellent Reason for good is you will get three driving mode(Eco, city,sport) depending on requirement you can switch the mode, easy to drive and handling with great comfortOverall perormance is good but not very good. As this is AMT so you will feel the delay in gear change if you suddenly push the acclerator.In bumper to bumper traffic i am getting around 8-9 KMPL mileage. you will feel the power in sport mode and very stable even at 160 speed. build quality everyone knows so no comment its great.
All Nexon User Reviews