Top 5 Must-have Accessories For The Royal Enfield Himalayan
---
The only guide you'll need to kit up your steed before your next adventure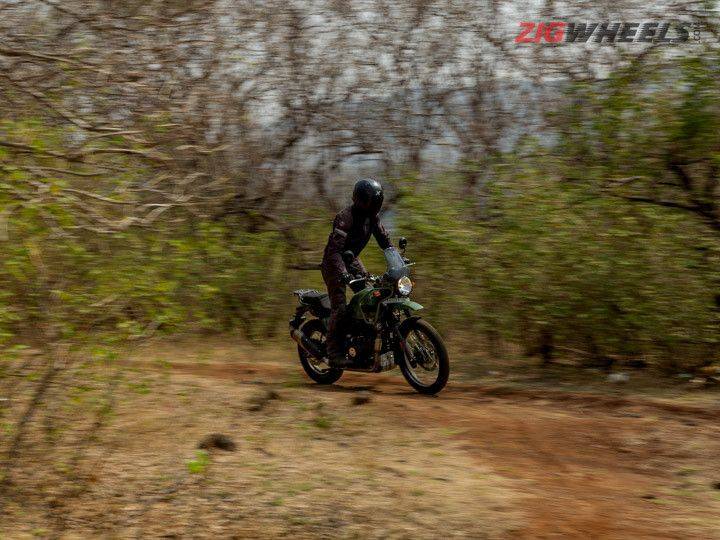 The Royal Enfield Himalayan is one of the most sought-after adventure tourers in the country. Right from munching miles on the highway to tackling trails, this ADV takes everything in its stride. But as much as we love this bike as is, we feel these accessories would certainly make your ride even better:
Ergonomics

Royal Enfield Braced Handlebar Kit
Price: Rs 2,500
For the majority of riders who are primarily looking at touring options, the stock handlebar on the Himalayan works just fine. However, heavy-set riders or those who head out to do off-roading frequently will benefit from this slightly wider and taller handlebar. Also, it comes with a brace, so you wouldn't have to worry about a bent handlebar in case of a crash. The downside is that since this 'bar is fatter than the stock, you'll have to purchase the bar-end weights from RE's accessory catalog too. This will set you back by another Rs 1,200.

Royal Enfield Touring Seat (Rider)
Price: Rs: 2300
One of the updates of the 2021 Himalayan was the new stock seat that RE claims is comfier than the old one. In our experience (which you can read here), the stock seat works brilliantly for 90 percent of its intended usage. That said, you will benefit by investing in the Touring Seat option from RE's GMA catalogue. It uses a different material to evenly distribute the weight and gets a non-slip cover that works wonders in torrential rains too. Buying the pillion seat would cost you another Rs 1,700.
Protection

Royal Enfield Engine Guard
Price: Rs 1,270
Crashes are inevitable, more so when you are going off-road. In that case, it is better to take precautions by investing in crash guards. If you intend to tour primarily on the highways, the official accessory should suffice. Not to forget that an engine guard can also save your leg in a crash. However, if hardcore trail riding is your game, you'd want to check the engine crash guard from Zana that costs Rs 4,500.

Universal Handguards
Price: Rs 1,400
These just don't protect your levers or knuckles in case of a crash, they also protect your hands from harsh weather. If you are someone who loves to venture into the wild, these do a good job of protecting your hands from getting hit by a tree branch. Although Royal Enfield too offers handguards, they lack an aluminum frame which means in event of a crash, the handguards are prone to break off and leave your hands exposed.
Luggage

Royal Enfield Panniers + Mounting Kit
Price: Rs 23,500 (Panniers), Rs 3,500 (Mounting Kit)
For people looking for a sturdy luggage carrying option, Royal Enfield's panniers and mounting kits work wonders. The aluminum panniers fit perfectly and wouldn't rattle or come loose even when riding through rocky terrain. You even need not worry about denting or breaking them in case of a crash--RE has provided enough protection on the corners to save it. Throw in an additional Rs 2,500 and you can purchase a pair of waterproof bags that fit in the panniers. That way, you don't have to worry about getting the luggage wet or removing the panniers after a day's ride.

Viaterra Waterproof Trailpack
Price: Rs 2,499
Royal Enfield conceptualised the Himalayan to carry everything you'd want for a trip to the mountains. Viaterra's trail pack fits on the side frame, and with a combined capacity of 14 litres, there's a lot that these bags can gobble up. A big advantage is that these are completely waterproof, so keeping your documents, first-aid kit or spares here wouldn't be an issue.

Jerry Can
Price: Rs 3,200
At 14 litres, the Himalayan has an approximate range of 260km before you hit reserve, and if you are looking to get Leh'd, you would definitely require additional fuel. Thankfully, rather than strapping cans or bottles with your luggage, you can fit this 5-litre jerry can onto the side frame of the bike. With a quick release lock, this comes off in a matter of seconds.
Illumination

Maddog Scout-X Auxiliary Lights
Price: Rs 5,750
The Royal Enfield Himalayan's old-school halogen headlight isn't really the best and if you intend to venture into treacherous conditions, a pair of auxiliary headlights is a boon. These lights from Maddog have a brightness rating of 4800lumens and have a beam distance of 200m. Through in Rs 799 and you get clamps designed for the bike to mount the lights.
Performance

Greasehouse Grunt4 Exhaust
Price: Rs 9,450
At over 195kg (depending on the model year), the Royal Enfield Himalayan is a heavy motorcycle and one way to cut the flab is an aftermarket exhaust. This unit from Greasehouse weighs just 2kg, and is claimed to boost performance as well. Performance aside, who wouldn't fancy a raspy exhaust note echoing the mountains on your next trip to the Himalayas?

BMC Air Filter
Price: Rs 5,499
Long hauls, dusty conditions and remote locations -- It would be a bummer if your engine doesn't get to breathe well. The solution? A performance filter that can survive such treatment and can be cleaned in a matter of minutes. Not only is the BMC air filter reusable, it also claims to keep impurities as tiny as 7 microns at bay (the OEM has a rating of 10 microns).
Royal Enfield Himalayan Video Review
More on Royal Enfield Himalayan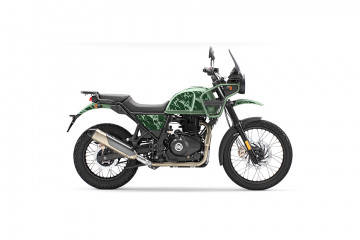 Rs. 2.01 Lakh Onwards
Ex-showroom, Delhi
See what our community has to say!
NEW
India's largest automotive community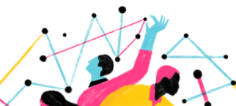 5 Offers Available