Revolt RV 400: Review In Images
by Gaurav
Aug 29, 2019
Views : 41967
---
Here's our first ride review of the Revolt RV 400 in 23 detailed image
Revolt Motors has launched the much-anticipated RV 400 in India with a unique ownership plan called the 'My Revolt Plan'. Basically, you could own the base variant of India's first electric motorcycle for a nominal amount of Rs 3,499 per month for 37 months. The slightly more premium variant, on the other hand, will set you back by just Rs 3,999 for the same time period. We've already had a go at the RV400 and here's what we think of it, explained in 23 detailed images.
To begin with, the RV 400 packs a tonne of features - upside-down fork up front, a preload-adjustable monoshock at the rear, an LED headlight with a projector for the high beam, as well as a fully-digital instrument cluster.

There's a lot of software here too, thanks to the built-in 4G SIM card and a connected app which will let you do everything from start or stop the bike, find nearest swap stations, order a battery online, geo-fence the bike and even play a simulated engine note through the built-in speaker.

Quality was a concern for a lot of people when they first saw the motorcycle, and on that front, the RV 4000 does feel pretty alright. There are some odd panel gaps here and there but the actual quality of the plastics and other components is fairly up to the mark, and it's not very different from a normal 125cc motorcycle.

Other concerns revolve around the fact that the Revolt RV 400 looks like a rebadged Chinese motorcycle - namely an amalgamation of the Super Soco TS and TC Max.

The headlight, instrument cluster, belly panels and suspension look like they came from the TS, while the swingarm and belt drive resemble those from the TC Max.

Revolt said that although the bike's single-cradle frame comes from Soco, its frame partner, it has been beefed up for Indian conditions.

Hop on to the RV 400 and it's shocking just how conventional it all feels. Size-wise, the bike reminds you of a 110cc motorcycle, and with a kerb weight of 108kg, the bike feels quite light on its feet.

Basically, even if you're really short, say 5'2" or 5'3", you'll be able to get your feet on the ground comfortably. And the single-piece seat is decently spacious too.

The handlebars are on the narrower side but they are positioned a little low. So you end up leaning a bit towards them. The footpegs in the default position are a bit rear-set, and that means the posture feels somewhat like that of a sporty 150cc or 160cc motorcycle.

You can also interchange the left and right pegs for a more forward-set position.

The RV 400 is powered by an electric motor with a continuous power output of 3.0kW connected to the rear wheel using a belt drive. That doesn't sound like much, but Revolt says that this motor is capable of putting out a whopping 54Nm of torque.

There are three riding modes which can be toggled from the handlebar itself, and those will change the throttle response and your top speeds.

City mode gives you the softest throttle response and limits your top speed to 45kmph. Normal bumps up throttle response and top speed to 65kmph. And in Sport, you get the full output with a top speed that's limited to 85kmph.

In Sport mode, down the short straight of the go-kart track, we saw 68-69kmph. We think the RV 400's performance is more on par with 125cc petrol-powered bikes.

With a 72V, 3.24kWh lithium-ion battery pack, the RV 400 has an ARAI-certified range of 154km on a single charge. Of course, since ARAI testing is done at a steady 45kmph, out in the real world with stop and go traffic, you won't nearly get as much.

That shouldn't be an issue for a lot of users as Revolt claims that using a conventional 15-amp power outlet, you can recharge the battery to 75 per cent in just 3 hours, while a full charge takes 4.5 hours.

Of course, things will likely get easier when they implement their battery swap stations. And the battery swapping process is fairly straightforward, albeit a bit fidgety. The only real concern is that the battery weighs almost 20kg. So lifting it is no joke.

When it comes to handling, the first thing you notice is just how light this motorcycle feels. It's got a fairly tight wheelbase of 1350mm, so it tips into corners very easily and at the same time, it never really feels unnerving.

Even though the MRF Zapper tyres (90/80-17 front and 120/80-17 rear) are not radials, they do a pretty good job in giving you a fair amount of grip

The brakes aren't too bad either. It's got 240mm disc brakes at both ends and the bite is pretty adequate. The only thing we have to complain about is that the levers do require a lot of pressure and that does rob them a little bit of feel. When it comes to safety, you get combined brakes as standard.

The bike also comes with a regenerative braking system, or RBS as they call it, which basically recharges the batteries once you go off the throttle, adding to the braking effect. But it doesn't feel very strong on the RV 400.

The RV 400 packs an inverted fork at the front and a preload-adjustable monoshock at the rear. The bike tends to bounce around a little bit on bumps because it is set up a little on the stiffer side. That said, its suspension setup helps it handle quite well.

With a 220mm ground clearance, which is as much as that on a Hero XPulse, it should be able to clear any obstacles our roads can throw at it.

The most remarkable part about this Revolt RV 400 is just how unremarkable it feels. Don't get me wrong, this isn't any form of criticism. But the fact of the matter is that the mental adjustment required to move from a petrol-powered motorcycle to this electric one is hardly there.

So while it's not the best bike for long distances on the highway or even some fun weekend riding, for a lot of urban commuters, it's enough reason to go green. And that's not for some environmental reasons. But because this is a simple, easy-to-use, no-nonsense motorcycle that will be a lot more economical to run than any petrol-powered bike. And while the Revolt RV 400 might not be too revolutionary in terms of technology, in terms of the purchasing experience, it just changes the game!
Add Your Comments
View all comments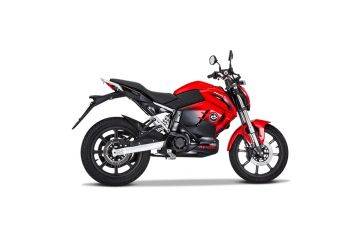 Rs. 98,999 Onwards
Ex-showroom, Delhi
Get Loan starting @9.7%
View On Road Price
Revolt RV400 Alternatives