2018 Auto Expo: Kia To Showcase 18 Models
Jan 5, 2018
Views : 16351
---
The Hyundai-owned carmaker has been in automotive business since 1944 and will finally begin retailing its products in India by 2019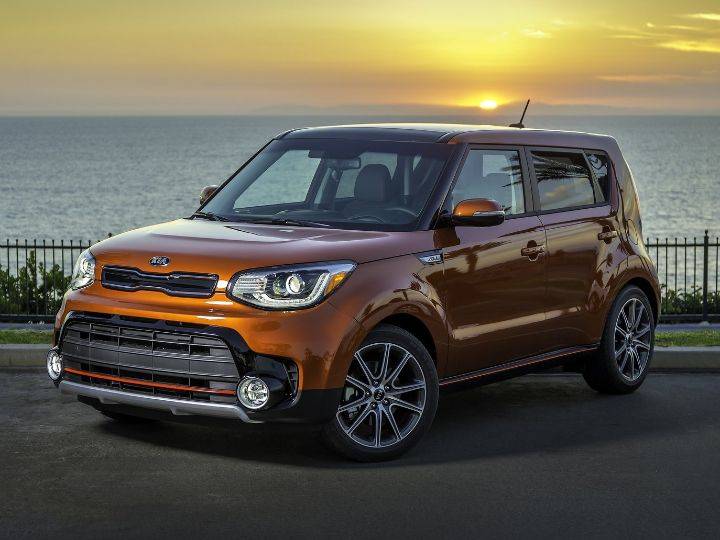 Update - 30 January, 2018: Kia has officially announced its arrival in India, and will make its debut at the 2018 Auto Expo. To make the arrival a grand affair, Kia is serving up an SUV concept which, as they put it, has been "inspired by Indian heritage and driven by advanced technology." The teaser image hints at a compact SUV, possibly the size of the Hyundai Creta. But, we'd still have to wait for a long while as Kia cars are expected to debut in India by early 2020. Also confirmed for the Auto Expo 2018 are 16 production models which include electric vehicles, plug-in hybrids, and the sporty Stinger. For more details on the SP Concept, click here.

Yes, you read that right. Kia Motors India will showcase eighteen models at the upcoming Auto Expo. Eighteen! But don't for one second think that Kia will launch all of these models in India. That's just how the South Koreans work. Since Kia is owned by Hyundai Motors, a brand that is overshadowed only by Maruti Suzuki in India, expect Kia to rely heavily on what its mother company has learnt over the years.

Kia's strategy for India will be a lot different to what the company is trying to pull off in other markets, specifically in Europe and North America. With products like the Stinger and the Proceed Concept, which was showcased at the 2017 Frankfurt Motor Show, Kia is steadily moving towards producing a more premium range of products.

In India, however, it is Hyundai that has been transforming itself from being just a mainstream carmaker to one that can take on more premium badges like Skoda, Volkswagen and Jeep. Kia, on the other hand, will be aligned to cater to the masses. Hence, it will invest in only those models which can be produced with the most amount of localisation and, at the same time, are capable of being modified to fit in the small car segment.
While we'd love to tell you more about all eighteen cars that are expected to show up, let's make it crisp and list four of models which we think perfectly portray the diverse nature of Kia's product range.
Kia Picanto

This is the smallest car Kia currently makes. The Picanto fits perfectly in Kia's plans for India. Compared to the Maruti Suzuki Wagon R, the Picanto is about 4mm shorter in length and isn't as tall (1,485mm vs 1,670mm) as well. But in terms of width, it is about 120mm more than the cabby's favourite car in India. In international markets, the Picanto is available with two engine options - a 1.0-litre petrol (67PS/96Nm) and a 1.2-litre petrol (84PS/121Nm). Similarly, two transmission units are available to choose from - a 4-speed automatic and a 5-speed manual. To keep costs in check, Kia might borrow similarly sized engines from Hyundai Motor India. That, of course, depends on whether those engines are a direct fit.

If Kia plans on launching the Picanto in India, it won't require much tinkering. The only area where Kia might work on is to shrink its equipment list to keep its prices competitive.
Kia Rio Sedan

This one is likely to become one of two products that Kia plans to start its Indian innings with. The Rio marque has always been based on a hatchback. However, for emerging markets such as southeast Asia and India, Kia makes a sedan iteration as well. In terms of size, it sits somewhere in between the Toyota Platinum Etios and the Honda City. Like the Picanto, the Rio Sedan is available with two engine and transmission options each. There's a 1.4-litre petrol engine producing 100PS/133Nm and a 1.6-litre petrol that generates 123PS/151Nm. Both engines can be had with either a 6-speed manual or a 6-speed automatic.

If that sounds familiar to you, it must be because these engines were available in the previous-gen Hyundai Verna sold in our country. The transmissions, on the other hand, can be found in the current Verna. The sedan misses out on a diesel powerplant in other markets. But we believe Hyundai could help its sister company on that front.
Also Read: Kia Compact SUV To Kick Things Off In India
Kia Stonic


The Stonic went on sale in Europe in October last year and makes for a perfect fit in the compact SUV/crossover space. Based on the Rio platform, the Stonic competes with the likes of Renault Captur and the Ford EcoSport in the markets such as the United Kingdom. Unless Kia India plans to alter its length, the Stonic will slot between the Captur and the EcoSport, both of which fall in different categories in India. That's because the Captur in the European market is based on a different platform than the one in India and hence is shorter in length. The European Ecoport, on the other hand, is over 4 metres in length. A total of four engine options are available in global markets but the ones which are likely to be introduced in India include the 1.0-litre, T-GDI turbocharged motor that's good for 120PS/172Nm and the 1.6-litre CRDi engine that churns out 110PS/260Nm. Both engines are available with a 6-speed manual transmission. For India, however, the diesel could gain the 6-speed automatic unit too. Apart from the Rio Sedan, it is the Stonic that is most likely to become the compact SUV that Kia is working on to set up shop in India.
Also Read: Kia Stonic Subcompact Crossover Revealed
Kia Stinger

The Stinger is Kia's take on what a grand tourer (GT) should be like. The low-slung, four-door sedan with a long, swooping bonnet and a short rear end gives the Stinger a very coupe-ish stance. To put things in perspective, the Ford Mustang GT is 47mm shorter, 45mm wider and around 10mm lower than the Stinger. That said, the Ford's 2720mm wheelbase is dwarfed by the Kia's, which measures in at 2905mm. There are three engine options to choose from for the Stinger - a 2.0-litre petrol, a 2.2-litre diesel and a 3.3-litre V6 petrol. All three engines are accompanied by a turbocharger to produce 247PS/353Nm, 200PS/440Nm and 370PS/510Nm, respectively. The V6 can complete the 0-100kmph sprint in 4.7 seconds, while the diesel and the smaller petrol can achieve that in 7.3 seconds and 5.8 seconds, respectively. In essence, the Stinger is longer, has two more doors and rides taller than the Mustang. Expect Kia to launch the Stinger in India too but will, in all probability, be brought via the CBU (completely built unit) route. The Stinger perfectly shows how the company is readying itself to take on other well established premium marques like Audi, Mercedes-Benz and BMW.

One section of Kia's stall at the 2018 Auto Expo will surely be dedicated to showcase its Eco dynamics brand. It is under this marque that Kia's hybrid, electric, plug-in hybrid and fuel cell models fall in. At the moment, Kia has the Optima hybrid, Soul electric, Niro plug-in hybrid and Mohave fuel cell models under the Eco dynamics brand. Among the 18 models that are set to be showcased, expect these four to show up as well.

Kia is currently working on setting up its production plant in Andhra Pradesh. The company recently announced that Kookhyum Shim will be leading its operations in India. The upcoming production plant will have a capacity to produce 3 lakh units per year and is likely to be ready towards the end of this year. Kia expects to launch its first two products by early 2019 and will take on major players like Maruti Suzuki, Toyota and Honda.
Also Read: Kia Scouring For Indian Dealers Before Cars Go On Sale In 2019