Royal Enfield Classic 350 GMA Tested
Sep 6, 2020
Views : 18857
---
Planning to add an accessory to your Classic 350? You gotta read this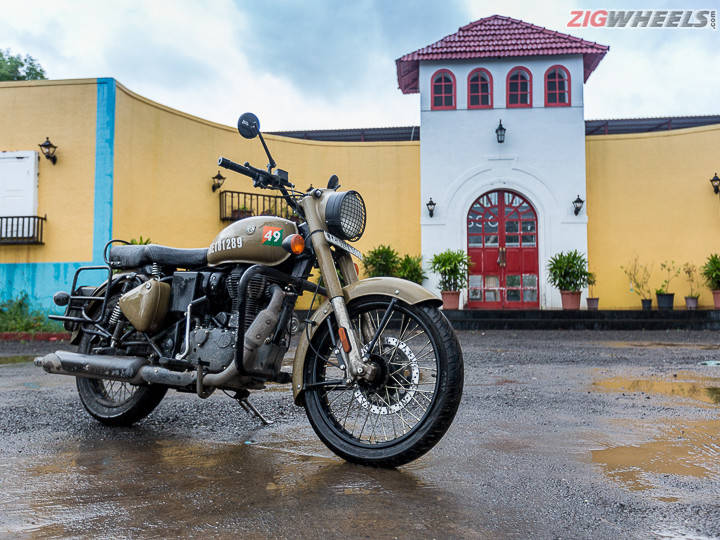 Accessories always add a personal touch to your ride. It can be a subtle addition or an in-your-face modification, but the end result is exclusivity. If we are talking about Indian brands, one name always sticks out and that's Royal Enfield. Motorcyclists have been modifying them for decades and given the demand for accessories, RE have their very own GMA (Genuine Motorcycle Accessories). We recently tested the Royal Enfield Classic 350 BS6 and the good folks at RE kitted out the bike with some accessories for us to sample them. Here's what we think of the GMAs.

Trapezium Engine Guard - Rs 2,100
An engine guard is a necessity for bikes sold in India. GIven our traffic sense and brilliant road conditions, a crash or fall is something that follows you like your shadow. It's even more critical on a Royal Enfield motorcycle as they aren't the lightest bikes around. The trapezium engine guard on our test bike was finished in black to suit the blacked-out engine in the Signals Edition. It's crafted out of 32mm mild steel tube and has dual coating to prevent rusting. Although it's not too fancy, it will get the job done and I particularly liked the subtle RE branding on the edge.
Recommendation - 5/5

Touring Seat (rider) - Rs 2,400
I will be honest, I was never a fan of the sprung seats of the Classic 350 and it was one of the major reasons for me not liking the bike. The touring seat first of all looks great with its quilted design and contrast stitching. RE claims that it has employed '3D net technology' to evenly distribute -- while I dont attest to the jargon -- my derriere does attest to its impact. Even after a two hour ride, I was feeling comfortable and the optional touring seat isn't as bouncy as the stock seat. If you're into touring, this is a must have. Royal Enfield also offers a pillion seat but I couldn't test it; however, given my experience with the rider seat, I don't doubt much of its effectiveness.
Recommendation - 5/5

Royal Enfield Military Pannier set :
Price:
Rs 5,500 (set) & Rs 3300 (single)
Mounting kit - Rs 1,600
The Classic 350 BS6 also gets these cool looking soft saddlebags as accessories. They are available in Olive Green and Black colours. Made of rugged canvas, the bags get a wax coating that would keep the contents inside safe from moderate rain or water splashes. But if you are riding in heavy downpour for an extended period (read Ladakh or North East in the monsoon), we would suggest wrapping up your contents in a plastic bag for extra dry protection. It isn't large on space either and you should be able to stow away clothes and stuff for a weekend getaway at best. The bags are easy to mount and unmount.

They sit on a dedicated frame (an extra Rs 1,600). You simply slide the bag onto the frame and fasten the single top velcro and dual side straps with velcro and D-ring clips. It is a secure fit but then again its ease of fitment also makes it vulnerable to theft. The military pannier set is more of a fashion accessory: you even get separate shoulder straps to use them as messenger bags. The saddle bags look cool but if you are into serious touring, there are other waterproof and spacious options available in the market for around the same Rs 5,500 asking price. While it adds to the retro aura, it's more of form over function.
Recommendation - 2/5

Headlight Grill - Rs 1,200
Royal Enfield claims that the headlight cover (injection molded) will protect your headlight from debris. I have been riding bikes for around 15 years and I have never encountered a scenario where a motorcycle's headlight has cracked by debris. It's an absolutely useless accessory since the rider has almost no visibility in the dark as the beam is entrapped inside the cover. There is also a marking on the headlight that says not to use it on the highways, so basically the owner will have to unscrew it every time he or she heads out on the highway. I have only one word: gimmick.
Recommendation - 0/5

Touring Mirror Kit - Rs 4,000
The touring mirrors have been homologated as a replacement to the standard mirrors and they absolutely look the part. The matte-black finish with the contrast Royal Enfield logo looks posh. But, this is again a case of form taking precedence over function -- something I absolutely detest on a motorcycle because motorcycles are inherently functional. The stalks aren't too long and half the space was covered by my shoulders, which hindered my view. While one can argue that I am a big guy and have wide shoulders, I am almost certain that even petite riders would face the same problem. However, if the functionality part wasn't already a deal breaker, the MRP did the rest. The touring mirror set will set you back by Rs 4,000 for the pair and that's a lot of money for something that isn't particularly functional.
Recommendation - 1/5
Royal Enfield Classic 350 Video Review
More on Royal Enfield Classic 350

Rs. 1.61 Lakh Onwards
Ex-showroom, Delhi