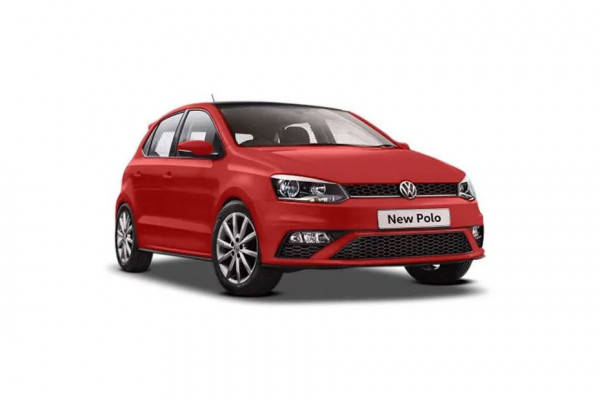 Volkswagen Polo
Rs. 5.82 Lakh
Discontinued Model since 20 Jun 2022
---
Volkswagen Polo Overview
Ahead of its imminent discontinuation, Volkswagen has given the Polo hatchback a fitting send off by launching the Polo Legend Edition at Rs 10.25 lakh (ex-showroom). Based on the GT TSI, this limited-run Polo getsdecals on the sides, a black roof, a black trunk garnish, and Legend badging. It retains all the features from the GT TSI it is based on.
Under the hood, it is limited to 110PS 1-litre turbo-petrol TSI option from the GT TSI, paired with a 6-speed torque converter automatic gearbox
Must Read Questions & Answers Before Buying Polo
Q. Which is better between Volkswagen Polo and Maruti Suzuki S Cross?
If you were looking to buy a feature-loaded and spacious hatchback for the family, then Volkswagen Polo is pretty much not the choice. But for those who appreciate its build quality and driving manners, it remains almost perfect. On the contrary, if a smooth driving experience and space are your priorities, then the S-Cross will be a match made in heaven for you. Moreover, we would suggest you to take a test drive before making the final decision. Follow the link and select your desired city for dealership details.
More Questions
Q. Hi, I am confused between Tiago XZ Plus and Polo Comfortline. This will be my first car and the difference between the two is about 1lac and obviously the Polo is from the Volkswagen brand so the quality is better but as I found in Tiago I did not get all the facilities. Please suggest Me...
Well. Even i was on this same confusion and bought VW 1.0 comfirtline. Let me tell you if you need premium quality, comfirt drive, safety, and the feel of german brand wwith european standard go for VW polo, but in comfirtline you get 1.0mpi not the turbo charged it will get in highline only, so you feel bit powerless on initial but drive quality is amazing after that in polo. Tiago is good in safety now and yeh 1.2 engine, still you don't feel premium or comfirt drive. You never regret buying polo.
Even i was on this same confusion and almost decided to buy Tata tiago XZ+ but after seen the POLO, I bought VW 1.0 Comfortline. Let me tell you if you need premium quality, comfort drive, safety, and the feel of German brand with European standard go for VW polo, but in Comfortline you get 1.0mpi not the turbo charged, it will get in highline only, so you feel bit powerless on initial but drive quality is amazing after that in polo. Quality of the inside plastics good, Stylish design finishing .
Polo is good but it's cost is high and trust me tiago is way much poweful in it's compitition and if you can increase your budget then rather going for non indian brand you can also take a test drive for either altroz or it's turbo variant, will provide you best safety, best braking impressive interior and space and comfort. Take a test drive and decide, you will fall for it for sure.
View All Answers
Q. Which car to buy Volkswagon Polo gt tsi or i20 2020?
Both cars are good enough. If we talk about Volkswagen Polo, it offers a very relaxed drive experience on the highway as well. The cabin, while missing some essential features and rear space, definitely offers the best in class build quality and insulation. The only other thing that will initially bother you is the less refined engine and the crude engine note it brings with it. If you value build, drive experience and ride over feature gimmicks and are willing to sacrifice on space, the Polo would be a good fit for you. On the other hand, Hyundai's i20 is offering a striking design, premium quality interiors and a wide range of engine-gearbox options. Features continue to be a strong point for the hatchback. Plus, with the update we see the i20 becoming a better family car, with more space and practicality. The new Hyundai i20 doesn't just offer loads of new tech, it also works better as a family car than before, albiet for a bit of a price increase. You may compare both the cars accordingly. Do take a test drive in order to get better clarity. Check out authorised dealership details.
Vw polo has one disadvantage that is its child locks over the rear doors are electronic and is operated from the drivers seat..in the event of any unfortunate accident if the electronics malfunction the rear passengers cannot get out
Q. What is the difference between Volkswagen Polo diesel car and petrol car?
Diesel Car, Torque (pulling) Power is very high.,Petrol car Torque (pulling)Power is lower,But for City driving, that inital Pick-up is not Good in DIESEL Car.,Petrol Cars run @ very good Speed (pick-up) in City driving conditions.But Disel Car on the Highway Road is uncomparable Speed, Torque & Fuelefficiency.Diesel Car 22.05 Km/ Litre,Petrol. 17.5 Km onlyDiesel Car: Routine maintenance is little bit costly (But, because of more mileage that is not a problem) 👍
Diesel gives more mileage and in cost also it will be high.....petrol mileage will be 2-3kmpl low when compared to Diesel but performance will be superior than petrol...and latest tsi turbo engine is wonderful....
More Questions
Polo Questions and Answers
Volkswagen Polo User Reviews
4.2/5
Based on 747 rating & 213 reviews
Write Review & Win iPhone
All

Comfort (36)

Performance (27)

Mileage (26)

Safety (21)

Maintenance (19)

Service (15)

Engine (13)

Looks (12)

Power (9)

Speed (8)

Experience (8)
4.0

Eye catcher

After having a maruti 800, A santro and then getz, Which arguably all three were a brilliant options for a family car in their own times, We decided to opt for a performance c*m family car that not only looks brilliant but lets you enjoy the performance factor of a machine.Yes we opted for the volkswagen polo, An epitome of performance hatchback when it comes to be named to.We did buy the 1.2 comfotrline, For budgetary option, Although i wish i could have taken the gt.The car has, No doubt, Been the reason for me to smile more than ever.For one the polo is just an eye catcher and then people know that it is one hell of a classic performer, With its dedicated lines designed to run fast and keep the car glued on road.I do remember touching the likes of 170kmph, Although i immediately slowed down after looking the needle touching the mark.Then i came to know from a volkswagen executive that the car can touch 210, But is restricted, 'damnnnn the india rules'.With the car giving back a happy 18-22kms per ltr over the highway, Now all that hype of a wonderful car does overshadow a few setbacks.Like the mileage in city is a blahhh 12kms per ltr, I know we have the traffic to blame, But then the car does underperform in city.(definitely the car is made to revvvv).Then the space issues for the back seat, Unless you are a 5.5 fellow driving the car the space would be good enough, But the moment a person with tall legs steps in the front seats, The person behind has to crunch it.Nonetheless the body, The finish, The performance for that matter is the thing one has to and i repeat has to buy a polo, Because it's not only the name its the experience that lets you know that you have a polo.

4.7

It's been 5 Years I

It's been 5 Years I have been driving this car. You get to used to it so much ,that you start feeling the other cars are not up to the mark. Not to mention, quality, the heavy yet light to handle, easy manoeuvring, safety are the best features. You may feel the mileage to be a little low in the city, but when you hit the road, easy 22-23 kmpl when you maintain speed of 100-120kmph. But you may drop down to 19-20kmpl over 140kmph. I personally have touched 170kmph easy till now and the control it awesome.When I first thought of buying it, was a little sceptical, but now.. believe me, if I change I may go back to the same as it"s sets your expectations to a standard, and you, without realising will start expecting the same quality and standards in other cars. Thank you Volkswagen for this go to car. Expect your golf in India soon.

4.7

Vehicle handling

i have been using the car since last 7 year and particularly since last three year my daily commute is around 100km/day. car was run so far 75k km and most of the 90% driving done through country side road like pot holes,speed breaker,ups and downs. Vehicle handling,control and comfort in this road was good. indeed my driving was bot rough, so i have replaced the shocks system in FR and RE as well. Mileage i am getting it 15.5km/liter for petrol. Maintenance in service center is bit disappointing as cost is overly priced. So go far outside garage and use the spare from Boodmo which will help to reduce the cost... rest all are okay. So far i am looking far a change but unable to get a replacement for POLO.

2.0

Recently I mate with an

Recently I mate with an accident with one dog in the NH16, my Radiator, Carrier, Grille, Vent, Coolant leakage, it has cost 17K in the showroom and after I got repaired in VW Showroom in Vijaywada after 50 km drive again my car temperature increased to 125 Centigrade and now some issue in Engine due to leakage of Coolant in the engine. And the day before yesterday I handover my vehicle to VW Visakhapatnam showroom and now they are giving an estimation of around INR 3 lakhs 39 thousand. I am fully fed up with this vehicle and the company. Someone can help me to know how much will be the cost to repair the engine?

4.2

Drive enthusiastic

I am driving VW Polo Petrol Highline for the last 7 years and I am very satisfied with the performance. It's fun to drive and a safe car. Unmatched pickup and comfort. Drive enthusiastic will definitely love it. I am doing servicing at VW authorised showroom once a year and proud to say my car has not failed any time on roads. That's the beauty of German design. My Polo saved me in a near-miss accident where the car stopped in 3 sec at speed of 80km/hr.
Volkswagen Polo Expert Reviews

Surely a smaller engine and no DSG must mean a step down in the fun factor of the new Polo 1.0 TSI
July 20, 2020
By Team ZigWheels