4.3
(28 reviews & ratings)
Rate this car
Engine Displ.

:

1968 cc
Power

:

174.5bhp@3600-4000rpm
Torque

:

350Nm@1500-3500rpm
Top Speed (KMPH)

:

NA
Sunroof

:

NA
Adjustable Driver Seat

:

Yes
Adj. Front Passenger Seat

:

Yes
Heated/Cooled Seats

:

NA
View December Offers
View On Road Price
Skoda Superb Specifications Summary
Superb Variants
Key Specifications
Key Features
Style 2.0 TDI AT Rs. 28.50 lakh
1968 cc, 174.5bhp @3600-4000rpm

view all

Sunroof, Adjustable Driver Seat, Yes Adjustable Driver Seat, Adj. Front Passenger Seat, Yes Adj. Front Passenger Seat, Heated/Cooled Seats

view all

Corporate 1.8 TSI MT Rs. 23.99 lakh
1798 cc, 177.46bhp @4000-6200rpm

view all

Sunroof, Adjustable Driver Seat, Yes Adjustable Driver Seat, Adj. Front Passenger Seat, Yes Adj. Front Passenger Seat, Heated/Cooled Seats

view all

Style 1.8 TSI MT Rs. 26.00 lakh
1798 cc, 177.46bhp @4000-6200rpm

view all

Sunroof, Adjustable Driver Seat, Yes Adjustable Driver Seat, Adj. Front Passenger Seat, Yes Adj. Front Passenger Seat, Heated/Cooled Seats

view all

Style 1.8 TSI AT Rs. 26.00 lakh
1798 cc, 177.46bhp @5100-6200rpm

view all

Sunroof, Adjustable Driver Seat, Yes Adjustable Driver Seat, Adj. Front Passenger Seat, Yes Adj. Front Passenger Seat, Heated/Cooled Seats

view all

Sportline 1.8 TSI AT Rs. 29.00 lakh
1798 cc, 177.46bhp @5100-6200rpm

view all

Sunroof, Adjustable Driver Seat, Yes Adjustable Driver Seat, Adj. Front Passenger Seat, Yes Adj. Front Passenger Seat, Heated/Cooled Seats

view all

L&K 2.0 TDI AT Rs. 30.00 lakh
1968 cc, 174.5bhp @3600-4000

view all

Sunroof, Adjustable Driver Seat, Yes Adjustable Driver Seat, Adj. Front Passenger Seat, Yes Adj. Front Passenger Seat, Heated/Cooled Seats

view all
View All Variants
Skoda Superb Overview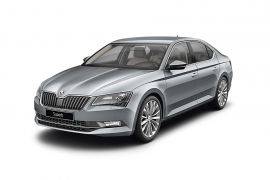 Specs of Superb Competitors
Must Read Questions & Answers Before Buying Superb
Q. I would like to buy a Skoda Superb, can u tell me your driving experience and it's pros and cons?
The exteriors of Skoda Superb comes with attractive features like angular headlamps, rising shoulder line, and a very attractive rear body design accentuated by smart tail lamp clusters. Interiors are made up of quality materials and Superb's spacious front and rear bench allows 5 adult occupants to sit in utmost comfort. Skoda Superb comes powered by two engine options - 175 BHP 2.0-litre turbocharged Diesel engine and 178 BHP 1.8-litre turbocharged TSI petrol engine, both engines offering optimum combination of power and efficiency. While the diesel engine comes only with automatic transmission, buyers can opt for both manual as well as automatic transmission in the petrol guise. In the Indian market, Skoda Superb is up against the likes of Volkswagen Passat, Toyota Camry, Honda Accord, and its own cousin Octavia among others. Pros: - Phenomenal amount of rear-seat legroom. One can sit cross-legged with ease. - Quality of plastics and leather used in the cabin is top class. Leaves very little room for complaint. - Pliant suspension gobbles up surface irregularities. - Super-smooth 7-speed DSG automatic is a joy to use. - Loaded with features - touchscreen audio system, ambient lighting, three-zone climate control, sunroof, 8 airbags etc. Cons: - The diesel engine gets slightly vocal on the move. Dampens the premium experience. - No hybrid variant on offer - both the Camry and the Accord offer hybrid tech. : By Zigwheels | 1 year ago
Its equal to BMW 5 series go for it awesome ☺️☺️☺️ : By HEALTH | 1 month ago
Q. I am planning to buy a Skoda Superb 1.8 TSI AT. But am worried about the DQ200 problem which a lot of people have faced it in the fast. Is this problem resolved ? I am driving my 1.9 TDI Octavia since 2004 and have driven 256000 kms without any hassle and any major maintenance cost apart from routine servicing. So I am very satisfied with what I have been driving since 2004 so am planning to stick to the same brand But a bigger car with automation gearbox.
The new Superb is itself 75kg lighter and that means fuel efficiency has also gone up (14.67kmpl for the DSG, 14.12kmpl for the diesel). Interestingly the manual petrol peaks at 320Nm of torque while, to account for the torque limitations of the DQ-200 7-speed DSG gearbox, the automatic petrol has been detuned to 250Nm (though power remains the same). Overall, third-gen Skoda Superb simply approves its old recipe of space, pace and grace. There's practically nothing to dislike about the car, save for a slightly gruff engine note. There's enough space for five occupants, and the massive 625-litre boot will swallow their luggage whole as well. More than anything, it is phenomenal value-for-money. : By Zigwheels | 1 year ago
Skoda superb is an excellent vehicle with its power and performance all together a great package, where luxury meets the performance with power there comes the masterpiece, go for 2.0ltr engine options : By HEALTH | 2 months ago
Q. Is Superb 2019 coming with virtual cockpit?
Check this out - Skoda Octavia gets Virtual Cockpit, Coming Soon on Superb and Kodiaq!: https://www.zigwheels.com/news-features/news/skoda-octavia-gets-virtual-cockpit-coming-soon-on-superb-and-kodiaq/32148/#leadform : By Zigwheels | 1 year ago
Q. I'm planning on buying a preowned sedan. While considering City and Verna being priced around 7-8 lakhs for a better variant, I found 2010 or so year's Skoda Superb around the same price category. Would it be a good option to opt for an old Superb?
All the above mentioned cars are good and have their own forte but it would be unfair to bid a value here as it depends on physical condition of the car, KMs driven, no. of owners etc. Here are some points that needs to be checked before purchasing a used car. 1. Do check the services and insurance record of the car to know about the car condition & damage areas. 2. Let the car be parked into an open space, avoiding shadows with adequate sunlight falling on the car & check for any dents and repair work. 3. Step inside and check the interiors and monitor the overall features and details on offer. 4. Get the car checked with the authorized service center to know about the car condition. 5. At last take a test drive & don't forget to bargain over the price to grab a best deal. : By Zigwheels | 1 year ago
No , its maintenance is too heavy you cant afford it, spare parts and service will cost you 50k to 70k per year, brand value and build quality is awesome, skoda is a extraordinary brand with its dsg transmission,if your priority is for security, safe and performance go for German vehicles, if your priority is mileage and maintenance go for Maruti, tata ,Hyundai : By HEALTH | 2 months ago
I would suggest you to go for Honda or Toyota... second hand skoda will be much tough and expensive to maintain. : By Vishal | 3 weeks ago
Q. 1.We have heard lot about poor after sales for Skoda Superb? Is it True? 2. What about Audi after sales? 3. I have heard that DSG 7 used in Skoda Superb had lots of concerns. Have they improved it?
DSG 7 in Skoda or VW all are somewhat problematic and expensive. But, it's improved a bit now.,if serviced well and taken care of. Especially as far as Skoda goes, it is a precious care and definitely after sales is quite few due to networking and recently it is also improved alot. Hereafter Skoda has a proper network, so u can go for it. I would suggest go for Skoda manual variant rather than auto, for both efficient and long-term point including avoiding hitches and problems. : By Andrew | 1 month ago
We can't give any verdict on after-sale service as it depends on service center availability in your locality. If we talk about DSG, yes, there were some issues in DSG DQ 200 but now, those issues has been resolved as Skoda has introduced DSG DQ 250. : By Zigwheels | 11 months ago
Not improved , its refined totally to BMW 5 series equal : By HEALTH | 1 month ago
Q. Has anyone heard of a serious brake pad issues with the new Skoda Superb L&K 1.8 AT huge Knocking sound.
I have a Superb 1.8 TSI MT, purchased in Oct, 2018. Just after 1.5-2k kilometers I started getting grinding noise on braking. Got it to the service centre and they cleaned the disc and gave the car back to me. Again after a few months and 2k kilometers I started getting same issue. Went back to the service station and they have told to replace the brake pads and disc under warranty. Hopefully I won't get this issue again after replacing the pads and discs. : By Anish | 5 months ago
As of now, we have not reported any such issue. If you are facing any inconvenience with the car, would request you to please visit the nearest authorized service centre to get it checked. Click on the following link to locate the nearest authorized service centre from your respective city. https://www.zigwheels.com/dealers/Skoda : By Zigwheels | 8 months ago
No...never... : By YOU | 7 months ago
All Superb Questions and Answers