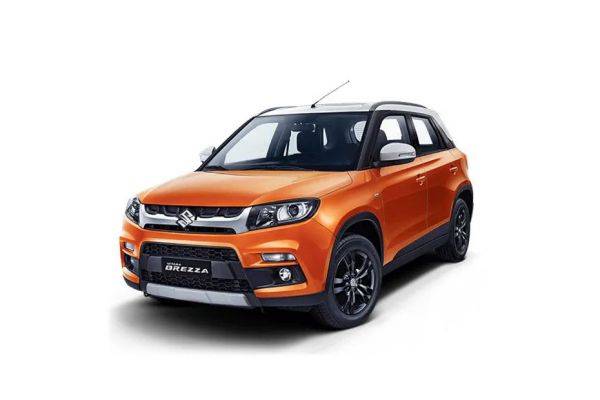 Maruti Suzuki Vitara Brezza 2016-2020
Rs. 6.00 - 7.12 Lakh
Discontinued Model since 24 Feb 2020
---
About Maruti Vitara Brezza 2016-2020
The Maruti Vitara Brezza is a leading compact SUV stacking under 4-metres of length, with a huge lead over its rivals. The Brezza has got all the right ingredients on styling and this Maruti looks every bit an SUV. The interiors of the Brezza are also sensibly designed and all the controls are placed well within reach. The rear bench offers plenty of space and the boot is quite spacious too. Maruti still offers the Brezza only with the single option of a 1.3-litre DDiS diesel engine that puts out 90PS and 200Nm, mated to a 5-speed manual transmission with an AMT option from the VDi variant onwards. The Maruti Suzuki Vitara Brezza offers incredibly high fuel efficiency figure of 24.3kmpl and the widest dealership network of Maruti Suzuki adds to the overall brand value of this compact SUV. The Vitara Brezza retails in the price range of Rs 7.24 lakh-10.49 lakh (ex-showroom, Delhi) and is challenged by the likes of the Tata Nexon, Ford EcoSport and Mahindra KUV 100.
Maruti Vitara Brezza 2016-2020 Overview
Afacelifted Maruti Suzuki Vitara Brezza sub 4-metre SUV has been spotted ahead of its launch in early 2020. The updated sub 4-metre SUV gets a handful of styling revisions such as a twin slat chrome grille like the bigger Vitara, new headlamps (possibly LED units), a tweaked front bumper and new alloy wheels. Inside, the updated model could come with an updated infotainment system.
The facelifted Vitara Brezza is expected to be a petrol-only model as Maruti Suzuki won't upgrade its diesel engines to meet BS6 emission norms. It could either be the 1.2-litre Dualjet unit (from the Baleno) or the 1.5-litre K15B engine (from the Ertiga). The Dualjet unit develops 90PS and 113Nm while the K15 engine puts out 105PS and 138Nm.
The Vitara Brezza facelift is expected to launch at Auto Expo 2020.
Maruti Suzuki Vitara Brezza 2016-2020 Colours
Fiery Yellow With Pearl Arctic White

Blazing Red With Midnight Black

Autumn Orange And Pearl Arctic White
Cars Similar to Vitara Brezza 2016-2020
Must Read Questions & Answers Before Buying Vitara Brezza 2016-2020
Q. Can we sit 4 members in back row?
The front seats too are comfortable with good side bolstering and the new seat fabric looks more upmarket. At the rear, the wide bench makes it reasonably comfortable for three adults, with a good amount of knee and headroom on offer. Although boot space at 328 liters isn't class-leading, the bay is well-shaped and you also get 60:40 split-folding rear seats for added practicality. You also have loads of storage spaces, like the twin gloveboxes, storage under the center armrest, and big front door pockets.Read more:- 2020 Maruti Suzuki Vitara Brezza: First Drive Review
No,not even if 3 are kids.
Yes very comfortably
View All Answers
More Questions
Q. Why tata nexon is not better than vitara brezza?
Nexon looks like an upgraded Indica, well most of the tata cars do. Brezza looks more close to a proper SUV. 4 cylinder engine vs 3 cylinder is always debatable. But Suzuki is known for its refinement.Maruti cars age grace fully, and a torque converter automatic is definitely better than the one offered in Nexon.Nexon is still the best alternative to Brezza, I have booked a Brezza automatic Top end and I am waiting eagerly to get it in my parking.
Tata's build quality has always been strong, we all know this, although I agree that the Brezza is better in terms of service But the question is will you take the Maruti's Brezza to the service center repeatedly because of weak build quality or skip many months without servicing of Nexon due to strong build quality of Tata.
Does maruti make own engine?they are using Fiat engine from last 15 years. and you are talking about refinement. brezza has lower ground clearance than mein. brezza is just a waste of money. no good music system no quality driving and no ruggedness. but Tata has all and everything. Think and collect information before saying Nexon an indica
View All Answers
Q. Which is good car between Nexon and Brezza
Go for BREZZA bro....!! Don't buy a TATA car at all....!!! Yes, it's true the looks and features we became so much fan off, were not so smart features after all. In plain and simple words the common-sense was totally missing from this vehicle.! Yes, you read it correctly, the common sense is not their at all in TATA NEXON XZ+. First, the Dancing Mirrors…! Scenario:- You just came out of your home and stepped in your car ….……as soon as you will push the "Start/Stop(SS) Button only once…….your rear blower will start……? Dude I am sitting in the front…….you should have started the front blowers….? As mostly it's single passengers sitting in the Cars………so why the hell in the world you are starting the rear blower first.? Strange it is……! Then for the Front blowers you press the SS button once again……okay the Ignition is "ON" now, with front blowers….Good…….but why the hell the Side View mirrors are opening……? I have not even started the car yet and maybe I was just not going to go anywhere at all………but why the Side View mirrors are opening if I am not going anywhere.….? Talked to TATA MOTORS……they said it's a Welcome feature in Top variant……so can't do much about it…! Okay, then I closed the Rear view mirrors by pushing the inner controller downward….cool, they are close now. Now, I start the Engine to go to my office by pressing the SS button(along with Clutch) third time, engine starts….perfect…….Side View Mirrors open again…? Dude you just lost it…….It's insane……I am such a driver that never uses the Rear view mirrors, and always do the lane driving…….! So, TATA engineers should have given some sort of disabling mechanism for Side View mirrors' traumatic dance moves again n again……! Keep it simple guys and don't make a mess of such AI integration…….we are humans and we don't need such repeated welcomes by our daily ride……just for starting engine…….twice……jeez.! Mockery of the SS Button? Suppose you have just reached somewhere, want to Stop the car engine, and simply need to wait for someone……….and keep the Blower/ Fan "ON"……….dude you need to press the SS button three times…….! Just to "Stop the Engine and keep the FAN ON". Let me do it for you…….First SS Button press shuts the ENGINE OFF(along with Ignition+ FAN+ Rear Blower-everything "OFF")……….Second Press, re-starts the rear blower…….Third press, re-starts the front blower / fan for you…….now you can wait for your someone.……! TATA engineers could have just Shut the Engine off and kept the Fan/ Blower running in the single press…….isn't it simple and easy……! But TATA don't want you to wait for anybody in your car…….specially with your fan "ON". Or be ready to press it three repeated times…….! Second, the Central locking……again without common-sense….! Guys, you're just not safe in TATA NEXON specially the XZ+ model….yes the top variant is specially designed for only those people who have enough of money to be targeted by robbers again and again……! Don't believe me…….just trying stopping at any red-light and ….and……and don't try to STOP the engine……….ever……ever……ever…….forget the fuel economy / environment pollution / fuel conservation…………don't Switch OFF your engine at any cost…….Because, the moment you will do this…….NEXON has opened all the four gates for your being vulnerable to robbers outside your car…….! THIS HAS BEEN THE MOST SHOCKING OF THEM ALL…….! It's been one month now…….I never switched off my engine at any red-light or anywhere other than my office or my home………I FEEL SCARED…….IN NEXON XZ+. AS I CANNOT TURN OFF MY ENGINE ANYWHERE AT ALL…….I MUST, IMMEDIATELY PRESS THE LOCK/UNLOCK KEY DOWN BELOW TO RE-LOCK ALL YOUR DOORS…….AND JUST HOPE THAT YOU ARE FAST ENOUGH THAT NO ROBBER/ MOLESTER / RAPER HOPPED IN YOUR CAR YOU WILL START FEELING SAFE AGAIN IN YOUR CAR…! Third…….only until you open your drivers' door unlock lever…….!? Yes, I travel mostly alone from my home to office and then back…….! The moment I open my(driver) unlock lever….all the doors will open……? Dude this is not Central locking……! If I need to open all the doors I will use the Lock/Unlock Button on the front console…….! I am just opening my Doors lever to unlock and TATA has once again left you completely vulnerable……by opening all four doors……! You can also add My Laptop on the Back seat, lying their with all Car gates open…….for the uninvited snatcher…….….just waiting to be picked….…….jeez…….….I'm once again scared, even my laptop is scared now….….! Now you know….why I told that common-sense is missing in this Car.! Fourth, You cannot leave your Elderly people inside the Car…… in a NEXON XZ+. Yes, don't blame TATA for this……….you should not bring any Non-technical(or not so tech friendly people along with you in the NEXON car)……….or teach them to immediately press the Lock/Unlock key(on Dashboard) for closing all doors & for their own safety. Scenario:- My father/ mother both senior citizens, sitting in the car….me driving ….okay. Now, I stop for a moment to bring something from the Market enroute……they both are still sitting within the car…….! I think I should leave them with atleast fan/blower "ON"…….or they may suffer due to lack of ventilation / air.! So, the Ignition is kept "ON"….so the blower can work…….Now you stepped out of the car, you just pulled your door unlock- lever…….once again all the doors are open………….immediately teach them to press the Dashboard Key with "Lock/Unlock" Icon on it………because even if you are carrying the Key in your pocket…….and you try to lock the Car by the key in your hand from outside…….all the doors will remain open as the Ignition is "ON"….! What good is the Mainkey button Lock when the Ignition is "ON" – NO Good.! Only way to close "ALL" the doors in such a scenario….make your not so Tech-friendly old parents….learn some tech finally….…….as TATA has once again left them totally vulnerable from outside attacks………! I hope you are getting to the main issues, I'm trying to highlight here……….! Mileage………please don't ask…….not atleast me….please.….! My car has just ran 500 Kms in total run…….and the average shown in the meter for that 500 kms is 10.0……………….! Yes, the Trip meter which I never reset right from the start………is showing the average of 10 kms for the whole life distance of 500 kms……! Forget the claims TATA motors / or ARAI did for 17 kms average……! You're most welcome to see my Trip meter with 500kms total Car run at 10.0 kms average.! Live example for you to see. I had a word yesterday at my Dealer he simply said please don't go with the Meter gauge…….they do not show the true picture…….! Go for full –tank and then do the Mileage calculations. I mean okay……but didn't he meant to say that the Tata Fixed our NEXON vehicles with Faulty Meters….? On inquiring further he said he is a New joiner from SKODA Motors….………and he agreed that my above mentioned points are very valid and their must be some way to disable them through some computer setting….……."but the actual person who can do this is not present now"…………so maybe tomorrow he replied…….……….when the engineer will come they will inform me…….!
1.Nexon is styled car , powerful engine on paper , Filled with fancy items , Consistent .performance or mileage cant be expected. Poorest service support in india. (Indian made Chinese product).2. XUV 300 new era SUV which has forced all compact SUV makers to improve the models. Best safety features , Beautiful design , Powerful silent engine. Moderate mileage. Good car.3. Brezza is best design & look , Super mileage , Best service support in india .The engine is 1248 cc only but it makes magic. You can simply choose the car. My choices are XUV 300 or Brezza
Now the winner is nexon as a compact SUV 5 star safety features. see answers above. Breeza is undergoing a make over so can wait Breeza don't have a petrol engine now.soo for safety and features with engine options and different drive modes nexon can be a better buy thanks .
View All Answers
More Questions
Vitara Brezza 2016-2020 Questions and Answers
Maruti Vitara Brezza 2016-2020 User Reviews
4.1/5
Based on 1452 rating & 388 reviews
Review your vehicle & win ₹ 1000
All

Mileage (61)

Comfort (47)

Power (34)

Performance (32)

Looks (28)

Engine (27)

Maintenance (24)

Safety (18)

Price (16)

Experience (12)

Ground Clearance (12)
Before brezza we have alto

Before brezza we have alto 800 lxi small but quick, Switching to diesel cross-over with such spacious cabin very smooth ride on bad roads and great fuel efficiency are the charms of this vehicle but being a diesel the engine do not have much punch, After taking delivery when we went on a 100 and more k.M.Ride my father was riding the car and i was saying to him "papa thoda toh teez chala lo mana nayi gaadi h pr teez chalane se ise kuch nhi hoga" and my father said that he is driving it the way he drove the alto, For some days i felt a very slow pickup but with time i determined that charater of diesel the engine is not too slow it will give you a enjoyable ride, But its not meant for a performance freak, The torque in this vehicle is bonkers.Cabil is not that modern but you will not get boared it is ok sitting inside make you feel like sitting in a pajero, All the bonut is visible, Cabin is airy, Build quality is ok as it has maruti dna.But the maintenance is very less in this vehicle highest mileage we got till is 26.7 kmpl.In a budget its a mind blowing family car.Thank you.

3.7

Diesel variant

Awsum and seductive with affordable maintenance services costs.But mileage difference is too much in diesel variant if comparing mileage given by company vs on road mileage either city or highway besides this body parts are not as per standard bcoz they starting making noise within 2 years only whether it is doors, Dashboard and can't beleive my steering also makes noise while driving and rotating.The balls in steering rack has been cutting in 2 years.Don't know why.In 3 years i just drive only 43 km and this is respond of car on all parameters despite of deep care of car from washing to polishing and timely service of car every time from authorised dealers only after that this is what i have received by purchasing 11 lacs car which is top model dual tone with automatic gearbox transmission.So bad for me.

4.3

Superb experience

I really had a superb experience with my vitara. Although offroading was a tough on it went pass through it while tearing off my lower body guards. Everything is excellent with the brezza but a little weak in performance on hills other then that it really cruises around on perfect soiled roads. One thing I would like to see on future upgrades is the ground clearance with 200 mm, with bigger alloy size like 17 inch, rear boot space should be expand by increasing length width breadth of the car while adding more bold looks like the old grand vitara with sunroof led tail lamps offering LCD touch and keyless on 2nd top models and not only do plus options. The rest its perfect

4.3

Good car to drive in

Good car to drive in city as well as on highway, I have zdi model, it misses out on one featus automatically folding mirrors witch I think would be handy in heavy city traffic but it has good visibility please and also has a big mirrors to have good view behind. car is also good to drive on long route and it's very comfortable, but if your are a kin drive you will come to know that it's under power in ghats section, and also feel a bit nurvousness at higher speeds more then 120km because the staring becomes lighter and shakes a bit on a minar road patches. but it has a good bild quality and also has a good mileage of 24kmpl if driven properly😁.

4.3

Maximum mileage

Best car in terms of price.If some one maintain the car it will give the best performance.Overall handling is very good.Comfort is descent.Mileage is the best part, Maximum mileage we achived 28kmpl.Overall good car.I changed all the four tyres at 1lack + kms.The stock tyres lasted 1lack + kms.As per the service centre we have to change the timing belt at 1lack + kms.One suggestion for every brezza owners: refuel the car before the warning light turns on because if you run the car at low fuel it will damage your high pressure pump which costs around 40, 000.
Maruti Suzuki Vitara Brezza 2016-2020 Expert Reviews