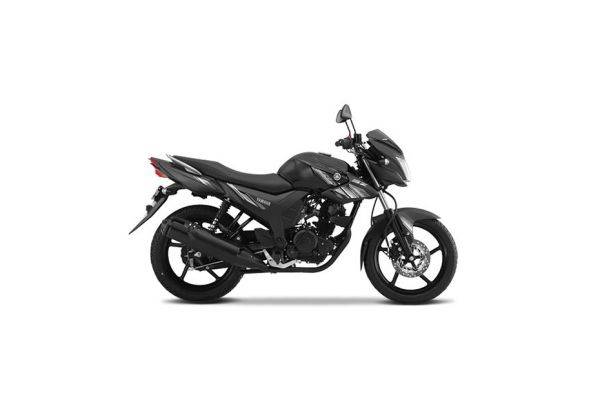 Yamaha SZ-RR
Rs. 49,000
Discontinued Model since 30 Nov 2019
---
About Yamaha SZ-RR
The additional features of the SZ-RR aren't much relevant when compared to the SZ-S as it doesn't justify the Rs 3,000 premium it commands.
Yamaha SZ-RR Overview
In a bid to comply with upcoming safety norms, Yamaha is set to update its 125cc+ bikes with with ABS. The Yamaha SZ-RR Version 2.0 is likely to receive a single-channel ABS unit so that the price doesn't go up too high. At present, the Yamaha SZ-RR Version 2.0 costs Rs 69,303, ex-showroom Delhi. Expect the bike with ABS to be around Rs 5,000 more expensive than the standard model.
Must Read Questions & Answers Before Buying SZ-RR
Q. How much is reserve petrol capacity & actual mileage of Yamaha SZ-RR?
Actual tank capacity is 14 liters, 12+2, jam getting 43kmpl while full tank, if I check with 1 liter after reserve jam getting 50kmpl, I don't know why.
1-2 lt reserve and actual mileage depends on speed and maintenance and tyre and weight but can say 45-50km
Yamaha SZ RR V2 Total 14.75 liters tank and in that 2.75 was reserved. I'm getting around 60 kmpl mileage by maintaining economy speed .my trip ride was 880kms to burn a full tank(14.75lts)
View All Answers
Q. Is there any heating problem in SZ RR V2 during long ride - SZ-RR?
I own one from past 3 years. Still commute with it and go for 200kms ride for sometime. Heating issue doesnt totally depends on manufacturing company. it max depends on the engine oil you're using. In SZrr go for motul 20w-50. Best for SZ. And also renew it as per the engine oil life. don't overuse it. Or it will harm the engine
I have been owing sz X since Oct 2010, there is no heating issue in engine ( provided you dint remove the yrcs kit) I drove to Trichy from Chennai twice 350 KM's no issues in engine till date. past ten years only wear and tear issuses.after realising the amazing engine reliability, I completely restored my bike 70000kms and still going..
I've traveled 150+ kms on my szrr and that too within three hours. Blv me this bike is crazy and no heating issues at all.
View All Answers
Q. What is the fullform of ABS? is necessary for new bike - SZ-RR?
ABS is the short form of Anti-lock Braking System. It essentially slows down the motorcycle without locking up the wheels while braking hard. There are wheel-speed sensors which detect wheel lock, and control unit pulsates the caliper pressure instead of simply letting it hold the disc brake. We feel ABS is necessary in any motorcycle as it's a safety feature which considerably improves braking, especially on wet roads. Moreover, Indian roads are full of uncertainties, and panic braking can happen at any time. ABS is a lifesaver in such situations.
ABS stands for Anti Lock breaking system.It prevents the bike from sitting while panic breaking.. And it is mandatory from June 2019
Anti lock breaking system, but no for Sz rr
View All Answers
More Questions
SZ-RR Questions and Answers
Yamaha SZ-RR User Reviews
3.9/5
Based on 495 rating & 156 reviews
Review your vehicle & win ₹ 1000
All

Mileage (26)

Comfort (23)

Engine (20)

Performance (18)

Maintenance (15)

Looks (13)

Service (10)

Maintenance Cost (10)

Power (8)

Parts (7)

Tyres (6)
3.4

1sy servicing

Good for daily commute. Like the rising position and the shifting is smooth. But the After sales service of Yamaha is pathetic. After 2days of purchasing, my bike had started to give problem. It stops automatically after riding 100 - 200 meter. Did not receive any help from the service centres for 2 days. The problem was fixed but they didn't reveal to me what was the actual matter. After 1sy servicing I had noticed that a little amount of engine oil was deposited above the engine but when I visited the service center they told me that there was no leakage but unable to tell me where the engine oil came from. And I wasted my 2nd free servicing voucher there. In 3rd servicing , I again complained about it as engine oil started to pour on the ground beneath the engine when I parked my vehicle. This time they changed my tappet cover but the problem was not solved. The service adviser as well as the mechanic were not in the mood of listening to me. Then I shifted to local garage where the mechanic changed an oil seal and solved the problem. Till then, I have visited service centre various times whenever I need any parts but never got it in one visit, even the rear view mirrors too. Today I visited again for the handle grip as they were worn out but even those are not available there. I understand that it is not possible to make available every part but the behaviour of every personnel is very poor . They are stubborn guys. No matter whatever problem the customer is facing but they will only do whatever they want too. Simply pathetic again.

3.0

Looks not good..seating design could

Looks not good..seating design could have been way better, though quite comfortable..side design on petrol tank with dual tone looks awkward and ungainly..coming to the headlight, its the worst, horns work good, needs choke often during start, braking in adequate, with good grip, front tyres are very very thin, not expected in a 150cc bike..body paint quality is cheap..no storage spaces..seats are not fixed properly, moves slightly, gears are not sleek, gives a thud, engine starts crying after 70kmph though it can go upto 100+ kmph..handling is good..silensor sounds little cheap..

3.8

150cc segment

The most under rated in 150cc segment.Turns out to be exellent in terms of riding comfort When you are used to riding a bike of this segment.Then you feel there is something extra in the throttle.It out does pulsar 150 or apache 160 anytime on road.Little disheartened when it got discontinued.This bike deserved a big time upgrade.Only downfall for this bike i felt was it needed bigger disc brakes.Apart from that its exellent.My average commute in a day is 60-180kms since i am in a marketing job.It has been five years but i am still in love with this beauty.

1.8

This bike headlight is really

This bike headlight is really bad if you r driving in night in busy road and the tyre they provide is really bad as it does not have proper grip or contact with the road. secondly the service center whenever you take they will everytime ask you replace as thy don't want to repair or clean any thing they just wanna to make money and do the service as fast as you can. I m not sure that whether they are changing engine oil or not just because whenever I took they will ask me to change and they will do but don't know whether they actually do or not.

4.6

Bybre brakes

Very light good ground clearance, good for daily commute, maintenance is less on this bike. I did 38000 km with small trips(300-400 km up and down). Changed both tyres to Michelin, ByBRE brakes, Battery once post 30km...Mileage all depends on how you ride at time for me it was low around 28-32 after recent servicing at Yamaha showroom. It gradually increased and now it's giving 40-42.
Yamaha SZ-RR Expert Reviews

We do a specification comparison of the new Yamaha SZ-RR V2.0 with its competition to see how it fares
October 27, 2014
By Team ZigWheels