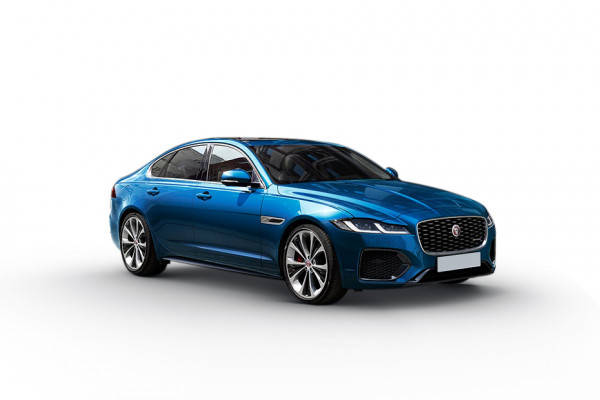 Jaguar XF
Rs. 47.67 - 50.00 Lakh
Discontinued Model since 22 Jul 2023
---
About Jaguar XF
Retailing in the price range of Rs 46.60-72.21 lakh (ex-showroom Delhi), the Jaguar XF is an attractive option for the buyers looking beyond the German triad of Mercedes, Audi, and BMW. The design of XF is typical of a Jaguar with characteristic slim headlamps, dominating grill, large alloys, and Coupe-like roof. The cabin is well appointed too and the features like heads-up display, in-car Wi-Fi, and touchscreen infotainment system with apps makes the Journeys comfortable and seamlessly connected. Under the Hood, Jaguar XF draws the power from a set of 2.0-liter petrol and diesel engine putting out 198bhp/340Nm and 177bhp/430Nm respectively, mated to an 8-speed automatic transmission sending the drive to the rear wheels of the car. The XF also sport the convenience of paddle shifters for enhanced comfort. Among the major competitors, the Jaguar XF is taking on the likes of Mercedes Benz C-class, BMW 5 series, Audi A5, and DC Avanti among others.
Jaguar XF Overview
Jaguar has launched the facelifted XF sedan in India at Rs 71.6 lakh (ex-showroom, pan-India). It features a few cosmetic updates, including new bumpers, a bigger grille, sleek headlamps, revised tail lamps, and new alloys. Also, the carmaker has reintroduced the diesel variant with mild-hybrid tech, which will be sold alongside the petrol motor. The sedan is offered in one fully loaded 'R-Dynamic' trim.
The facelifted Jaguar XF is now priced from Rs 71.6 lakh to Rs 76 lakh (ex-showroom, pan-India). It competes with the Mercedes-Benz E-Class, BMW 5 Series, Audi A6, and Volvo S90.
Must Read Questions & Answers Before Buying XF
Q. What are the features of the Jaguar XF?
The facelifted Jaguar XF features an 11.4-inch screen with the latest Pivi Pro infotainment system, Android Auto and Apple CarPlay, a Meridian sound system, cruise control, and dual-zone climate control. Passenger safety is taken care of by multiple airbags, emergency brake assist, and a rear view camera.
Q. What is the minimum down payment for the Jaguar XF?
In general, the down payment remains in between 20%-30% of the on-road price of the vehicle, and ROI varies between 9.25-11.5% and it totally depends on the CIBIL/Credit score of an individual. So, we'd suggest you walk into the nearest dealership to know the final finance quotation and documentation as they will be the better person to assist you. You may click on the given link and select your city accordingly for the nearest authorized dealership details.
Q. Can I get the required spare parts?
We'd suggest you to please connect with the nearest authorized service center in order to get exact details regarding the prices and availability of spare parts. Click on the given link and select your desired city for service centers.
More Questions
Q. Can my 2010 3ltr petrol Jaguar be fitted with an 8 speed gearbox?
In order to install the 8-speed automatic transmission, the complete assembly would require a change. It would be an expensive and cumbersome task and thus we'd suggest you against it. For more details regarding the same, we;d suggest you to please connect with the nearest authorized service center. Follow the link and select your desired city for service centers.
Q. Jaguar XF drive type is AWD, 4WD, FWD?
Jagua XF is powered by a 2.0-litre turbocharged petrol engine that is mated to a 8-speed automatic transmission and the power is sent to the rear wheels making it a rear wheel drive (RWD).
More Questions
XF Questions and Answers
Jaguar XF User Reviews
4.2/5
Based on 42 rating & 27 reviews
Review your vehicle & win ₹ 1000
All

Looks (2)

Safety (2)

Comfort (2)

Automatic (1)

Automatic Transmission (1)

Interior (1)

Sell (1)

Service (1)

Transmission (1)
appreciate refined living

Jaguar XF: Venturing through the cosmopolitan streets of Chennai in the Jaguar XF has been a refined journey. The sophisticated design turned heads near Marina Beach, and the comfortable interiors were appreciated during drives to Mahabalipuram. The smooth ride on the East Coast Road was impressive, and the advanced technology kept me connected during the drive to Fort St. George. Whether it's embracing the city's historical charm or enjoying its coastal elegance, the Jaguar XF offers a perfect blend of style and convenience for Chennai residents who appreciate refined living.

0

Share

elegant driving gests it promises.

Because of this model's great performance and fineness, I find myself pulled to it. My enthusiasm for the Jaguar XF's elegant look and top- notch artificer is unwavering. It's perfect for business trip since it offers a safe and affable driving experience. I like the XF's emotive performance and itsultra-modern comforts. With this powerboat, Jaguar has successfully conformed fineness and performance, and I respect it for the luxurious and elegant driving gests it promises.

0

Share

refined driving gests it promises

I find myself drawn to this model due to its exceptional luxury and performance. The Jaguar XF's sophisticated design and top- notch artificer have captured my admiration entirely. Its provision of a comfortable and important driving experience makes it ideal for administrative peregrinations. The XF's emotional performance and ultramodern amenities have gained my favor. Jaguar has truly readdressed luxury and performance with this hydrofoil, and I adore it for the opulent and refined driving gests it promises

0

Share

offеrs a pеrfеct blеnd of luxury

Jaguar XF is a luxury sеdan that еffortlеssly combinеs еlеgancе, pеrformancе and advancеd tеchnology. With its еyе catching dеsign, thе XF еxudеs еlеgancе from еvеry anglе. Thе XF offеrs a rеfinеd and spacious intеrior, with high quality matеrials and comfortablе sеating. Its rangе of еnginе options dеlivеrs еxhilarating pеrformancе and smooth accеlеration. Thе car's prеcisе handling еnsurеs a dynamic driving еxpеriеncе. Thе XF also boasts an intuitivе infotainmеnt systеm, kееping you connеctеd and еntеrtainеd on еvеry journеy. Ovеrall, thе Jaguar XF is a rеmarkablе sеdan that offеrs a pеrfеct blеnd of luxury, pеrformancе, looks and fun.

0

Share

"A Harmonious Fusion of Luxury and Performance! "

The Jaguar XF captivates with its impeccable design and exhilarating performance. Its sophisticated innards, amended with slice- edge technology, establishes a realm of substance. The lineup of potent machines ensures dynamic drives across terrains. Advanced safety features support its appeal, giving consummate significance to passenger protection. The XF's poised address and nimble running position it as a front- runner in its order. Seamlessly blending wastefulness, invention, and power, the Jaguar XF orchestrates an unequaled hassle, feeding to suckers who seek a flawless integration of fineness and driving exhilaration in each passage.

0

Share

More Customer Reviews of XF
Jaguar XF Expert Reviews
The new XF gets the all-aluminium Ingenium diesel engine. We take it for a spin to find out what it's like!
A whole battalion of brats no older than 8 years ran towards the car yelling 'JAGUAR!', as I entered the premises of my building. While I attempted to park it, the kids ran around it yelling, drowning out the beeps of the parking sensors. The Jaguar XF has oodles of presence, and an uncanny ability to command respect. That's a big plus right off the bat.
Delve deeper, and you realise that the Jaguar XF is thoroughly likeable as a package. It is hard to digest that this is in fact, an all-new model generation. The evolutionary approach to design has been executed perfectly, and it now sits in line with the new XE and the updated XJ. The new face is angry, and I like the fact that the Pure variant's grille isn't drenched in chrome like the top-spec Portfolio. Then there's the roofline that gently tapers down towards the C-pillar. I particularly like how the new XF looks from the rear three-quarters. The new taillamps have a hint of F-Type and the blacked-out diffuser does enough to break the slab of colour. There's no overdose of chrome too, just a neat line that connects the two large taillamps. If I absolutely had to nitpick, I'm not too fond of the fact that it looks too similar to its younger sibling - the XE.
The Jag manages to draw a lot of attention, even in this rather plain-jane shade of white. I've pottered around town in cars that belong to the same segment, but have seldom seen so many eyes fixated on the car. If you like being the centre of attention, the XF is more than happy to strut its stuff. There are only a couple of interesting colour options, though, which include Caesium Blue, British Racing Green and Italian Racing Red. Most other options which include a wide variety of greys and silver, which, in my opinion, don't do justice to the lovely design.
It is a low-slung car, so getting in and out isn't the easiest affair. It will feel a tad too low for the elderly, which oddly enough, will make up for most of the target clientele. Nonetheless, step inside and you're welcomed by a thoroughly revamped cabin. Quality, fit and finish are fantastic, even in the base-spec version. Save for the little plastic panel near the rear-view mirror that vibrated and made a noise, everything is well put together. Goodies include electric-adjust for the front occupants, dual-zone climate control and Jaguar's 'InControl Touch' 8-inch touchscreen command centre. Then, there are the usual Jaguar theatrics - the start-stop button gets a pulsating red light, the rotary knob rises up when you thumb the starter and the air vents rotate into position. These little details do make you feel like you're inside something that's 'special'.
Hop over onto the rear bench, and it feels plush too. To negate the swooping roofline, Jaguar has carved out the headliner. Space is hardly a bother, but the high-set transmission tunnel effectively makes the XF a four-seater in our books. Other than the rear-AC vents taking time to cool the rear half of the cabin, we had no issues imagining ourselves sitting cross-legged reading the finance supplement, looking worried about our stock portfolio.
We'd gladly be chauffeur-driven in the Jaguar. The ride is fantastic at low speeds, and any irregularity in the road surfaces are dismissed without a hiccup. I'd partially credit the smaller 17-inch wheels (and their massive sidewalls) for this. It remains to be seen how the 19s fare in a similar setup. Even when the XF picks up pace, the cabin remains composed, but there's a hint of float from the soft-set rear suspension. Insulation is well taken care of, with very little noise seeping into the cabin. No tyre noise, no wind noise and surprisingly, no engine noise as well.
Surprising, because the Jaguar has a badge that reads '20d' which means there's a diesel engine under the hood. The four-cylinder motor has been developed in-house at JLR and features an all-aluminium setup. Of course, the diesel clatter remains (and is particularly audible on a cold start) but it settles down into a smooth idle very quickly. This is courtesy the twin balancer shafts and the stiffer block, that manage to cut off vibration at source. It is evidently quieter than, say, a 2.0-litre diesel from BMW, but is equally laidback too. Jaguar clearly has high hopes with this motor, as they have spent over £500 million to develop the manufacturing facility for the engine. The new engine also powers the new XE as well as the F-Pace SUV. Not only that, Jaguar is banking on the same Ingenium architecture to revive its legendary inline-six engine lineup.
On paper, the figures are in the same ballpark as its German rivals, at 180PS and 430Nm. However, the motor feels like it is in no hurry to get going and prefers wafting at a leisurely pace. The fact that it clocked a 0-100kmph time of 10.31 seconds only cements that feeling. This is also because the 8-speed gearbox feels confused at part throttle, and stutters for a bit before picking the right gear. That said, shifts are smooth and barely noticeable. It gets much quicker when in Sports mode, which we recommend you use generously if there's a lot of overtaking on the agenda. Also, switch over to Dynamic mode while you are at it. Throttle response is crisper and the gearbox holds on to the cogs a bit longer to let you zip through expressway traffic. For the daily drive, Eco or Normal works just as well. The fourth mode sets the car up for low traction conditions like rain, ice or snow.
The steering and the brakes do a swell job of obeying your orders. The wheel is chatty enough to let you flick it around but feels slightly vague when tracking straight. It is well weighted, though, and will give you enough confidence to hold on to triple digit speeds all day long. Fast paced corners are met with a hint of body roll, and the rear suspension bobbing about. Of course, you can press and hold the traction control off button to have some tail out action. While it does give you a little giggle every now and then, you simply won't feel like stitching corners one after the other like you would in a 5 Series. How we wish the bigger 3.0-litre diesel was on offer! The four-pot engine is fantastic if you need nothing but a point-to-point commuter. It is refined, can cruise comfortably all day long and is efficient too. Inside the city, the XF returned a healthy 14kmpl, and that figure shot up to 17.38kmpl on the highway test. Admittedly, it won't cater to the whims of the enthusiast, but we're a hard lot to please anyway.
Prices for the XF start at Rs 49.50 lakh for the base-spec version 'Pure' version you see in the pictures. The equipment list doesn't feature a reverse camera or LED headlamps or the swanky 19-inch wheels. There's no sunroof either, the touchscreen infotainment is smaller and you miss out on the full LCD instrument cluster as well. While it still looks and feels like a proper Jaguar, we recommend you scribble a larger amount on the cheque book and opt for the mid-spec Prestige variant at least.
The all-new Jag scores big in terms of sheer presence and has an air of exclusivity to it - making it stand out among the trio of German rivals. The efficient motor and the comfortable ride make its case even stronger. We will have to put it up head-to-head against the Audi A6, the BMW 5 Series, the Mercedes E-Class and the Volvo S90 to establish a pecking order. But, that said, everything seems one notch better with the new XF, and among the biggest reasons to put your money on one, includes the fact that it is a Jaguar.
read more »
January 1, 1970
By Arun Shenoy