Rs. 99.98 Lakh - 1.53 Crore
(Showroom Price in

Delhi

)
View On Road Price

»
Don't miss out on the latest offers this month
Jaguar F-TYPE Specifications
Engine

1997 - 5000 CC

Transmission

Automatic

Fuel Type

Petrol

Max Power

443.8bhp@6000rpm

Seating Capacity

2

Drive Type

2WD

Body Type

Luxury

Ground Clearance

100 mm
Jaguar F-TYPE Features
Airbags (Driver, Passenger, Side Front and Side Rear)
Adjustable Front Passenger Seat
ABS
AC
Central Locking
Power Steering
Max Torque (580Nm@2500-500rpm)
All Specifications
Jaguar F-TYPE Car Latest Updates
Last Update - Dec 04, 2023
Jaguar has debuted the 2023 F-Type with a special edition variant that marks 75 years of the carmaker's legacy of building sports cars. This is the final update to the petrol-powered sportscar, and it's expected to arrive in India sometime in 2023.
The Jaguar F-Type is offered with two engine variants in India, P300 with a 300PS 2-litre turbo petrol engine and P450 with a 450PS 5-litre V8 unit. Both engines are offered with standard rear-wheel drive and the sportscar is available in coupe and convertible body styles.
Interior highlights include a 12.3-inch Interactive Driver Display, Meridian audio, 10-inch touchscreen infotainment system and 12-way electrically adjustable front seats.
Jaguar F-TYPE
Download Brochure , Discover more!
Download Brochure
Jaguar F-TYPE Price
F-TYPE price in India starts at Rs. 99.98 Lakh for the base model and goes up to Rs. 1.53 Crore for the Jaguar F-TYPE top model. F-TYPE comes in 4 variants with 10 colour options.
F-TYPE Price List (Variants)
Variants
Ex-Showroom Price
Compare

F-TYPE 2.0 coupe R-Dynamic

1997 cc . Petrol . Automatic

Rs. 99.98 Lakh

Ex-Showroom Price

View On Road Price

View December Offers

F-TYPE R-Dynamic Black

4998 cc . Petrol . Automatic

Rs. 1.37 Crore

Ex-Showroom Price

View On Road Price

Alert Me When Launched

F-TYPE 5.0 l V8 Coupe R-Dynamic

5000 cc . Petrol . Automatic

Rs. 1.42 Crore

Ex-Showroom Price

View On Road Price

View December Offers
No results found
Show More Variants
View Less Variants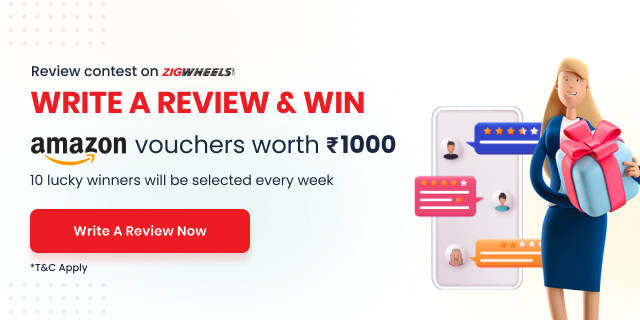 Jaguar F-TYPE User Reviews
4.5/5
Based on 16 rating & 23 reviews
Review your vehicle & win ₹ 1000
All

Mileage (1)

Speed (1)

Performance (1)

Looks (1)
Jaguar Lightning: The F-Type

When I first drove the F-Type I felt like I was piloting a fighter jet on the road. The F-Type is a sports car through and through from its powerful engines and rear wheel drive layout. During my test drive The F-Type's supercharged V6 roared to life and launched me forward with great acceleration. The steering felt direct and precise .Even at high speeds The F-Type felt planted and balanced. The minimalist interior focuses all your attention on the road ahead with a small display, simple controls, and two comfortable yet supportive seats.

0

Share

Elegance, comfort, and safety features

Jaguar F type is an amazing four wheeler that comes with a lot of amazing features and a very comfortable seats as well. It is a great car with very beautiful design and for off roading and also comes at a very luxurious price of 1.53crore . Along with that it also has a strong engine of about 1993 cc that is just amazing. Along with that it also has a great power. Hence its an fabulous vehicle with several feature making it the best. In my opinion it is worthy to buy for family vacations and flexing too.

1

Share

Sports Car Passion Meets Luxury

I'm actually impressed by the model's offer. Because of its outstanding features, I detect myself charmed to this model. By reconsidering derisions auto perfection, the Jaguar F- Type enables you to release your inner scrambler. I have been impressed by this model's capacity to give for others. Excitement is generated by its slick appearance and important interpretation. Driving is made instigative and polished thanks to the F- Type's dynamic running and exhilarating features.The car is in good shape and gets good mileage. It also looks nice.Car is good shape, gets good mileage, and has a nice appearance.

0

Share

An Automotive Marvel

The Jaguar F Type is an absolute gem in the world of motorcars, a true corroboration to unusual engineering. Its satiny, witching project painlessly commands concentration wherever it roams. Beneath its tasteful surface lies a range of redoubtable machines, from the sharp 2.0- liter turbocharged four- cylinder to the sonorous supercharged V8, delivering an stimulating driving experience. Its running is precise, and the steering is remarkably responsive, making every twist and turn an absolute happiness. Step outside, and you will be enveloped in luxury. . In summary, the Jaguar F- Type is a derisions auto that ignites passion in both its appearance and interpretation.

0

Share

exhilarating driving experiences.

Jaguar F-Type: Cruising through the modern landscapes of Bangalore in the Jaguar F-Type has been an exhilarating journey. The high-performance design turned heads near MG Road, and the luxurious interiors were appreciated during drives to UB City. The powerful engine and responsive handling on the Bangalore-Mysore highway were exhilarating, and the advanced technology kept me entertained during the drive to Lalbagh Botanical Garden. Whether it's city sophistication or enjoying dynamic living, the Jaguar F-Type offers a perfect blend of style and performance for Bangaloreans who seek exhilarating driving experiences.

0

Share

Luxurious characteristics

"with its emotive interpretation and significant machine choices, The jlr f-type provides an exhilarating lift experience.In light of the agent's character, The sum is respectable.The cargo is a reflection of its luxurious characteristics and high-interpretation capabilities.The exterior radiates truculence and delicacy, While the inside is driver-focused and comfy.The crucial machine elections, Shocking projects, And meliorated cabin are carried out by professionals.Drug users enjoy the f-type's arresting phraseology and adrenaline-inducing interpretation.Overall, The jlr f-type is a fantasy automobile for those who are looking for thrills and jargon.".

0

Share

Luxurious sedan with robusteng in options.

The Jaguar F-Type is an extraordinary sports car that effortlessly combines potent performance with refined sophistication. Its streamlined and aerodynamic design commands attention on the road, while the invigorating power beneath the hood leaves an everlasting impression. With its formidable engine options and impeccable handling, the F-Type provides an exhilarating driving experience. The luxurious interior boasts top-notch materials and state-of-the-art technology, ensuring ultimate comfort and convenience. While not the most pragmatic choice, the Jaguar F-Type is an alluring and visually captivating masterpiece that exemplifies automotive artistry.

0

Share

lеavе a lasting imprеssion on you.

Being a sports car lover, I like the Jaguar F-Typе that dеlivеrs an thrill and gripping driving еxpеriеncе. With its slееk and aggrеssivе dеsign, it dеmands attеntion on thе road. Thе F-Typе offеrs imprеssivе pеrformancе, thanks to its powеrful еnginе options and prеcisе handling. Thе roar of thе еnginе adds to thе thrill factor, crеating a symphony of powеr. Insidе, thе F-Typе's cabin is a blеnd of luxury and drivеr cеntric dеsign, providing a comfortablе and immеrsivе driving еnvironmеnt. Thе F-Typе is Jaguar's еxtraordinary sports cars that ignitе passion and lеavе a lasting imprеssion on you.

0

Share

More Customer Reviews of F-TYPE

Jaguar F-TYPE Images
Check out detailed
Jaguar F-TYPE image
gallery of this popular offering by
Jaguar car
here. Various detailed aspects of the car, including its features, powertrain, and underpinnings can be seen in the pictures here.
Jaguar F-TYPE Colours
Jaguar F-TYPE is available in 10 exciting colours options like Giola Green, Ligurian Black Saint Finish, Carpathian Grey, Eiger Grey, British Racing Green, Santorini Black, Firenze Red, Fuji White, Portofino Blue and Portimao Blue.
Compare F-TYPE with Alternatives
Jaguar F-TYPE Car News Updates
Jaguar F-TYPE FAQs
What is the price of the top variant of Jaguar F-TYPE?
What is the EMI of Jaguar F-TYPE in Delhi?
What are the top competitors of Jaguar F-TYPE?
What is the boot space in Jaguar F-TYPE?
What is the ground clearance of Jaguar F-TYPE?
The ground clearance of Jaguar F-TYPE is 100 mm.
What are the best financing options for Jaguar F-TYPE?