Tata Motors Nano Cars (3 Variants )(149,901 Views)
Ex-showroom Price :

1.43 to 2.00 lakh in Delhi Change City
| | | |
| --- | --- | --- |
| Upside | : | Price, Performance, Patriotism |
| Downside | : | Boot space, Reliability, NVH |
| Our Verdict | : | The Tata Nano is the world's cheapest car and it works without a fuss |
Help us to improve ZigWheels!
Report us if you find any issue in the accuracy of data or simply have a suggestion to share.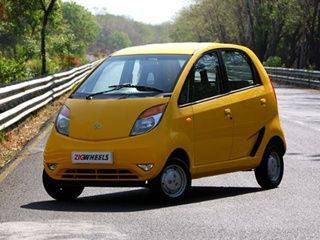 Loading image. Please wait
Editor's View : Tata Motors Nano
The world's cheapest car, and a technological marvel is one way to describe the Tata Nano. Its cute, practical and has single-handedly got the global car market to suddenly sit up and pay attention to what is happening in India. The Nano has benefited from various innovations in order for Tata to cut costs and price it in the range that they have. Its rear mounted engine and rear wheel drive set up offer great driveability and though one might expect it to be used as only a city car, it is...
Download Tata Motors Nano Brochure

Click here to download Tata Motors Nano Brochure
Our Coverage on Tata Motors Nano Cars in India
USED NANO LISTING
@ Rs. 140000; Kms:5500
@ Rs. 120000; Kms:15000
@ Rs. 107000; Kms:35000
@ Rs. 120000; Kms:1500
@ Rs. 120000; Kms:1500
Free Price Quote for
Tata Motors Nano