Yamaha MT-09: Introspection
Oct 13, 2017
Views : 34837
---
Sharp, unhinged, borderline lethal, is the MT-09 the last of its kind?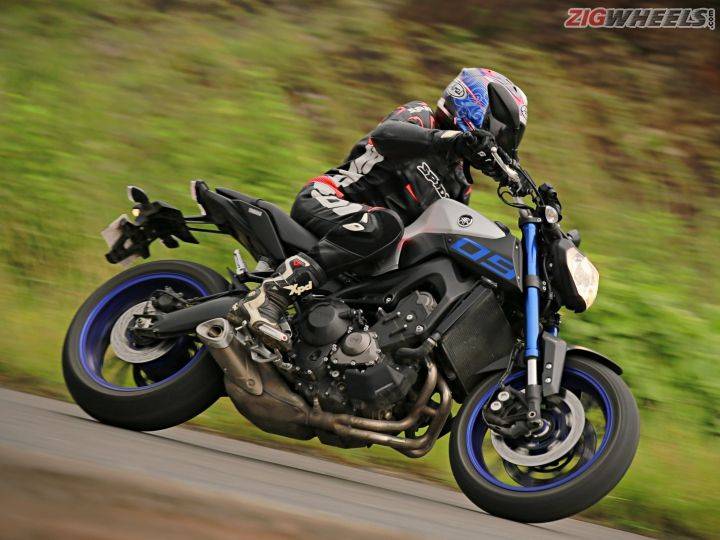 Motorcycles these days are too apologetic. With general consensus about their lethality, manufacturers seem to have succumbed to making bikes that coddle the inexperienced rider, often losing out on a key emotion of riding a large-capacity motorcycle: fear. Yesteryears bikes came with no safety nets, with the onus on the rider's skills to save his or her skin in hairy situations. And for this reason, they delivered an innate sense of satisfaction of having overcome death after every intense ride. Now, I have nothing against safety nets and believe they are essential to cope with the heady power that bikes make today. But, more often than not, these safety systems form layers that suppress the soul of the bike. That's why I didn't care much for the Kawasaki Ninja ZX-10R, but loved the Ducati Scrambler. Give me a no frills motorcycle, anyday. That's why I'm glad the Yamaha MT-09, even with its basic rider aids, is closer to the Scrambler in essence.
Now what we've got here is actually the previous generation bike, launched by Yamaha last year at the Auto Expo. But at EICMA 2016, the world got a brand new MT-09, bearing big design as well as mechanical changes. This older bike, only brought in as a CBU, was pulled out of showrooms as it didn't even comply with the more stringent BS-IV emissions norms. So, while we wait for the new one to hopefully make its way to India, we spent some time on this 2016 model in order to prepare us for the future.

Beauty is in the eye of the beholder
In design sense, this previous gen MT-09 is underwhelming. Its successor, already on sale abroad, gets styling cues derived from the absolutely mental MT-10. Even the silver and blue paint job feels toned down, though the blue anodised forks are a neat design touch. So, it's easy to understand why this bike doesn't get too many second glances. The plus side is, you can park the MT-09 on a busy road and not worry about it being swarmed by swooning admirers as would be the case with any other large-capacity bike. Another reason for its inconspicuousness is its compact size. The minimalistic bodywork and flat seat, with most of the visual mass concentrated around the engine, screams pure streetfighter. The exhaust, too, is neatly tucked under the swingarm. But as unassuming as the design might be, overall quality as well as fit and finish is impressive. What's interesting, is that the MT-09 offers a great base for customisations and you will see quite a few custom trackers and scramblers based on the bike online.

Switchgear quality is top notch with separate buttons for traction control, ABS settings and rider modes. The compact, white-backlit full-digital instrument cluster is mounted off-centre, and gets an rpm readout streaking across the top. It looks funky, but isn't easily readable and misses out on a shift light. Even other information on the dash needs more than a single glance to register. This includes the odometer, tripmeter, clock, fuel gauge, distance to empty, ambient temperature and gear position indicator. Again, a simple design allowed Yamaha to focus its energies on other important aspects like performance.

All-heart
At its heart is a liquid-cooled, 847cc in-line triple that makes 115PS of peak power at 10,000rpm and 87.5Nm of torque at 8500rpm. Yamaha has made the motor slim and compact to nestle it inside the slender frame. It has the same 78.0mm bore as the 2014 Yamaha YZF-R1, but features a larger 59.1mm stroke. The interesting feature of this 3-cylinder motor is its crossplane crankshaft, much like what we've seen on the YZF-R1 2009. This configuration keeps a 120 degree interval firing order that gives a smoother, controlled flow of torque.Thanks to this, the motor delivers good low and midrange performance. There's tonnes of tractability to be had, and when you really open the gas, there's a ferocious pull starting from 4000rpm all the way up to its 11,300rpm rev limit.

That said, refinement is surprisingly good with vibrations well contained even at higher revs. There is some inherent buzz from the motor, a trait of in-line threes, although at no point does it feel strained. The 6-speed gearbox has tall ratios, though the torquey motor allows you to
start moving in second gear from standstill. And if you refuse to upshift, the MT-09 will also cross 100kmph in first gear. This is one of the fastest bikes we have ridden, with the dash to 60kmph done and dusted in a scant 2.2 seconds, while the ton comes up in just 3.7 seconds. We're sure these times would be faster still if it wasn't for the front wheel aggressively trying to lift under hard acceleration, making us back off the gas a bit.

Hidden gem
Although there aren't many electronic assists as such, the motor does get three riding modes. 'A' mode gives you full 115PS with an aggressive throttle response. The standard (STD) mode also gives you 115PS, but with a tamer response. 'B' mode reduces power to 111PS with a softened up power delivery as well. All this is thanks to the inclusion of YCC-T or Yamaha Chip Controlled Throttle. It is Yamaha's own type of ride-by-wire system where the cable operated throttle is connected to a sensor in the air box that actuates the butterfly valves. The throttle feels direct but is slightly heavy compared to ride-by-wire units seen on other bikes. Another issue we felt was a lurch at low revs in 'A' and standard modes which makes it tricky to open the throttle from closed position when coming tight corners. It is also annoying in heavy traffic where the riding mode is best left in 'B'. This mode gives you a smoother throttle response with none of that caged rottweiler edginess. Performance isn't sacrificed much either. This mode is ideal for exploring other aspects of the MT-09 in peace while 'A' mode is best left for the track and open roads.

The MT-09 does get a basic, two-stage traction control system that can be switched off completely if required. Stage 2 is the most intrusive, cutting in sharply every time it senses wheelspin or a wheelie. Stage 1 just about manages to restrain the manic nature of the motor, and while this mode still keeps the bike fun, the system needs more refinement. Honestly, if you want to enjoy the MT-09 properly, it's best to switch off traction control altogether and leave the motor in B-mode. You'll still need to keep your eyes wide open though.
Even with all the performance on offer, fuel efficiency is fantastic for its class. We managed 25.85kmpl in the city and 23.82kmpl on the highway. That should give you a theoretical range of around 320km from its 14-litre fuel tank. But ride the bike hard and this efficiency drops down considerably.
In the city, the low down torque allows you to pull seamlessly in higher gear. You can potter around in speeds as low as 20 kmph in fourth gear, and this tractability shows in roll-on times as well. In third gear, 30-70kmph was dispatched in 2.34 seconds while 40-80kmph in fourth took just 2.64 seconds. On the highway, the motor always seems to have power on tap, regardless of the engine rpm or speeds. A twist of the wrist will have you cross 200kmph with minimal effort, with top speed somewhere in the region of 230kmph.

Spoilsport Suspension
While the motor is an absolute gem, it's a shame that the suspension plays truant. This 191kg bike gets 41mm upside down front forks and a linked rear monoshock, both of which are adjustable for preload and rebound damping. Unfortunately, the setup is super soft in factory settings, especially at the rear. This causes the rear to wallow quite a bit and also reduces feedback from the front. Amping up the preload and rebound of the forks to the max made the front end sharper and intuitive but the rear, even at max settings felt very soft. So much so, that we had to dial front preload down a notch to bring it in sync with the rear. It's a shame because the MT-09 is a scalpel sharp motorcycle and with its sharp 25 degree rake and short 1440mm wheelbase. The steering is quick and the front end is ready to dive into corners at the push of the bars. However, the soft rear holds back what can be an intense handling experience. It isn't so much of a bother on smooth twisty roads, where you can revel in the lean angle that the tyres afford it. But on imperfect surfaces, the bike tends to bounce about a bit. This pogo effect can get disconcerting on a bike with such ridiculous performance potential and a front end that's so responsive that it borders on twitchy. The Bridgestone Battlax Hypersport radials provide good grip in the dry, but you can definitely feel the tyres squirming when accelerating hard on damp roads. However, it does take a lot to get these tyres to break traction.

City Slicker
Being light on it's feet, almost as light as a 250cc motorcycle, it really excels in city riding. It's easy to manoeuvre around traffic, thanks to its lightweight front end and as long as you keep it in 'B' mode, it shouldn't require too much effort tackling the urban jungle. In stop and go traffic, there isn't much heat build-up and only after spending an hour in heavy traffic will you feel bit of the engine heat around your shins. The upright riding position is comfortable in the city, although the soft seat can become a bit of a bother on long highway rides.The 815mm seat narrows at the front and I, with my 5'8" slim build, was able to place both feet on the ground with ease. The handlebars are wide and are angled towards you, while the footpegs are mildly rearset, almost like a sporty 250. The soft suspension soaks most of bad roads well, but does unsettle at high speeds due to the aforementioned pogo effect.That said, its torquey motor also makes it quite a hooligan in the city, and that same lightweight front end also makes it doubly easy to get into trouble. Open the throttle hard and you'll be grinning from ear to ear throughout, letting out occasional laughs as the front wheel claws towards the sky.

Ride it hard!
On the highway, the bike gets to triple digit speeds with ease and the low-set seating position behind the tank shields the rider from windblast up to speeds of 150kmph and even hitting 200kmph doesn't seem to be too much of a bother. Yes, it is ridiculously easy to see 200kmph on the speedo.
Even though the MT-09 makes for an easy ride in the city, it's too frantic to be a daily motorcycle. We spent over four days with the bike and were nursing sore shoulders and arms from all the times the violent acceleration tried to rip the handlebars away from us.

In the braking department, the MT-09 sports dual 298mm front discs clamped by radially mounted, four-piston calipers and 245mm rear disc with a single-pot caliper. Bite at the front is strong and progressive, but outright stopping power is a bit lacking. To be honest, I think we've been a bit spoiled by top-drawer monoblocs. Under braking tests, the MT-09 took 3.74 seconds to come to a dead stop from 100kmph, covering a distance of 44.69 metres in the process.

Looking forward
This MT-09 isn't a forgiving motorcycle by any means and will constantly keep you on your toes. It's got a steep learning curve and if things go south, the only backup you've got are your own riding skills.The only bit of civility it's got is in the form of its 'B' riding mode, but then again that defeats the whole purpose of the bike. If you can tame its violent nature though, it can even serve as a great stepping stone towards a proper 200PS litre-class superbike.
However, there is a huge caveat here. While we've been talking about what this bike can do, it's important to realise that it's not available in this form (or any actually) in India at this point. For the current gen bike which is on sale internationally, Yamaha has taken all the things that were great about this one and improved all the areas which were not working so well - it reportedly has a smoother throttle response as well as significantly improved suspension and rider aids. Even styling wise, things have been taken to the next level.

The MT-09 which we used to get in India came as a CBU and its hefty Rs 11.36 lakh (ex-showroom Delhi) price really reflected this. However, it was almost possible to justify shelling out your hard earned cash for this motorcycle, given just how exciting it was and how rewarding the riding experience was. We really hope, nay pray, that Yamaha does get the latest version of this mental motorcycle to India. And if they can keep the price in the same ballpark, then we're sure it's going to be a winner.
Words: Benjamin Gracias
Photography: Vikrant Date
More on Yamaha MT 09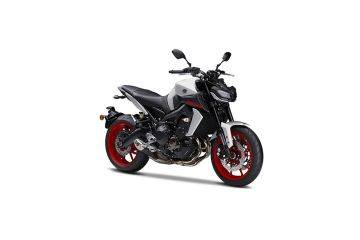 Rs. 10.55 lakh Onwards
Ex-showroom, Denver
View April Offers
View On Road Price
Yamaha MT 09 Video Review
Yamaha MT 09 Alternatives