We slapped on TVS' latest set of scooter tyres onto our long-term Jupiter to see how they hold up in everyday commutes and some spirited riding on the weekends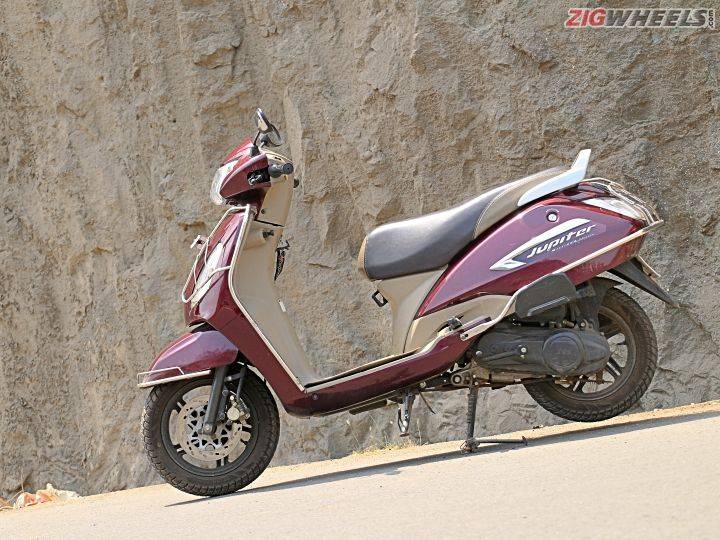 As any seasoned biker will tell you, tyres are one of the most important components of your two-wheeler. Often neglected, these unglamorous, mostly caked in dirt, blobs of black rubber are the only things that connects your treasured machine to the road. The total contact patch that a tyre puts on the tarmac might be as tiny as the size of a credit card but without that contact patch, all the power and torque that makes biking fun simply can't be harnessed.

Having done almost 7500-odd kilometres with us, the tyres on our long-term TVS Jupiter MillionR had started to show some signs of weariness. I mean, sure, they would've lasted about an equal number of kilometres more with some tender loving, but when TVS Tyres rang us up and asked if we'd be interested in testing out their latest set of Dragon scooter tyres, we just couldn't say no. A fresh set of tyres never hurt anyone, did it?

Just as the original Contas, also from TVS Tyres, the Dragon tyres fitted to our Jupiter come in 90/90 size, wrapped on 12-inch alloy wheels at both ends. Unlike the standard tyres which had a sporty groove pattern with a central groove for water dissipation, the Dragon has a chunky look with a shade of resemblance to old moped and three-wheeler tyres. However, the design rationale behind them can't be faulted: long-lasting tyres that provide solid grip in our less than ideal road conditions, especially rural dirt roads.

My first three-odd weeks with the new set of Dragon tyres was spent commuting to and from office, a round trip of about 12 kilometres everyday, on concrete roads and in peak Pune summer traffic. With the Jupiter, as with most scooters, I have this tendency to wring the throttle to its stop every time I see a gap in the traffic. The Dragon tyres respond well to this sort of shenanigans but I've a feeling that more power would've upset the grip. These are not exactly in the league of the Vee Rubber that the sporty Aprilias come with, but should be just enough for most of the scooters plying our roads today.

Then one day, I had to meet an acquaintance out of town, and that's how the Jupiter and I ended up having a brisk ride on one of the many twisty hill roads skirting this city. As with most single-lane roads in India, the sides of the road were strewn with dirt, and careening people-movers and trucks meant that the riding called for swift evasive manoeuvres. On these dirty roads, the Dragons really came in their element, exhibiting exponentially better dynamics than they did on clean tarmac. They will be an excellent choice for rural roads, and people who use their scooters as a means of semi-commercial transportation will appreciate the evidently long lifespan.

Hard braking - our long-termer is the top-end model and comes with a 220mm disc at the front - doesn't upset the Dragons either. Although I haven't been able to see any edge in braking so far, the Jupiter still goes and stops as well as the best in its segment. And it still has that comfortable and soft ride quality - nothing's changed on that front either.

The Jupiter has now covered about 900km or so on this new set of tyres and they still seem as good as new, a testament to their longevity. Fuel efficiency has remained more or less the same with this tyre transplant, the Jupiter is still returning 51 kilometres to the litre. There thankfully have been no punctures so far, touchwood, and they retain consistent air pressures as well.

The looming monsoons will prove to be the ultimate test for the Dragons, though. Although there's no central groove to dissipate water, like the original set of tyres, the hard compound rubber and chunky grooves make it seem like the Dragons will take to water like, err… a fish to water.
Update: Two months later, our review set has seen and soldiered through some of the most unpredictable tantrums Pune's monsoon season could throw at it. As we'd predicted, its generous tread lends it far more grip and poise than the standard tyres in such rainy conditions. And while it has not improved noticeably, our long termer still retains her braking composure in the wet, which makes the Dragon a win-win situation for all weather conditions.
Add Your Comments

More on TVS Jupiter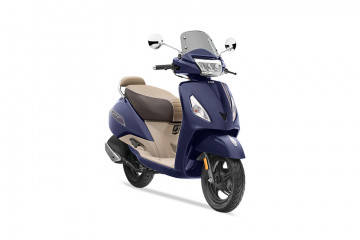 Rs. 62,062 Onwards
Ex-showroom, Delhi
View July Offers
View On Road Price