SWM Superdual 650 T Road Test Review
---
Is this just another adventure motorcycle or is there more to the SWM Superdual 650 than meets the eye?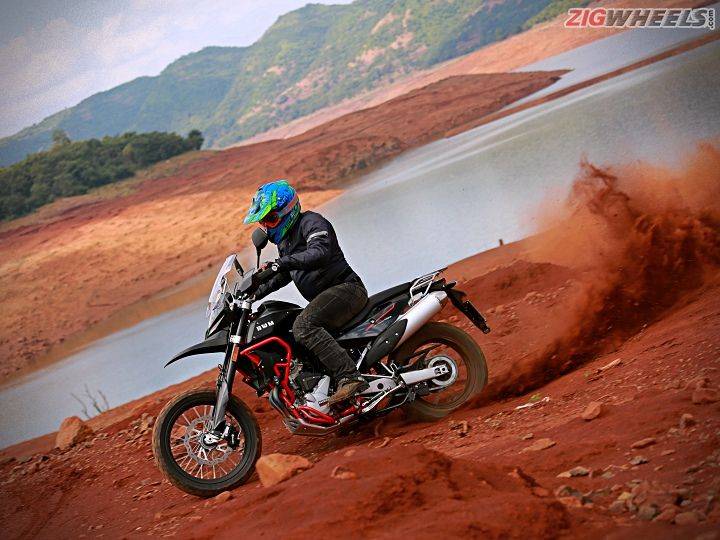 SWM? What is that? Chinese? Korean? If I tell you that they are Italian, you would not believe me, right? This is exactly where the perceptions issues around the SWM Superdual 650 T start. Being an unknown entity, most Indians would feel hesitant to trust some brand which isn't as well known in this side of the world as, forget Ducati or MV Agusta, even Benelli or Cagiva. So should you trust something that is unheard of? And the question will still persist: is it a proper adventure motorcycle or is it an off-roader that is tamed for the road?



Off-roader Styling
The Superdual 650 T started life off as a Husqvarna but during its sale from BMW Motorrad to KTM, this particular bike (and a wholly operational factory in Italy) was picked up by SWM. They tuned the motor and tweaked the styling and what you see before you is a purpose-built design. Here's where things start becoming clearer about which way it is leaning.
It gives off a very motocross or a trail bike vibe, looking nothing like your regular adventure motorcycle. You'll see that the Superdual gets a high-raised front mudguard and fork covers to protect the USDs from dust. The windshield is narrow and does an okay job of fending off the wind. The plastics, wherever they are used, do not feel flimsy but neither do they feel premium.



The headlamp is small and not very effective for night riding. It gets two miniature auxiliary lights which barely offer any form of illumination. And what is up with the instrument cluster? It is extremely small and does not pack in too much data. It definitely needs an overhaul.
This, being the T model, gets basic crash protection such as engine as well as fuel tank guards, a bash plate and knuckle guards as standard. These do not have a premium finish to them but they feel solidly built, as if ready to take the brunt in case of a mishap.
The switchgear is not too premium as well and there is an ergonomic issue with the horn and the indicator switchgear positions being interchanged, something similar to the Honda CBR650F. That said, each and every one of the switches work fine.



Not As Vibey As Expected
If this bike took the #ChaiCupChallenge, it would fail miserably. No prizes for guessing why as it is powered by a big-bore single-cylinder motor displacing 600cc. They have had to work on it a bit to be able to meet Euro IV (and indirectly BS IV) emission norms and thus you get liquid-cooling and fuel injection. The power on tap is not overwhelming, making a decent 54.38PS. Its peak torque of 55Nm should also be more than enough for India and in most cases, it is. But the numbers are surely low when you consider the Kawasaki Versys 650 or the Suzuki V-Strom 650 XT, both of which are twin-cylinder motorcycles but have quite different aspirations.



However, when you consider just the fact that it is a big single, it does not shudder as violently at low revs and higher gears as something like the KTM 390 Duke, which needs the rider to continuously work the gearbox to stay in a sweet spot. You'll find that the knocking isn't as intense as say a Royal Enfield Classic 500 either. At 3000-3500rpm it settles into a sweet thrum, but give it more juice and the vibrations do start to build up. Yes, the refinement could have been better but it isn't off-putting.
It does not get fancy slip and assist clutch but what it gets is a six-speed transmission that has been retuned to adapt the Superdual for road usage. More on this later.



Tall stance but light on its feet
Until and unless you are six feet and above, you are going to have an issue climbing onto the the Superdual. It is properly tall to say the least - a saddle height of 893mm is not welcoming at all. However, the seat is slim and scooped out. The reach to the not-too-wide-bars isn't too much and the serrated footpegs are in the same plane as your buttocks. This makes for a nice off-road rider's triangle which aids standing up and riding. And when you want to sit and enjoy the tarmac, the slight scoop helps you stay in place and not sway back and forth while acceleration and braking.



A special mention must be made of the fuel tank. It has got this nice shape that is quite narrow near the rider, helping him or her grip the bike like a proper trail machine when going off road. And if we are to believe the spec sheet, the compact unit is able to hold 18 litres of fuel, which is astonishing.



At 197kg, it is a good 20 kilos lighter than its other twin-cylinder counterparts. This comes in extremely handy when going trail riding as you are able to kick the bike back up easily whenever you feel like it. The slim dimensions and mass centralisation also help to some extent when it comes to getting at least one of your feet on the ground at traffic lights. This method has been adopted by many motocross racers over the years and you will get used to it once you start using the Superdual 650.



Rolling easy
Given the limited time that we spent aboard the SWM Superdual 650, there was much that we still need to figure out. However, we can say that the motor is pretty tractable for its configuration. You can take off from speeds as low as 30kmph in fourth gear and the motor doesn't knock too much. Even doing 60 in sixth cog is doable but there are signs of strain and it would be best to speed up a bit. But what do the figures say? 0-60kmph takes 2.51 seconds while 0-100kmph is covered in 5.95 seconds.
There is no escaping the heat factor here though. Thankfully, it gets up to temperature at a steady pace, unlike a KTM 390 Duke which activates its radiator fan barely minutes into a ride.
You aren't even working the gearbox as frantically as you would on a 390 Duke. The ratios are short but not as much as you would expect from an off-road-biased bike. 4.9 seconds is what it needs to go from 40-80kmph in fourth gear. This suggests that SWM has kept everyday usability and highway touring capabilities in mind when making the tweaks to the ratios. Out on the highway, you can live with doing 100kmph. Even 120kmph feels doable. Anything beyond that and the vibrations become unbearable.



The clutch action is extremely light. It is hydraulically actuated and helps you out in most situations. It comes in extremely handy in committing acts of tomfoolery that just plaster a smile on your face. It does not feel forced and it almost always maintains composure.



The stock suspension setup is a bit confusing to say the least. The front end is a bit too stiff for road usage. The rear on the other hand is a bit on the softer side. So the front fails to soak in small bits at slow speeds but works quite well when taking on the bigger stuff at a fair bit of speed. Thankfully the bike gets FastAce USD forks and Sachs monoshock suspension bits that can be tuned in almost every aspect. We'll need some more time with the bike to get the setting right, so more to follow in this regard.
Whatever be the suspension setting, the pillion rider will go through hell. The seat is narrow and the foam is unbelievably hard. It took some time for my family jewels to descend for the second time in my life after trying out the back seat for barely five minutes. The issue of scalding your hands does not come into play but sitting behind is a big no no.



Smiling in an instant
It was pleasantly surprising to experience how the SWM Superdual 650 managed to gobble up corners. You will have to tweak your riding style as trying to take corners in the natural body out style will see the bike leaning over more than you wished for. Pushing the bike down and controlling the lean angle by weighing on the outside footpeg works wonders.
The manner in which the bike goes down might be a bit too fast for many. However, mid-corner stability is brilliant and you can just roll on the throttle mid-corner to power out. While the bars are adequately wide, an even wider setup could have made matters easier. But there is an upside to it. It does not feel twitchy and nervous when switching direction and the bars are at the right spot for mucking about.



The 19/17-inch wheel setup is somewhat familiar when it comes to adventure-ish motorcycles. The Metzeler Tourance tyres have become the go-to dual purpose tyres for many such bikes in India. Their 50-50 bias is justified as you can get away by doing light trail stuff. Just beware though: The tyres may be of the tubeless type but the spoke rims do not support tubeless operation. With a tube inside, punctures might be a cause of concern, especially when going off road.
The overall balance of the motorcycle inspires enough commitment to commit to off-road riding. It feels natural going over stuff that your mind perceives as untacklable. Its 180mm of ground clearance helps you clear everything in your path. There are no scary moments although hamfistedness is not appreciated as the instant torque might catch you off guard.



The dual-port exhaust system helps mightily in concentrating the center of gravity in the centre of the bike. I guess that if it were one-sided, the sweet balance that it currently possess might have gone for a toss. Kudos, SWM.
It is obvious that the brakes are not sharp but they are strong and offer good feedback. This is shown in our braking tests as it takes 53.12m to come to a dead halt from 100kmph; it traverses 19.11m while doing the 60-0kmph run. ABS calibration is good all round and you have an option to switch off the ABS at the rear wheel.



Better than expected but still a bit pricey
When you consider that the SWM brand will always be an uncertain entity for most individuals in India, the Superdual 650 T comes as a bit of a welcome surprise. Now we have had adventure bikes before that could handle a bit of the dirty stuff. This one, though, is more keen on playing in the rough stuff, with a bit of tarmac ability thrown into the mix. With that in mind, it is a good lakh rupees and a pick-up truck cheaper than the Kawasaki KLX 450R. Still, a price tag of Rs 7.30 lakh, ex-showroom India, seems a bit much. That said, you could get the base version of this bike which comes sans protective parts and save fifty grand.
But Motoroyale's reach is not widespread. Serviceability and maintenance will be an issue, with roadside assistance seemingly farfetched. However, if you want a hardcore trail bike that's somewhat comfortable and are willing to compromise on all of the above, we can definitely recommend this SWM Superdual 650. That said, if it's an adventure tourer you want, you might need to look elsewhere.
Add Your Comments