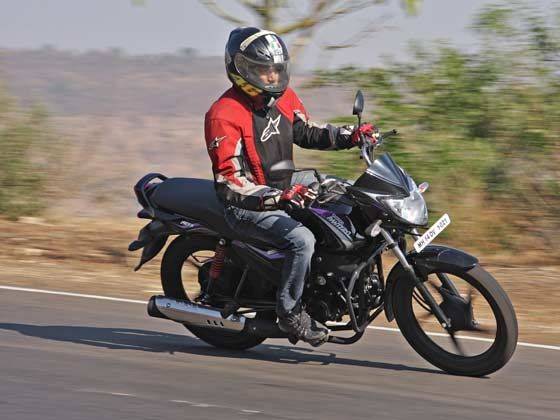 Self-taught lessons are often the ones best learnt. While most of us shy away from having to learn things the hard way in the case of Mahindra's two-wheeler division the promise of the present has in a sense worked as a pacifier to what was unmistakeably a suffocated start to their motorcycle foray here in India back in 2010.
Somewhere in the outskirts of Pune the company's Rs 100 crore two-wheeler R&D facility has been working day and night to build this promising future, and the recently unveiled 110cc bikes, the Pantero and the Centuro are indicative of things finally moving in the right direction for Mahindra. Unlike the earlier Stallio and Mojo models which the company had a minimal role in designing and assembling, these two new 110cc motorcycles have been designed in-house by Mahindra at their state-of-the art R&D centre, and they have managed to design the bikes from scratch in all of 18-months.
The less premium of the two, the Pantero is now up for grabs pan India starting from a price of Rs 44,190 (ex-showroom Chennai) for the base variant and based on our first ride impressions the price seems quite befitting considering the product that is on offer. A closer inspection and longer distances now traversed astride Mahindra's remarkable new motorcycle for the masses has managed not only to maintain that positive impression, but in doing so also earn for itself a few more brownie points that only time and our tests could have captured.
One that deserves a second glace
I am a little flummoxed to be very honest at this sudden creative inspiration that car and bike design engineers in our country have attributed to the 'big cats' out there in the wild, who we otherwise are quite content watching on The National Geographic channel every other Sunday afternoon. This has however, managed to produce some very attractive vehicle body styles in recent times, and the Pantero is certainly no exception.
The bike certainly has a very stylish aura about it, and that's saying a lot considering its target consumer, who for the longest time believed an upgrade to a higher displacement motorcycle was the only way to get a few on lookers finally turn in their direction.
A lean longish frame with a blackened engine and a neat exhaust coupled with classy flowing flame decals that run from the tank all the way to the tail along the sides gives the Pantero a very appealing overall look. Moving to a fully digital rider display wasn't too hard courtesy the Mahindra Rodeo RZ, but is nevertheless a welcome feature on this motorcycle. Sadly, a much smaller circular dial adjacent to the main display has a Mahindra badge pasted right in the middle leaving very little room for the high beam and direction indicators, which flash as tiny telltales that aren't easily spotted by the rider.
The front headlamp, which takes on a rather unconventional shape, thankfully makes room for pilot lamps that while come handy under poor visibility conditions and can be switched on even with the headlamps turned off. The primary headlamp however could have certainly done with a stronger beam throwing a wider spread of light. The taillights with its double deck LED layout at the rear are quite impressive.
Watching your back
Motorcycles belonging to this segment are quite focused on delivering the optimum fuel efficiency considering the longer distances they are expected to cover in a given timeframe. That being said, the comfort level of the rider over the course of his daily travel is of paramount importance and the Pantero caters to this need owing to some clever ergonomics and lightweight architecture.
The narrower proportions of the Pantero's fuel tank and its low-lying 774mm seat with its flatter and wider proportions that is the longest we have seen so far securely saddles the rider, and if need be even a pillion with adequate cushioning and support. The handlebar and foot pegs are placed at desired positions so as to cause minimal strain to the rider over long distances.
Power to the people
The new Pantero packs a potent 110cc Mci-5 (Micro Chip Ignited 5-Curve) engine capable of producing 8.6PS of power at 7,500rpm. There is certainly a sense of pride in recognising the fact that this is an indigenously designed and developed power train by Mahindra, but under real world conditions the lack of refinement and suffocated power delivery quickly begin to show.
While you'd be satisfied owning a cost friendly motorcycle that zips from 0-80km/h in 13.83 seconds our tests have shown that the digital speedo tends to read inaccurately suggesting speeds lower than what you are actually running. But rest assured the Pantero will top out at just about 91.6km/h irrespective of what the dash reads, quick enough to make up time on a day you're running late to your work place. As exciting as the low end torque is on this machine, the excessive engine noise, high speed rattle and the languid self start feature proves there's plenty of work yet to be done on the Mahindra Mci-5 technology.
Fuel economy is then the Pantero's real trump card, and its rather slim and if I may say deceiving fuel tank can gulp in a total of 10 litres offering a stupendous range of 682.5km on full capacity. While overall efficiency is more than satisfactory at 68.25 kmpl, even within city limits one can easily squeeze out 64kmpl or more depending on the nature of use.
Tying loose ends
Speeding on this machine could invite trouble in a panic situation considering it takes the Pantero's 130mm drums a whole of 52.88 metres to bring it to a complete stop from 80km/h and 25.58 metres to achieve the same result from 60km/h. Keeping your enthusiasm below the 70km/h mark on this bike is advised.
Enough time spent riding this frugal machine, and you can't discount its radical improvement over what was once the Stallio. There is all-new double cradle frame that is now 1.87kg lighter, which surely gives the rider a fair degree of confidence on the tarmac as compared to before. The telescopic suspension takes care of damping upfront while coil spring adjustable twin shock absorbers perform wonderfully on the rear. This coupled with adequate ride height and a comfy seat makes the Pantero a hoot to ride even when road conditions are not exactly in your favour.
The use of an old school tubular swingarm over a more effective box section unit however is a bit disappointing. The MRF Nylogrip tyres on the neatly designed 18-inch five-spoke Alloy wheels (Spoke on base T-4 variant) offer excellent grip levels and play a vital role in the Pantero's handling dynamics.
The constant mesh 4 speed gearbox does keep things simple, but not very smooth. Clunky shifts and hard pressed efforts to bring the bike to neutral when stationary just add to the overall sense of discomfort when dealing with the Pantero in an everyday scenario.
Verdict:
Considering its offer price and the short timeframe in which Mahindra 2wheelers has pulled off this motorcycle, it must be said that the efforts were not in vain. Yes, there is still much more ground that needs to be covered in terms of refinement and technology upgrades, but the Pantero offers a rare combination of style and outstanding efficiency, which few motorcycles in its class can jointly boast about. Under normal city conditions the Pantero would prove to be a good companion, earning you glances on the street and savings that willl last you many weeks.