Benelli Imperiale 400 BS6: Long Term Report - 1500km/2 Months
---
All the learnings from 2 months of familiarisation with Benelli's retro roadster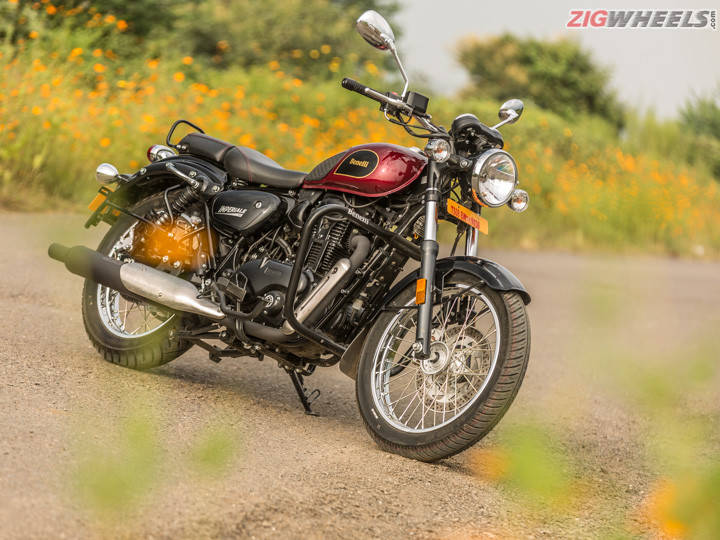 Valentino Rossi has often likened receiving each year's new MotoGP bike in February to starting a relationship with a new girlfriend. My courtship with the Benelli Imperiale 400 BS6 started a little under two months ago, when I penned down my first impressions of the bike that you can check out here. In our time together thus far, I've covered a little over 1500km, including a 450km round-trip to Gujarat and back, and a two-up stint of 280km to Igatpuri. Every one of these 'dates' has revealed a new facet of the Imperiale, giving me more to love about it but also revealing a few chinks in its armour. Here are the learnings:
Inner City Kid

Sure, the tractable engine and tall gearing mean that the Imperiale's powertrain is quite good at city duties, minimising the effort and number of shifts required. But that competency comes at a cost. The cost of the hair and skin on your right calf. Most large-displacement air-cooled motors heat up in slow-moving traffic, but on the Imperiale, it's on a whole different level. Bombay exists in a perpetual state of slow-moving traffic, so it's a matter of minutes before the catalytic converter region starts becoming uncomfortably hot.

You can't let that heat distract you, because filtering through traffic with that ridiculously wide crash guard requires all your focus. It certainly seems quite beefy and we're sure it'll do a great job of protecting the important bits of the bike if you have a tip-over. But when you're trying to squeeze between a bus and a cow on the obstacle course that we call our road network, having a crash guard that's nearly as wide as the handlebar can make this medium-sized motorcycle feel like a Range Rover. The Imperiale's substantial dimensions are also accompanied by an equally sizeable turning circle, which doesn't help its case in terms of city manageability either.
Highway Hero

But riding an Imperiale in the city is a bit like keeping a pet lion in a studio apartment. This gal's favourite restaurant is the open highway, so that's where most of our dates have been. Sat in 5th gear at 100kmph, with the open road shooting towards the horizon in front of you, the Imperiale feels absolutely in its element. The motor is stress-free, the suspension keeps you stable and comfortable, and you're sat in a commanding, upright position. It feels like it could do this all day and all night. Suddenly, the enormous crash guard and massive turning circle cease to matter, as you sink further and further into the zone of serious mile-munching. A 210km stint from Bombay to Valsad flashed by with no fatigue whatsoever.

Unfortunately, a couple hundred kilometres into your journey, you'll be gently lifted out of this zone. The riding position itself is very comfortable and roomy, with no real stress or load on your wrists, back or neck. But the hard rider's seat begins to feel like a wooden church pew after 200km on the road. The pillion seat does offer softer cushioning, but my girlfriend, who is quite accurately described by track number 2 on Queen's 1978 album 'Jazz', found it to be too narrow, not offering enough support. The 210km day trip to Gujarat was easily dispensed with, but a 280km round-trip to Igatpuri took its toll on our bodies.
Twisty Curvy, Topsy Turvy?

On the upside, even when the road stops shooting off towards the horizon and starts wrapping itself around a mountainside, the Imperiale doesn't feel unwieldy. This is no apex-seeking missile, but considering the package that it is, this Benelli holds its own in the twisties, behaving predictably and remaining largely well-mannered. I say largely, because the occasional handlebar weave does creep in during a long, sweeping high-speed corner. But it's never beyond reclamation. One area that definitely needs improvement, though, is braking. Getting up to and holding highway speeds is done rather effortlessly but bringing this behemoth to a stop is more arduous than we'd like. Ramp up the braking power, Benelli!
Mileage Matters
For our testing cycle, the Imperiale underwent its highway fuel efficiency test, sat at around 90kmph, where it returned 36kmpl. Not too bad, but not exceptionally good either. Venture further up the speedometer, though, and the Imperiale becomes quite thirsty quite fast. Cruising at 100-110kph, the bars on the fuel gauge begin to disappear at an alarming rate, and this gets significantly worse with a pillion on board. My, erm, spirited riding style means that I've only been able to extract around 32km to 34km from each litre of fuel. This thirst would've still been an excusable tradeoff for the Imperiale's best-in-class performance had Benelli thrown in a sizeable fuel tank. But instead, the Zippo ahead of the rider's seat can only hold 12 litres, forcing me to hit the pumps far more frequently than I'd like.
In our initial road test review of the Imperiale, we spoke about spurts of unintended acceleration. Fortunately, the bike will be going in for its slightly overdue first service very soon, and Benelli tells us it's found a fix for this issue. So stay tuned for future reports.
Benelli Imperiale 400 Video Review
More on Benelli Imperiale 400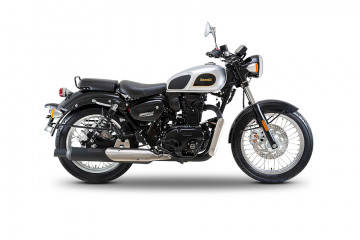 Rs. 1.89 Lakh Onwards
Ex-showroom, Delhi
Imperiale 400 Alternatives
See what our community has to say!
NEW
India's largest automotive community